Kerala murders: We must tell the Italians where to get off
India should stop being bullied by Italian diplomats over the trial of the two Italian guards who killed two fisherman off Kerala's coast. They should be brought to justice in India.
Picture this. An Indian merchant vessel sailing a few nautical miles off the Sicilian coast fires on an Italian fisherman's boat and kills two of them. Now, let us try and see which of the following statements will be true.
1) The Italians happily agree to send our sailors back home and allow Indian law to take its own course to decide their guilt or innocence.
2) Our diplomats rush to help our nationals. The captain will refuse to talk to the police till the Indian mission sends its own legal and other kinds of support. Will the Italian police allow that?
3) Sonia Gandhi or the PM or the External Affairs Minister will call the Italian PM/Foreign Minister directly saying if they don't let the sailors, or their armed guards, leave for home it will do great harm to Indo-Italian relations.
4) Our government will warn that Italians that if the Indians are not sent home pronto, there will be a price to pay. Italian companies can kiss goodbye to any contracts in India for the next five years.
My own answer is that each of these assumptions is unrealistic, given our history. Seldom have we seen our government defend our citizens' interests robustly. Remember, we allowed a crass middleman like Ottavio Quattrochi to slip through our fingers, and pathetically agreed to unfreeze his bank account and let him take his ill-gotten money. That is how shameless and spineless we are.
Now, cut to what is really happening.
In the Kerala case, where two unarmed Indian fishermen were shot at and killed by trigger-happy defenders of the Italian ship Enrica Lexie, we are waiting to be arm-twisted by the Italians to let them go and be tried in Italy. This is not on.
The Times of India reports that Italian Foreign Minister Guilio Terzi is piling on the diplomatic pressure. An Italian delegation, including a legal team, is in Kochi to ensure that the two killers are allowed to return home.
While the Indian government is not exactly willing to let them go, the newspaper quotes Terzi as saying there were "considerable differences" between Italy and India on "the legal character." He complains: "Up to now I have not seen the cooperation between India and Italy that would be desirable and would allow a quick resolution."
What he means by "cooperation" is capitulation by the Indian government and by "resolution" he means "accept" his country's outrageous demands.
Actually, it is galling that the Indian government should even be humouring Italian diplomats to such an extent and allowing diplomacy to play a role to our disadvantage.
The undisputed facts are this: the Italian guards – who, we now know, are supposedly Italian navy personnel – fired on the fishermen and killed two of them. The difference is over whether the Italian vessel was in India's territorial waters or international waters.
However, this is almost immaterial.
First, all Indian vessels are technically Indian territory. It is clear that the crime has to be treated the same way as if it happened on Indian soil.
Second, even assuming that the ship was in international waters, it was still within India's exclusive economic zone and sphere of political and military influence. If the Italian ship had really been attacked by pirates, India's navy would have given it assistance - not Italy.
Third, seen even from the point of convenience, why should we expect an Indian fisherman's family and the police force to go all the way to Italy, study Italian law, and try and prove the Italians guilty? The balance of convenience – an important element in any legal system – clearly suggests that the Italian guards ought to be tried in India. The crime happened here, the killers are here, the victims' families are here, and the courts are here. At best, we can agree to fast-track the trial so that we don't allow delays to subvert justice.
Fourth, the Italians claim the guards were part of the Italian navy. And hence they have diplomatic immunity. This is rubbish. Reason: if an Italian defence person shoots an Indian citizen, it is tantamount to an attack by a party representing the Italian state. So far we have been treating the incident as something that occurred between two non-state actors. Bring the state in, as Italy is trying to do, and what we get is this: the act of murder is perpetrated by the Italian state close to our waters. If Italy demands immunity, we should treat the act as a hostile act by a foreign power. That carries its own consequences.
Consider the reverse. If we send an Indian solider to shoot Italians off the coast of Sicily, will they buy this argument and accept that they enjoy diplomatic immunity? Will the Italian media be baying for our blood or happily support our cause in the name of the UN Law of the Sea?
For far too long, India has allowed itself to be ensnared by plausible – but self-serving — arguments put forth by the international community. It is always we who give in, and they just get away scot-free – whether it is the Bhopal gas tragedy or something else. The Italians are fighting hard to get their men off the hook in India, but there is no reason why we should allow them to perpetrate a crime and decide things according to their convenience.
They will take their culprits away and force us to send costly legal help to their country – when the victims are here and we have no clue what Italian law will decide. How silly that we should even be considering the Italian arguments.
It is high time we used our diplomatic muscle to ask the Italians to lay off. We should, in fact, send them a warning that if they try to act funny, all Italian companies will be barred from government contracts.
Let's not forget, Italy is Greece, struggling to keep its head above water. The country is on its knees, and it has no power to decide what we can do. Only we can pull ignominy from the jaws of this superior position – morally and realistically.
Italy would never have done us this favour if the boot was on the other foot.
We should, therefore, tell them to go take a walk. If at all we want to do a deal with them, we should ask them for a quid pro quo: what are you going to do for us in return for this big favour — apart from compensating the victims and punishing your navy's killers?
This is the time to flex muscles, not lie over and play dead.
Find latest and upcoming tech gadgets online on Tech2 Gadgets. Get technology news, gadgets reviews & ratings. Popular gadgets including laptop, tablet and mobile specifications, features, prices, comparison.
World
Unless the Indian government responds with vigour, even risking a diplomatic standoff with Italy, the suspicion that this is part of a "political deal" to sabotage two trials - of the Italian marines in India and of the AgustaWestland deal in Italy - will be validated.
Breaking Views
First, the relatives of the two Kerala fishermen killed by Italian marines were bought off. Now the boat owner has also changed his story.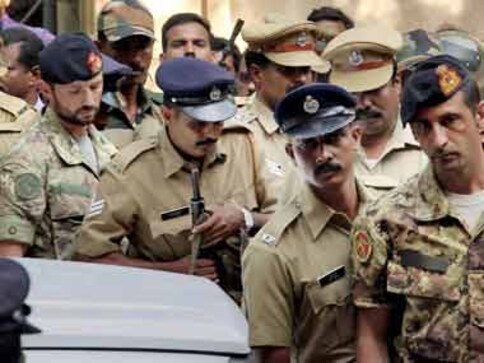 India
The submission of the once belligerent relatives of the two fishermen who were killed by alleged fire from the Italian ship Enrica Lexie, has yet again proven that poverty and faith are our terrible weak spots.