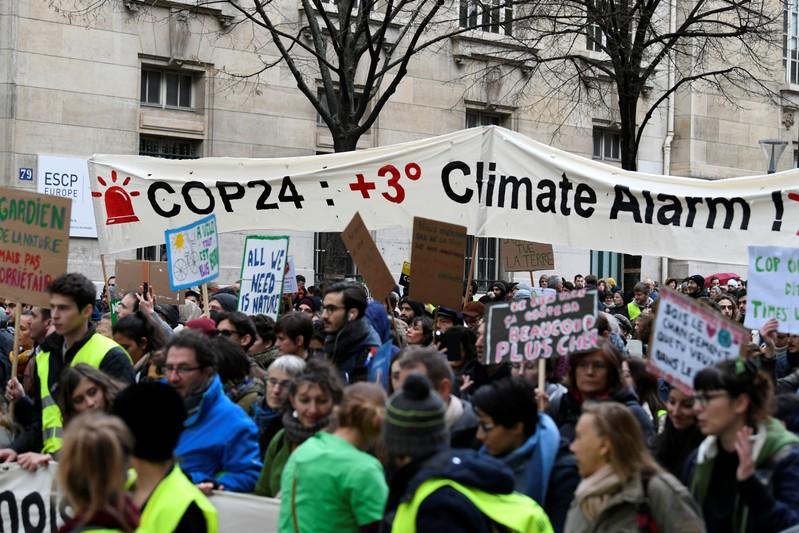 KATOWICE, Poland (Reuters) - Talks billed as the most important U.N. conference since the Paris 2015 deal on climate change began the crucial final week in the Polish city of Katowice, capital of the country's Silesian coal mining district.
The aim of the gathering is to meet an end-of-year deadline for agreeing a rule book on how to enforce action to limit further warming of the planet.
Subscribers to Eikon can also find a Take-A-Look summary of Reuters coverage here:
Below is a flavour of the mood around the event, held in a sprawl of temporary passageways and meeting rooms next to the "Spodek", a flying-saucer-shaped sports and concert venue.
MONDAY
1700 GMT
U.S. SIDE EVENT
A side event supported by the U.S. administration on Monday afternoon called "Innovative Technologies Spur Economic Dynamism" was disrupted by protesters saying attempts to rebrand coal as a potentially "clean" energy source were misleading.
Protesters from youth and indigenous community groups interrupted opening remarks by Wells Griffith, the man President Donald Trump appointed as senior director for energy at the National Security Council.
They waved banners and chanted: "Keep it in the ground".
"The United States has an abundance of natural resources and is not going to keep them in the ground. We are going to share them with the world and strive to do that in the most efficient and cleanest way possible," Griffith told journalists later.
On Saturday, parties failed to reach an agreement on whether to "note" or "welcome" the U.N. IPCC report published in October. The United States, Saudi Arabia, Russia and Kuwait were against welcoming the findings of the report and reference to the IPCC report was removed.
1200 GMT
Saudi Arabia issued a statement saying it recognised the efforts of the United Nations' Intergovernmental Panel on Climate Change (IPCC) in producing scientific reports, the latest of which was published in October assessing the feasibility and importance of limiting warming to 1.5 degrees Celsius.
However, it said there were gaps and uncertainties in the report which still needed further research.
"The Kingdom of Saudi Arabia is hopeful that the IPCC 6th Assessment Report will address these gaps and challenges, and that a consensus to welcome it among all parties can be reached," it said in a statement.
0900 GMT
Ministers from around 120 countries started to arrive at the conference and faced the task of breaking deadlocks and divisions to achieve the political compromises needed by the end of the week.
A new draft text of the rules of the agreement must be ready by tomorrow for ministers to work on, the Polish presidency said.
"Let me be very clear. A lot of work remains to be done. We are clearly not yet there and ministerial discussions take over this week," said Miguel Arias Canete, European Commissioner for Energy and Climate.
A JUST TRANSITION IN FRANCE
Campaigners in Katowice said another weekend of the violent "yellow vests" protests in France showed why a just transition is needed when shaping energy transition policy.
"When you look at the demands from the protests in France, it is not pitting climate policy against economic and social policy. It is saying (that) we need to respond to the anxieties people are feeling, the fear people are feeling," said Camilla Born, senior policy advisor at E3G, a non-governmental organisation.
French President Emmanuel Macron will address the country on Monday as he seeks to placate "yellow vest" anti-government protesters who wreaked havoc in Paris this weekend.
(Reporting by Nina Chestney, Bate Felix and Agnieszka Barteczko; Editing by Matthew Mpoke Bigg, Susan Fenton and David Evans)
This story has not been edited by Firstpost staff and is generated by auto-feed.
Your guide to the latest election news, analysis, commentary, live updates and schedule for Lok Sabha Elections 2019 on firstpost.com/elections. Follow us on Twitter and Instagram or like our Facebook page for updates from all 543 constituencies for the upcoming general elections.
Updated Date: Dec 11, 2018 01:06:31 IST