Kathmandu riot police scuffle with anti-constitution protesters | Reuters
KATHMANDU Protesters from southern Nepal scuffled with riot police in Kathmandu on Sunday when they took their campaign against the country's new constitution to the streets of the capital.  Stones thrown by the crowd smashed the window of a government jeep but no one was seriously hurt, the police said. More than 50 people have been killed in eight months of protests in the south where the minority Mashesi oppose a plan to divide their fertile plains bordering India into parts of several provinces. The unrest, which has caused fuel shortages in Kathmandu as the Madhesis blocked imports of essential goods from India, is a threat to Prime Minister K.P
KATHMANDU Protesters from southern Nepal scuffled with riot police in Kathmandu on Sunday when they took their campaign against the country's new constitution to the streets of the capital. 
Stones thrown by the crowd smashed the window of a government jeep but no one was seriously hurt, the police said.
More than 50 people have been killed in eight months of protests in the south where the minority Mashesi oppose a plan to divide their fertile plains bordering India into parts of several provinces.
The unrest, which has caused fuel shortages in Kathmandu as the Madhesis blocked imports of essential goods from India, is a threat to Prime Minister K.P. Oli, who survived an attempt by the opposition to topple his fractious coalition early this month.
On Sunday, riot police in black helmets and carrying shields pushed back hundreds of protesters trying to break through a barricade protecting government offices and parliament.
"This is a protest against exploitation and we will continue to fight to ensure our rights," said Sharbendra Nath Shukla, a leader of the Terai Madhes Loktantrik Party, part of the Madhesi coalition organising the protests.
Several ethnic minority groups from the hills also joined Sunday's protests.
The constitution, put in place in September, was the final part of a peace deal between the government and Maoist rebels which ended a decade-long rebellion in 2006.
But many Madhesis want their region, home to half of the country's 28 million people, to become an autonomous state within Nepal and not be broken up into parts of six of the seven federal provinces as envisaged in the new constitution.
Covering 23 percent of landlocked Nepal, the region is the country's bread basket, providing rice, wheat, and is home to industries including jute and sugar.
(Editing by Robin Pomeroy)
This story has not been edited by Firstpost staff and is generated by auto-feed.
World
The campaign has grassroots enthusiasm, and support from Democratic Congress members who sent a letter last month to Thomas Harker, acting secretary of the Navy.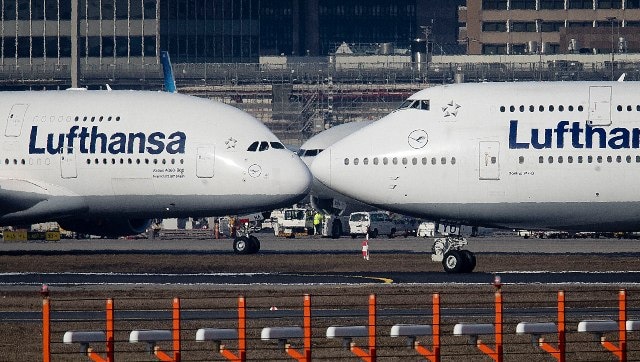 World
With this, an epic 16-year-old dispute over support for airplane makers appears to be heading for an end, at least for now
World
Kushner, the son-in-law of former President Donald Trump and one of his top advisers during his administration, has also been the subject of numerous controversies, whether for his financial dealings and potential conflicts of interest or for the administration's widely criticised handling of COVID-19.