Karunanidhi is wrong to reinvent Eelam war as genocide of Tamils
While Karunanidhi is right to be concerned about Sri Lanka making progress on political rights for Tamils, the matter is for Sri Lankans, Sinhala and Tamil to resolve — not India.
By Praveen Swami
In February 1945, as the Second World War neared savage end, British prime minister Winston Churchill ordered 300 bombers over the city Dresden.  They dropped more than 3,900 tons of high-explosive and incendiary bombs on Dresden. "People were caught in fires as hot as 1000° C", Britain's National Archives record. Investigations conducted by a historical commission later concluded that between 22,700 and 25,000 people were killed.  Historians of the war still debate whether Churchill's cold-blooded decision to target civilians was a war crime — or an act that saved lives, by breaking the will of Germans to fight on.
There are lots of pragmatic reasons Dravida Munnetra Kazhagam (DMK)leader Karunanidhi's demand for a Parliamentary resolution condemning Sri Lanka should be ignored. Sri Lanka is an important neighbour, and alienating it will give China greater influence in the Indian ocean.  The LTTE's remnants and apologists will gain momentum. Indian states, moreover, can't run foreign policy: recall the damage done to the pro-India government in Bangladesh by Mamata Banerjee.
Dr Karunanidhi is reported to be a well-read man, so he probably knows all this—and doesn't care.  It's about principle, right?
Yet, it is hard to grasp just what that principle actually is.  Every leader of every nation which has had to fight an existence-threatening war has had to confront dilemmas like the one which faced Churchill at one time or the other. Sri Lanka's war against the LTTE, most barbaric mass-murderers since Pol Pot, was as legitimate as wars can be. There is no getting around this—and India will disgrace itself by denying this.
Was there a massacre in 2009?  First, though, it is important to get the facts straight—or as straight as they can be possibly be, which is about as straight as a piglet's tail. Karunanidhi will all tell you with, with unblinking sincerity, that the answer is yes.  Mahinda Rajapakse, Sri Lanka's president, will give you a flat-out no. The simple answer, for those of us without a dog in the race, is that we don't have enough data to attempt an unequivocal answer. There are all sorts of estimates that have emerged on civilian fatalities since the end of the Eelam war, from the United Nations, human rights groups and from propagandists: 20,000; 40,000; 70,000; 147,000.
The multiple estimates of civilian casualties all derive from a methodology first proposed by the University Teachers for Human Rights, a Jaffna-based human rights group.  To cut a long story short— read their report here — the UTHR proposed deducting the number of civilians who arrived at the government's refugee camps from those known to be living in the no-fire zone.
Fair enough. The problem, though, is we don't know how many people were living there, with any accuracy. The government agent in Mullaitivu District, K Parthipan, estimated the population at around 330,000 in February, 2009 —but it is important to note he arrived at this number without a census, using information from headmen.  Parthipan had no way, moreover, of distinguishing civilians from LTTE conscripts and irregulars.  Moreover, he had no way of accounting for people who fled the zone.  His numbers weren't supported by the United Nation's analysis of satellite images, which suggested a population of 267,618.
The United Nations panel which published its report last year tried a rule-of-thumb calculation of 1:2 or 1:3 civilian dead for every person known to be injured, which suggested 15,000-22,500 fatalities.  However, it eventually plumped for an estimate of 40,000, based on Parthipan's deeply unreliable numbers.  It did not, moreover, distinguish between civilians and LTTE cadre — a fact noted by the United States state department's December, 2009 report to Congress. The LTTE's regular forces, estimated by experts at around 30,000, was backed by irregulars called the makkal padai, as well as large masses of press-ganged conscripts.
Did Sri Lanka use disproportionate force? This is the core argument of Sri Lanka's critics. The claim isn't, however, as uncontested as Tamil nationalist politicians would have us believe.  The Sri Lanka Army's use of heavy weapons wasn't one-sided. There is plenty of evidence, from satellite imaging, that right up to 17 May, the Sri Lankan army was facing fire from LTTE's 130mm, 140mm and 152mm artillery. The Sri Lanka army claims to have been losing over 40 soldiers a day during the last phases of the war — a fairly heavy toll, justifying retaliation.
From leaked diplomatic cables, we know diplomats on the ground at the time didn't believe the Sri Lankan army was using disproportionate force.  The United States' former ambassador to Sri Lanka, Robert Blake, sent a confidential cable to Washington, DC, on 26 January, 2009, saying that the Sri Lankan army "has a generally good track record of taking care to minimise civilian casualties during its advances".
John Williamson, the United States' ambassador at large for war crimes, met with Jacques de Maio, the International Committee's head of operations, on 9 July, 2009. Sri Lanka's army, Williamson recorded de Maio as saying, "actually could have won the military battle faster with higher civilian casualties, yet chose a slower approach which led to a greater number of  Sri Lankan military deaths".
It's worth noting, too, that the United Nations panel itself acknowledged that the LTTE put some of those civilians in harm's way.  The report found "patterns of conduct whereby the LTTE deliberately located or used mortar pieces or other light artillery, military vehicles, mortar pits, and trenches in proximity to civilian areas". The Canadian journalist DBS Jebaraj, has graphically described how the LTTE forced civilians into the Karaichikkudiyiruppu area to defeat an offensive by the Sri Lankan army's 55 division and 59 division.
Don't believe with Jebaraj? There's plenty of other evidence. Photographs taken by a cameraman for the London Times on 24 May, 2009, for example, clearly shot what appear to be pits for siting mortar, an arms trailer and a bunker sited in the midst of a civilian location in the no-fire zone.
None of this, of course, settles things one way or the other— and that's the point. There is very little doubt that Sri Lankan forces did commit crimes.  They worked with savage paramilitaries out to settle scores against the LTTE. Perhaps LTTE Velupillai Prabhakaran's son was executed in cold blood, as a recent Channel 4 documentary asserts.  Perhaps Sri Lankans attempting to surrender were butchered.  It doesn't follow from this, though, that Sri Lanka's campaign against the LTTE was a genocide we ought condemn. There hasn't been a war in history that hasn't witnessed some atrocities: the firebombing of Dresden, to India's bombing of its own civilians in Aizwal in 1966, to the United States' own barbarities in Fallujah.
Part of the problem is that we have lost our ability to talk honesty about war, and what it entails.  "The language of war is killing", said 9/11 bomber Khalid Sheikh Mohammad to his interrogators; he was right.
It just won't do for Karunandhi to reinvent the Eelam war as a genocide against the Tamils.  He, like many Indians, is right to be concerned about Sri Lanka's making progress on political rights for Tamils.  That, however, is a matter for Sri Lankans, Sinhala and Tamil to resolve — not us.  Indians are rightly angered when foreigners, often with little history or context, hector the country on its problems.  It is time for us to show the same consideration we seek.
Find latest and upcoming tech gadgets online on Tech2 Gadgets. Get technology news, gadgets reviews & ratings. Popular gadgets including laptop, tablet and mobile specifications, features, prices, comparison.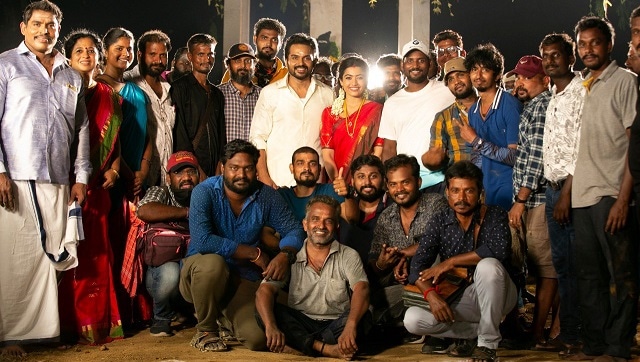 Entertainment
Sulthan makers are aiming to release Karthi and Rashmika Mandanna's film "on a festive date soon."
Entertainment
Varmaa was leaked hours after its premiere on 6 October on the OTT platform Simply South
Entertainment
Ahead of the release of Putham Pudhu Kaalai, actresses Kalyani Priyadarshan, Andrea Jeremiah, and Ritu Varma talk about their respective short films, working with seasoned filmmakers, and shooting during the coronavirus lockdown.