Kansas shooting update: Bystander says he's glad he risked his life to save Indian engineer
The Kansas man who was wounded in the shooting that killed Indian engineer Srinivas Kuchibhotla has said he is glad he risked his life, as it gave him the chance to save others
The Kansas man who was wounded in the shooting that killed Indian engineer Srinivas Kuchibhotla has said he is glad he risked his life, as it gave him the chance to save others.
Ian Grillot, 24, was struck in the hand and chest at a bar in Olathe, Kansas, when suspect Adam Purinton opened fire on Wednesday evening, killing Srinivas Kuchibhotla, 32, and wounding Alok Madasani. At least one bystander told the Kansas City Star that Purinton shouted "get out of my country" before shooting the Indian victims.
Construction worker Grillot said he had to step in when the shooting started in the bar crowded with fans watching a University of Kansas basketball game. "I was more than happy to risk my life to save the lives of others. There was families, there were kids inside," he said in a video released by the University of Kansas Health System, where he is recovering from his wounds. "I couldn't stand there, I had to do something. That's why I acted the way I did."
The hospital said Grillot was continuing to improve. "I did get my chest tube out and that feels much better, but it is hard to describe how sore I feel," he said.
The FBI is looking at whether the shooting was a hate crime. Meanwhile, hundreds of people in Kansas City joined a peace march on Sunday evening, and held a prayer vigil, celebrating Kuchibhotla's life. Marchers held pictures, banners and shouted, "We want peace", "We love peace", "Let us not leave our children", "Unity is part of community, together we stand, divided we fall", and "We don't support politics of hate".
Grillot's sisters, Lieutenant-Governor Jeff Colyer, Congressman Kevin Yoder, mayor of Olathe Mike Copeland, police chief Steven Menke, and other state officials also joined the march and the prayer meeting. The prayer was conducted by priests from various religions at the Hindu Temple and Cultural Centre, Kansas City.
Addressing the gathering, Madasani remembered his nine-year friendship with Srinivas. "Srini was the kindest person you would meet, full of love, care and compassion for everyone. He never uttered a word of hatred, a simple gossip, or a careless comment. He would always make sure everyone is doing fine and taken good care," he said.
Other friends present on the occasion also had similar words for Srinivas. They described him as a positive, warm, kind, caring, brilliant, well-mannered and an absolutely outstanding human being.
The incident has led to fear among the minority Indian-American community, who feel being targeted by President Donald Trump's controversial plan to ban travellers from certain countries to realise his campaign pledge of putting "America first".
At a news conference two days ago, Srinivas' wife Sunayana Dumala asked the US government what it would do to stop hate crimes against minorities. She said reports of bias against minorities make them afraid and wonder whether "do we belong here".
Although Sunayana did not mention Trump by name, she did say, "Not everyone will be harmful to this country." A White House spokesman said on Friday that any loss of life was tragic, but it would be absurd to link the killing to Trump's rhetoric.
India demands strong response
New Delhi has exhorted Washington for the "strongest action" following Kuchibhotla's killing. Union Minister for Information and Broadcasting M Venkaiah Naidu was quoted by news agency PTI as saying, "USA should respond to this incident. ?The American president and the people of America, they should come out openly to condemn such actions... and then take strongest action."
"These kind of incidents involving racial discrimination are shameful. They will dent the image of USA. So the US president, administration and civil societies should unequivocally respond and condemn such incidents," Naidu said.
With inputs from agencies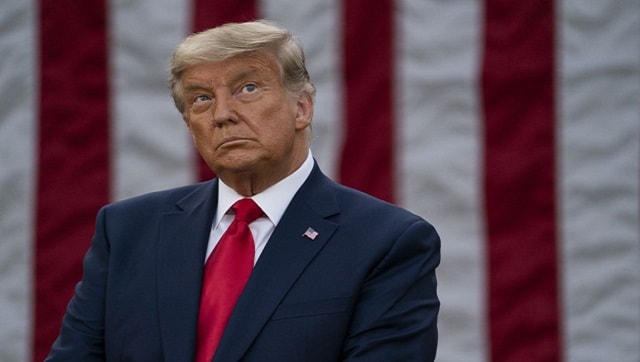 World
Former president Donald Trump has said the official ought to be tried for treason if the report was true
World
The speech Biden delivered sounded much like what he would have said before the Taliban took Kabul, Afghanistan, without resistance, and before the pivot to Asia became a hindrance to relations with Europe
World
The financial drain from a sprawling counterterrorism campaign has been vast, fueling the military's budgets even years after major combat in Afghanistan and Iraq ended