Justin Trudeau in India: Canadian media adopts wait-and-watch approach ahead of PM's visit to Punjab, New Delhi
Apart from a handful of dissenting voices, most of the media in Canada have chosen to adopt a wait-and-watch approach to see what comes of Justin Trudeau's meet with Prime Minister Narendra Modi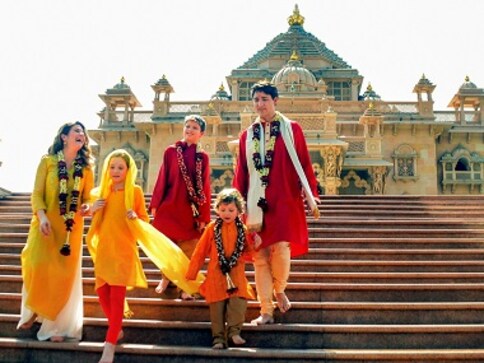 Canadian prime minister Justine Trudeau is in India. He has been here for three days and he will be here for four more. However, if you consider that Prime Minister Narendra Modi, other senior members of his government, and even the chief ministers of states on Trudeau's itinerary — Uttar Pradesh and Punjab — have all opted out of meeting the Canadian prime minister, you would think something rather amiss.
It appears that Trudeau's handling of the Khalistani issue and concerns in India that his government is soft on pro-Khalistani elements have meant most Indian political leaders have chosen to stay away from meeting the 46-year-old, who became Prime Minister of Canada in 2015.
A veteran Indian diplomat told Hindustan Times on condition of anonymity that in his long experience with bilateral visits, he had never experienced a trip of this nature, where the visiting dignitary spent so little time in official engagements with counterparts in the Indian government.
It was a sentiment shared by Canadian journalist Candice Malcolm, who pointed out the disparity in the manner in which the Indian government treats other Heads of State and the manner in which it greeted Trudeau.
On official state visits to India, PM Modi personally greets and welcomes the Israeli PM, UAE Crown Prince and US President. For PM Trudeau, he sends a low-ranking official. "Canada is back" pic.twitter.com/ezsMtFTPzr

— Candice Malcolm (@CandiceMalcolm) February 17, 2018
The Ottawa-based advocacy group, Canadian Taxpayers Federation, told Hindustan Times that it wasn't impressed with the itinerary either. Its federal director, Aaron Wudrick, said in an e-mail, "While it is understood that a prime minister will have to travel frequently, the proportion of time being spent actually meeting foreign counterparts on this trip does not suggest a good use of public money. A week is a long time for a prime minister to spend visiting one country, and a half of a day out of eight is very little official business."
A a Canadian policy advisor, meanwhile, described the low-profile reception Trudeau has got thus far to The Times of India as having "about the same enthusiasm as (a) malarian mosquito".
Trudeau has four Sikh Cabinet ministers — Harjit Sajjan, Amarjeet Sohi, Navdeep Bains and Bardish Chagger — of whom Sohi recently said that he was neither for nor against the Khalistani movement. "If there is a small segment of people in Canada who talk about separation, who talk about the creation of Khalistan, if they do that in a peaceful way that is their right to do so but this is not an issue that I hear in the community," said Sohi.
Reactions by Canadian media
However, apart from a handful of dissenting voices, most of the media in Canada have chosen to adopt a wait-and-watch approach. Trudeau is expected to meet Prime Minister Narendra Modi in the final leg of his eight-day tour in New Delhi, while Punjab chief minister Amarinder Singh, after some initial confusion and reported back-channeling, on Monday tweeted:
Look forward to meeting Canadian Prime Minister @JustinTrudeau in Amritsar on Wednesday. I'm hopeful that this meeting will help strengthen the close Indo-Canadian business ties as well as the deep-rooted people-to-people relations between our two countries.

— Capt.Amarinder Singh (@capt_amarinder) February 19, 2018
Huffpost Canada wrote that billboards and banners came up all along the roads of Ahmedabad, where Trudeau visited with his family on Monday, along with the slogan 'Long Live India-Canada Friendship'. "Trudeau — who visited the home of Mahatma Gandhi and a Buddhist shrine while in the city — is the first Canadian prime minister to visit Gujarat and some Indian reporters said they had never seen anything quite like the billboards erected for his arrival," the article wrote.
A report on CBC News chose to focus on the deals and Memorandums of Understanding the two countries are expected to sign and the importance of bilateral trade, especially with it currently being just around $8 billion annually.
"Trudeau has been asked to raise with the Indian government the recent set of import taxes applied by New Delhi on chickpeas and other pulse crops. A duty of 30 percent was applied to chickpeas and lentils just before Christmas and was raised to 40 percent on 6 February, with the Indian government citing falling international market prices for the crops, abundant production elsewhere and a negative impact on Indian producers and domestic Indian prices of cheap imports. A 50 percent import duty was applied to yellow peas in November," the report mentioned.
In case Trudeau's planned visits with Modi and Amarinder do go through, the visit may ultimately be seen in a positive light by the Canadian and global media. However, a failure could leave Trudeau with little other than a family vacation.
Explainers
The European Union has recently approved at least four insects for human consumption including mealworms and house crickets. Mealworms, which taste 'a lot like peanuts', offer the same amount of protein, vitamins, and minerals as fish or meat
Explainers
Dilip Mahalanabis gained national fame in 1971 while serving at a refugee camp in West Bengal's Bangaon where his oral rehydration solution saved umpteen lives. He never patented ORS, arguably the greatest medical discovery of the 20th Century
World
The surge in bird-raising interest underscores how America's first experience of rapid inflation and shortages since the 1980s is leaving marks on society that may last after cost increases have faded