Justice Department watchdog to inspect federal prisons' handling of novel coronavirus outbreaks
By Sarah N.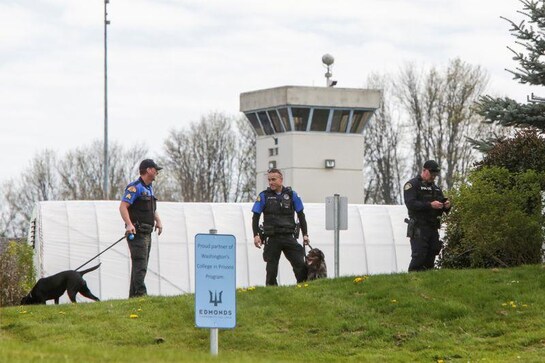 coronavirus
outbreaks" src="https://images.firstpost.com/wp-content/uploads/reuters/04-2020/16/2020-04-15T174423Z_1_LYNXNPEG3E209_RTROPTP_2_HEALTH-CORONAVIRUS-USA-PRISONS.jpg" alt="Justice Department watchdog to inspect federal prisons handling of novel coronavirus
outbreaks" width="300" height="225" />
By Sarah N. Lynch
WASHINGTON (Reuters) - The U.S. Justice Department's inspector general said on Wednesday his office had launched "remote inspections" to review whether the federal Bureau of Prisons (BOP) was complying with guidelines to prevent, manage and contain the spread of the novel coronavirus
inside the prison system.
The announcement on the inspector general's website comes after repeated complaints by federal prison staff and inmates over unsanitary conditions inside many facilities, the lack of social distancing, and problems getting access to protective equipment such as masks.
Since March 28, 14 inmates so far at prison complexes in Louisiana, Ohio and North Carolina have died from COVID-19
, the respiratory disease caused by the novel coronavirus
.
As of April 14, the BOP said at least 446 federal inmates and 248 BOP staff have tested positive for the illness.
A BOP spokesperson could not be immediately reached for comment on the upcoming inspections by the Justice Department's inspector general.
Since April 1, the BOP has been on a lockdown across its 122 facilities, a move which has largely restricted the system's 175,000 inmates to their cells and dormitories.
However, staffers from several federal prisons have told Reuters in multiple interviews that movement of some inmates has continued, raising concerns infected prisoners could be placed in facilities that have not yet faced an outbreak of the new coronavirus
.
(Reporting by Sarah N. Lynch; Editing by Bernadette Baum)
This story has not been edited by Firstpost staff and is generated by auto-feed.
Business
By Stephen Nellis (Reuters) -Apple Inc on Monday said it will offer the ability to store state-issued identification cards digitally on iPhones and that it is working with the U.S. Transportation Security Administration to accept the digital IDs at airports, one of several updates to the software that runs on its devices. It also showed updates to its FaceTime video chat app, adding the ability to schedule calls with multiple attendees and making the software compatible with Android and Windows devices.
Business
LONDON (Reuters) - The bosses of all airlines flying passenger services between Britain and the United States called on Monday for the countries' governments to relax COVID-19 restrictions to reopen travel routes between the two countries. After more than a year of restrictions, the CEOs of American Airlines, IAG unit British Airways, Delta Air Lines, United Airlines and JetBlue Airways Corp said high vaccination rates in both countries meant travel could restart safely. The push for reopening trans-Atlantic routes on Monday comes ahead of meetings between U.S.
Business
BRUSSELS (Reuters) - The European Union's patience towards Britain over Brexit arrangements in Northern Ireland is wearing thin and the bloc will consider its options should Britain continue its "confrontational path", an EU official said on Monday.