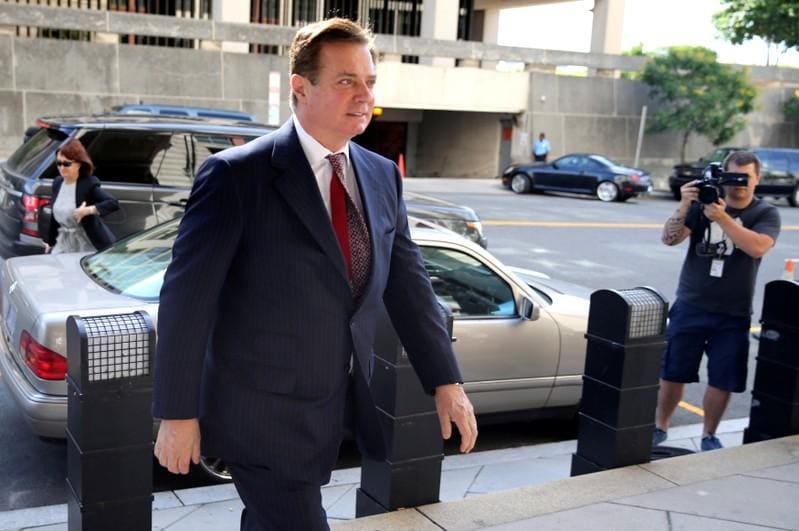 By Karen Freifeld and Nathan Layne
ARLINGTON, Va. (Reuters) - Jurors in the trial of former Trump campaign chairman Paul Manafort signaled on Tuesday they were struggling to reach agreement on one of the 18 counts of financial crimes he faces, in a sign they may be closer to a verdict on the fourth day of deliberations.
The jury at the federal court in Alexandria, Virginia asked Judge T.S. Ellis how to fill out a verdict form for a single count if they cannot agree on that count.
Ellis read the jurors' question aloud in court and said he would tell them to try to reach unanimous consensus on all the counts of bank and tax fraud.
The trial of Manafort, a veteran Republican operative, is the first stemming from Special Counsel Robert Mueller's investigation of Russia's role in the 2016 U.S. election. The charges against Manafort largely predate his work on President Donald Trump's successful campaign.
Gene Rossi a former prosecutor in Eastern District of Virginia, said the jury's note on Tuesday was a good sign for prosecution.
"If there was an acquittal on the other 17 counts, I doubt very seriously the jury would come back and say we're stuck on one," said Rossi, who watched some of the trial.
Manafort faces five counts of filing false tax returns, four counts of failing to disclose his offshore bank accounts and nine counts of bank fraud. If convicted on all counts, he could spend the rest of his life in prison.
A Manafort conviction would undermine repeated efforts by Trump and some Republican lawmakers to paint Mueller's Russia inquiry as a political witch hunt. An acquittal would be a setback for the special counsel.
Separately, NBC News said Trump's former personal lawyer Michael Cohen was discussing a possible guilty plea with federal prosecutors in connection with tax fraud and banking-related issues.
Cohen has not reached a plea agreement, but one could be reached as early as Tuesday, NBC News said.
UKRAINE MONEY
During two weeks of testimony, prosecutors presented evidence that Manafort evaded U.S. income taxes on $16 million he earned as a political consultant for pro-Russian politicians in Ukraine and then lied to banks to secure $20 million in loans after his Ukraine income dried up.
Manafort worked for five months on Trump's 2016 campaign. He was campaign chairman for three months, during which Trump was formally anointed as the Republican nominee at the party's convention.
In a break with convention, Trump weighed in on the trial on
Friday, calling the case against Manafort "very sad" and lauding his former associate as a "very good person."
As president, Trump has the power to pardon Manafort. He has already issued a number of pardons, including for a political ally, former Arizona sheriff Joe Arpaio.
The Manafort jury started deliberating on Thursday and Aaron Wolfson, a former prosecutor in New York, said it was not uncommon for juries to be out "five, six or seven days" in complicated cases.
"I think the jurors all know how serious this case is and they want to take the time and go through the evidence and the charges," he said.
Manafort's former right-hand man, Rick Gates, testified for the prosecution. Gates, also a former Trump campaign aide, was indicted along with Manafort but pleaded guilty and agreed to cooperate with the government.
Jurors were given 388 exhibits, including some that showed how Manafort spent money on luxuries including a $15,000 ostrich jacket, a $21,000 watch and $6 million in U.S. real estate.
The defense rested its case without presenting any witnesses, although Manafort attorney Kevin Downing raised credibility issues in his cross-examination of Gates.
(Reporting by Karen Freifeld and Nathan Layne in Alexandria, Va.; Writing by Alistair Bell; Editing by Peter Cooney and Bill Trott)
This story has not been edited by Firstpost staff and is generated by auto-feed.
Firstpost is now on WhatsApp. For the latest analysis, commentary and news updates, sign up for our WhatsApp services. Just go to Firstpost.com/Whatsapp and hit the Subscribe button.
Updated Date: Aug 22, 2018 01:05:53 IST