Judge says U.S. postmaster must answer questions on delay in ballot sweep
By David Shepardson and Tom Hals WASHINGTON (Reuters) - A U.S.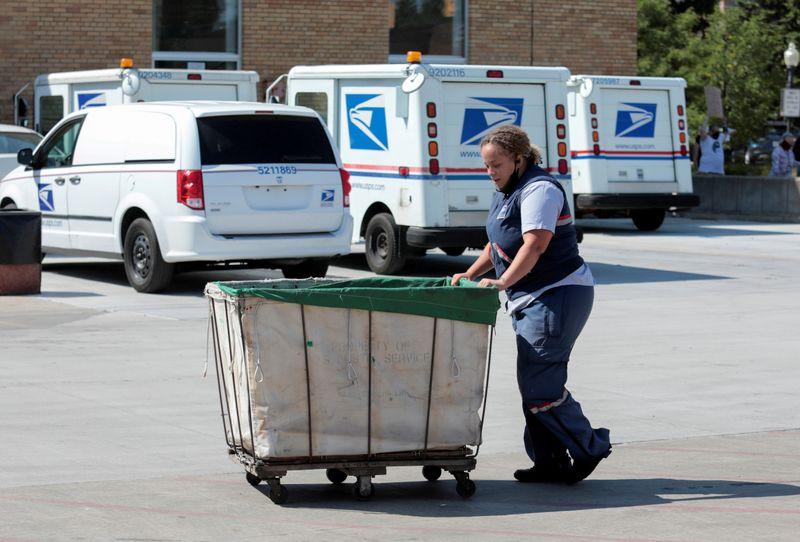 By David Shepardson and Tom Hals
WASHINGTON (Reuters) - A U.S. judge on Wednesday said Postmaster General Louis DeJoy must answer questions about why the U.S. Postal Service failed to complete a court-ordered sweep for undelivered ballots in about a dozen states before a Tuesday afternoon deadline.
U.S. District Judge Emmet Sullivan said at a hearing Wednesday that DeJoy "is either going to have to be deposed or appear before me and testify under oath about why some measures were not taken."
The Postal Service, or USPS, disclosed on Wednesday it had completed the sweeps late on Tuesday and turned up just 13 ballots in Pennsylvania.
Sullivan had ordered the sweeps in response to lawsuits by groups including Vote Forward, the NAACP, and Latino community advocates.
The USPS told Sullivan it could not meet his 3 p.m. EST (2000 GMT) Tuesday deadline for completing the checks, saying it was not logistically possible.
"The court has been very clear that it expects total compliance," Sullivan said on Wednesday. "I was just as shocked to hear that nothing else was done after the injunction was issued."
A spokesman for DeJoy declined to comment on Sullivan's remarks.
Sullivan separately ordered a new round of sweeps at postal processing centers in Texas ahead of Wednesday's deadline for postal ballots that had been postmarked by Tuesday to be delivered to local officials in the state.
Postal Service data showed that as of Sunday about 300,000 ballots that were received for mail processing did not receive scans confirming their delivery to election authorities.
In a court filing Wednesday, the Postal Service said "the lack of a destination or finalization scan does not mean that the ballots were not delivered."
Sullivan was hearing testimony on the delivery of ballots from a senior official.
Sullivan's order covered processing centers in central Pennsylvania, northern New England, greater South Carolina, south Florida, Colorado, Wisconsin and parts of Illinois, Arizona, Alabama and Wyoming, as well as the cities of Atlanta, Houston, Philadelphia and Detroit.
A senior postal inspection official said Wednesday officials in Pennsylvania had found 10 ballots in Lancaster and three delayed ballots in Johnstown during the sweeps and they were referred to management for delivery.
(Reporting by David Shepardson; editing by Jonathan Oatis and Giles Elgood)
This story has not been edited by Firstpost staff and is generated by auto-feed.
Find latest and upcoming tech gadgets online on Tech2 Gadgets. Get technology news, gadgets reviews & ratings. Popular gadgets including laptop, tablet and mobile specifications, features, prices, comparison.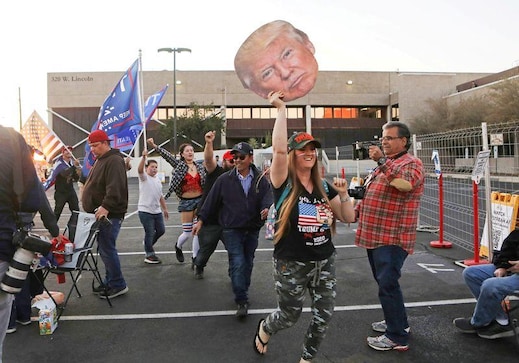 World
By Jarrett Renshaw and Joseph Tanfani (Reuters) - As President Donald Trump seeks to discredit last week's election with baseless claims of voter fraud, his team has bombarded his supporters with requests for money to help pay for legal challenges to the results: "The Left will try to STEAL this election!" reads one text. But any small-dollar donations from Trump's grassroots donors won't be going to legal expenses at all, according to a Reuters review of the legal language in the solicitations
World
RIYADH (Reuters) - Saudi Arabia's King Salman bin Abdulaziz urged the world on Thursday to take "a decisive stance" to address efforts by Iran to develop nuclear and ballistic missile programs, in an annual address to the top government advisory body. "The kingdom stresses the dangers of Iran's regional project, its interference in other countries, its fostering of terrorism, its fanning the flames of sectarianism ..
World
By Jose Sanchez BELIZE CITY (Reuters) - Belizeans headed to the polls on Wednesday to replace a veteran prime minister, with many in the tiny Central American country saying they were ready for change to repair an economy battered by pandemic-driven shutdowns. Dean Barrow, the outgoing prime minister, ran Belize for more than a dozen years.