Judge orders U.S. postal service to do twice daily sweeps for states still receiving ballots
By David Shepardson (Reuters) - A judge on Thursday ordered twice daily sweeps at U.S.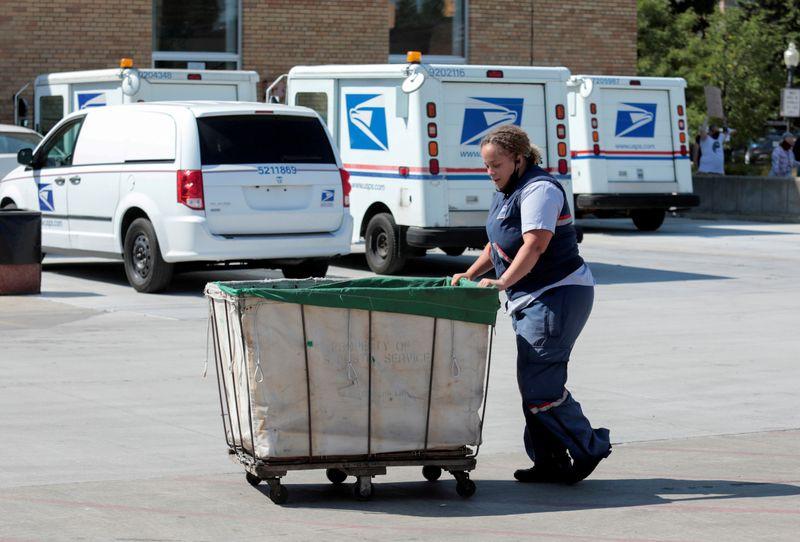 By David Shepardson
(Reuters) - A judge on Thursday ordered twice daily sweeps at U.S. Postal Service (USPS) facilities serving states with extended ballot receipt deadlines as votes were still being counted in U.S. election battleground states.
Some states, including still undecided Nevada and North Carolina, are counting ballots that are received after Election Day Tuesday. Plaintiffs lawyers in a lawsuit said the Postal Service delivered roughly 150,000 ballots nationwide on Wednesday. Of those, roughly 8,000 or 9,000, were delivered after Tuesday even though they had been mailed by Sunday.
U.S. District Judge Emmet Sullivan said the processing centers must perform morning sweeps and then afternoon sweeps "to ensure that any identified local ballots can be delivered that day."
Sullivan issued a separate order requiring USPS to file additional data from districts covering North Carolina and Pennsylvania. He also ordered USPS to "coordinate with all local county Boards of Elections in North Carolina or Pennsylvania" in order to deliver all ballots "before 5:00 PM local time in North Carolina or Pennsylvania" on Friday.
He also directed additional steps to ensure delivery of ballots in two states before the deadline.
Sullivan previously urged USPS to take all possible steps to ensure ballots are delivered. He ordered sweeps in response to lawsuits by groups including Vote Forward, the NAACP, and Latino community advocates.
USPS must report to headquarters "the total number of ballots identified and confirm that those ballots have been expedited for delivery to meet applicable extended state deadlines," Sullivan added in one of his orders Thursday.
Ballots were still being counted by election officials in battleground states two days after polls closed in one of the most unusual elections in U.S. history because of the novel coronavirus
pandemic. Democratic candidate Joe Biden was cutting into Republican President Donald Trump's leads in Pennsylvania and Georgia but retained slim margins in Nevada and Arizona.
(Reporting by David Shepardson; editing by Grant McCool)
This story has not been edited by Firstpost staff and is generated by auto-feed.
Find latest and upcoming tech gadgets online on Tech2 Gadgets. Get technology news, gadgets reviews & ratings. Popular gadgets including laptop, tablet and mobile specifications, features, prices, comparison.
Business
STOCKHOLM/LONDON (Reuters) - Sweden's decision to ban China's Huawei from its 5G networks restricts free competition and trade, the head of rival telecoms equipment supplier Ericsson told the Financial Times. Swedish telecoms regulator PTS this month halted 5G spectrum auctions after a court suspended parts of its decision that had excluded Huawei from 5G networks over national security risks. "I belong in that category that believes competition makes us longer term a better company
Business
By Devika Krishna Kumar NEW YORK (Reuters) - Oil prices firmed by about 1% on Wednesday on hopes OPEC and its allies will delay a planned increase in oil output and after Pfizer said its COVID-19 vaccine was more effective than previously reported. The market was also supported by a smaller-than-expected increase in U.S. crude stockpiles last week
Business
By Marton Dunai and Alan Charlish BUDAPEST/WARSAW (Reuters) - The prime ministers of Poland and Hungary accused European Union countries of blackmail on Wednesday, digging their heels in after vetoing the bloc's budget and post-COVID recovery package. The two countries on Monday blocked the EU's 2021-2027 budget and the recovery plan, worth a combined 1.85 trillion euros ($2.2 trillion), because access to the funds would be conditional upon respecting the rule of law