John Kerry is being economical with the truth about chemical weapons
Syria's chemical weapons programme is a symptom of unresolved geostrategic crisis—not a signifier of it's regime's Hitler-like evil.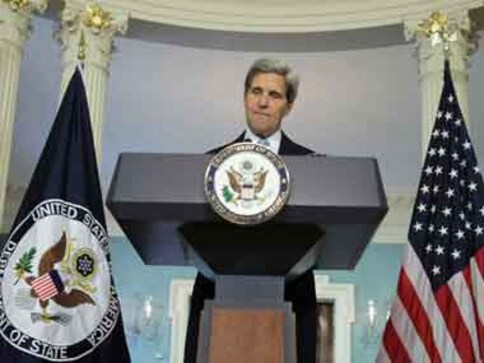 Fighting exceptional evil is an excellent argument for war. In an impassioned interview calling for strikes against Syria, John Kerry pointed out that "Bashar al-Assad now joins a list that has Adolf Hitler and Saddam Hussein as those who have used these weapons in time of war". Leaving aside the minor point that it wasn't too long ago that Kerry and the despot he now reviles were having cosy dinners at an upscale restaurant in New York, the United States secretary of state is right.
He's also being more than a little economical with the truth.
For all the talk of the immortality of chemical weapons, they've been used enough times since the second world war for talk of a taboo to be nothing more than a piety. More important, Kerry obscures the point. Look at this way: Syria's chemical weapons are a symptom of strategic asymmetries and unresolved geostrategic issues, not a cause of conflict.
Let's start with history. Hussain, murderous as he was, wasn't the sole chemical weapons enthusiasts of our times. Egypt, the scholar W Seth Carus has recorded, used chemical weapons an estimated 32 times during it's invasion of Yemen between 1963 and 1967. There was no international condemnation. The United Nations chose not to get involved, despite a Saudi complaint to its secretary-general.
Libya, in September, 1987, used blister agents against Chadian troops—though the attack proved military ineffective. In March that year, Chad's small but effective forces had overrun Libya's main airbase at Faya Largeau, forcing Mu'ammar Qaddafi's regime to order the bombing of it's own lost military assets, and leading several of his combat pilots to defect to arch-enemy Egypt.
It's worth pointing out that there wasn't an Arab monopoly of savagery. Portugal, along with South Africa, made widespread use of chemical weapons during their campaign to destroy the Angola's liberation movement, deploying defoliants with a range of lethal effects on civilians who were exposed. Angola's UNITA rebels later did exactly the same thing, in the course of the civil war which followed Portugal's defeat.
Saddam Hussain, it's worth noting, did make large-scale use of chemical weapons—but there's one point that's since emerged from Central Intelligence Agency documents which Kerry perhaps failed to remember: this happened with the consent, even connivance of the United States.
Look through the list of the five states which haven't signed the Chemical Weapons Convention, or CWC: Angola, Egypt, North Korea, South Sudan and Syria. Each of these very different kinds has two things in common. Each has two things in common. They're all fragile regimes, without the capacities needed to expand their conventional arsenals to a point where regime security can be guaranteed by the military. They all turned to chemical weapons for the same reasons other states turned to nuclear weapons: as a guarantee against annihilation.
Syria's chemical weapons programme bears out the proposition. It began, most experts agree, in 1971, at a small Damascus facility called the Centre D'Etudes et de Recherches Scientifiques.
The next year, just ahead of the 1973 Israeli-Arab war, Egypt provided Syria with small stockpiles of chemical agents. It wasn't until the mid-1980s, though, that Syria is thought to have developed its own chemical weapons production lines. The United States imposed restrictions on sales of precursor chemicals soon after, but Syria none the less acquired agents of some sophistication by the mid-1990s.
In a thoughtful commentary, the Nuclear Threat Initiative has argued that Syria's chemical weapons programme was a kind of poor man's edition of Israel's nuclear programme. "During the 1980s and 1990s, Israel's military superiority over Syria increased, leaving Syria increasingly vulnerable", it argues. "The distancing of Syria from its Soviet patron in the mid-1980s—combined with the all too apparent inadequacies of Soviet-supplied equipment—required Syria to seek an equalizer".
M Zuhair Diab, a Syrian-born, London-based expert on Syria's nuclear weapons programme, has noted that its programme is fundamentally defensive. In a 1990 speech, he notes, Hafez al-Assad, Bashar al-Assad's father, said this: "Israel is still superior technologically, and it is capable of inflicting on the Arabs human disasters in case of war. But the Arabs can, with what they have, inflict the same disasters on it".
Put simply, the weapons are meant to signal Syria has a doomsday capacity.
Examine Syria's conventional weapons acquisitions through the last decade, and it's evident why it feels the need for such an equalizer: the air force has bought nothing bar 33 ageing Mig-23s and 12 Mig-29Ms, against the state-of-the-art capacities of Turkey and Israel; its army operates the small numbers of T72 tanks, which even refitted with 9M-133 Kornet anti-armour missiles are obsolescent; its primary strike weapon are 100-odd unreliable Scud-D missiles. The most expensive purchase has been the 96K9 Pantsyr air-defence system—meant to protect against attack, not execute one.
The limits of its chemical weapons deterrent capacity well understood by Syria's military establishment. It didn't respond using chemical—or conventional—weapons in May and January, when Israeli aircraft targeted missile shipments from Iran. It didn't respond in 2007, when Israel destroyed its nuclear reactor at Deir-ez-Zor. It didn't even use them in 1973, when Israel routed its military.
There's a profound intellectual dishonesty to claims—made, among others, by the eminent commentator Steve Coll—that chemical weapons are unique in their capacity for evil, since they do not distinguish between civilians and combatants. In built-up combat environments, and in wars where insurgents and populations are enmeshed, no weapons do that. In the last century, conventional ordinance has killed far more civilians and combatants than chemicals.
Thousands of civilians are believed to have been killed in 1999-2000, during the second battle of Grozny, as Russian troops backed with armour, tanks and air-power battled Chechen insurgents—reducing the city to what the United Nations called "the most destroyed city on earth". Robert Young Pelton's last dispatch from the city is a testament to the fact that shrapnel kills just as brutally as gas.
In April, 2004, up to 800 civilians were reported killed when the United States tried to clear insurgents from the Iraqi city of Fallujah—a cost so high that embarrassed commanders were forced to call off the campaign.
Though the toxins used in the ordnance deployed in Iraq by the United States aren't classified as chemical weapons, they have been linked to hideous birth defects—at rates some say rival those seen in Hiroshima. Vietnam war are pursuing claims against the United States for birth defects that are still being caused the notorious defoliant, Agent Orange.
In days to come, an independent United Nations investigation will tell us what kinds of chemical weapons were used in Damascus—and, with any luck, will give valuable insights into who used them. Earlier evidence has been inconclusive; Russian investigators concluded a strike in March was conducted with non-military grade agents, and blamed Syria's rebels.
There should be no surprise, though, if Bashar al-Asad's troops are found to have also used chemical weapons. The question is whether that, in itself, is an act so evil it legitimises an illegal war. History suggests it isn't so.
World
The term UFO refers to any aerial object or optical phenomenon not readily identifiable to the observer. Its usage goes back all the way to the 1950s – UFOs became a subject of fascination for the public and in popular culture when humans first began exploring space
India
Prime Minister Narendra Modi also asked the ministers to spend the maximum possible time in their constituencies and to implement all the schemes of the government, according to sources
India
On Wednesday, the Supreme Court, granting bail to Indrani Mukerjea, the prime accused in the murder of her daughter Sheena Bora, said the trial will not be completed anytime soon as only 68 out of 237 witnesses cited by prosecution have been examined till date. This was Indrani's 10th attempt at seeking bail