John Bolton, Donald Trump's pick as national security advisor, is undiplomatic even by White House standards
There is more churn at the White House, with US president Donald Trump showing his National Security Advisor HR McMaster the door, and replacing him with John Bolton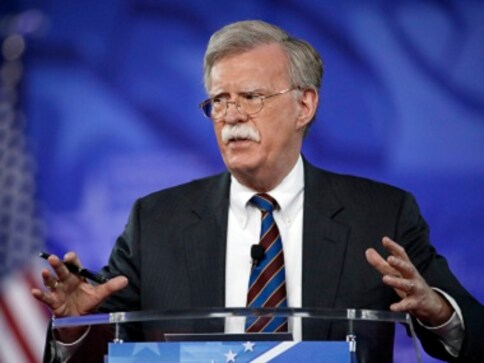 There is more churn at the White House, with US president Donald Trump showing his National Security Advisor HR McMaster the door, and replacing him with John Bolton. Bolton will take over on 9 April, becoming Trump's third national security advisor in just over a year.
The national security shakeup comes as the president is increasingly shedding advisors who once eased the Republican establishment's concerns about the foreign policy and political novice in the White House.
McMaster is the sixth close advisor or aide to announce a departure in a turbulent six weeks, joining ally Rex Tillerson, the former secretary of state, who was unceremoniously fired last week.
The White House has said the president is seeking to put new foreign policy leaders in place ahead of not-yet-scheduled meeting with North Korean leader Kim Jung-un.
Bolton called the appointment an "honour" in a statement late on Thursday, saying he "looks forward to working with Trump and his leadership team to make our country safer at home and stronger abroad".
Bolton a hardline influence
Bolton is likely to add a hardline influence to talks with Pyongyang, as well as deliberations over whether to pull out of the Iran nuclear deal. In fact, as reported by The Guardian, Bolton has made a career of calling diplomacy 'a sign of weakness', and has even made disparaging remarks about the nuclear deal and about the US administration's efforts in dealing with North Korea.
Bolton, 69, for long a polarising figure in Washington's foreign policy circles, has advocated using military force against Iran and North Korea and has taken a hard line against Russia, the report said. He was an enthusiastic booster of the invasion of Iraq, based on the grounds — later proved spurious — that Saddam Hussein was developing weapons of mass destruction.
In the past, Bolton has been Ambassador to the United Nations under then president George W Bush. However, it wasn't an easy appointment and Democrat senators tried to block his appointment. A report in The New York Times from 2005 says Bush had to go around them to install him in the position.
It was especially ironic, for Bolton himself had once said back in 1994, that "there is no United Nations", and that the only real power left in the world is the US. "There is no United Nations. There is an international community that occasionally can be led by the only real power left in the world, and that's the United States, when it suits our interests and when we can get others to go along," he had said at the Global Structures Convocation in New York in February 1994.
A report in Time magazine said his name was initially being considered for a number of foreign policy jobs before Trump took office, including Secretary of State. However, he ultimately stayed out of the White House, though remaining a fan of President Trump.
Furthermore, the Time report added, Bolton has spoken at the American Freedom Alliance, labelled a hate group in the past, in 2016, where he even "joked" that Barack Obama was a Muslim. Referring to Muslim countries, Bolton had reportedly said, "King Abdullah of Jordan, who is not simply a Muslim king of a Muslim country, unlike our president," and the report said it got him a "boisterous round of laughter".
Bolton on Russia
Among the most critical things Trump looks for in a national security advisor is his/her views on Russia. Things could run into a bit of hot water here, as Bolton appears deeply critical of Moscow. He reportedly asked Trump against congratulating Russian President Vladimir Putin following the latter's election victory earlier this week, a report on Wall Street Journal said.
However, Trump wished him anyway.
That one incident may hold clues to how the relationship between the two may play out regarding the Russia issue. A report on Wall Street Journal said that while Trump wants to improve relations and ease tensions between the two countries, Bolton has been deeply mistrustful of Russia.
Just last month, Bolton had called the indictment of 13 Russians by a federal grand jury over election meddling as an "opportunity" for Trump to toughen his approach towards Russia. "This is a potential pivot point for Trump," Bolton had reportedly said.
Following the recent chemical poisoning of a former Russian spy, allegedly by Moscow in Britain, Bolton tweeted that the US and its allies "need to take strong measures (against Russia) in response to their use of a chemical weapon to poison a Russian double agent in Britain".
The report in The Wall Street Journal added that Bolton hasn't yet revealed his plans on advice to Trump on how to deal with Russia and his counterpart in Moscow, Vladimir Putin. "I don't think it's appropriate to tell you what my advice would be. I have my views. I am sure I will have a chance to express them to the president," he was quoted as saying.
That mustache
Bolton's most defining physical characteristic is the thick bushy mustache. And it's the one thing that may have delayed his entry into Trump's inner circle.
A report in The Washington Post said Trump didn't like Bolton's mustache. And when he was vetting candidates to be possible US Secretary of State, the facial hair was always likely to work against Bolton. Several of Trump's associates told the report that Bolton's mustache was one of the factors that handicapped him.
"Donald was not going to like that mustache," said one associate, who spoke on the condition of anonymity to speak frankly. "I can't think of anyone that's really close to Donald that has a beard that he likes."
With inputs from AP
Explainers
Officials say incidents of foreigners misbehaving, overstaying and illegally working on their tourist visas as hairdressers, tour guides and taxi drivers are on the rise. But some Ukrainians are objecting to being lumped in with Russians
Explainers
The MQ-9 drone is a large unmanned aircraft remotely operated by a two-man team. It was given the 'Reaper' moniker by the US Air Force and the Royal Air Force. Primarily used to gather intelligence, it can also conduct precision strikes on high-value targets
World
Chinese president Xi Jinping is in Russia to meet his 'good old friend' Vladimir Putin. The two are expected to discuss a host of issues, including the war in Ukraine. Xi is likely to play peacemaker and reiterate Beijing's proposal to settle the conflict