Jerusalem shooting: Protests erupt after Israeli govt stops men under 50 from entering Haram al-Sharif mosque
Israeli police barred men under 50 from entering Jerusalem's Old City for Friday Muslim prayers as tensions rose and protests erupted over new security measures at a highly sensitive holy site
Jerusalem: Israeli police barred men under 50 from entering Jerusalem's Old City for Friday Muslim prayers as tensions rose and protests erupted over new security measures at a highly sensitive holy site.
The rare ban came after Israeli ministers decided not to order the removal of metal detectors erected at entrances to the Haram al-Sharif mosque compound, known to Jews as the Temple Mount, following an attack nearby a week ago that killed two policemen.
"Entry to the Old City and Temple Mount will be limited to men aged 50 and over. Women of all ages will be permitted," a police statement said.
Police said later on Friday that discretion could be applied in the use of the metal detectors instead of forcing everyone to go through them. But Palestinian and religious leaders were still calling on worshippers not to enter until they were removed.
Crowds gathered outside Jerusalem's Old City found shops closed and streets around Damascus Gate — the entrance most heavily used by Palestinians — blocked.
A group of several hundred people, including Muslim leaders, marched towards the Lions Gate entrance to the mosque compound, but police informed them that only men over 50 would be allowed.
Police later fired stun grenades towards the protesters around the Old City. At least one Israeli checkpoint could be seen on a major road into Jerusalem. There were reports of others and claims that Muslims being bused in for Friday prayers were being stopped.
Tensions have risen since police installed the metal detectors in a move Palestinians and other Muslims perceive as a means for Israel to assert further control over the site.
The controversy has resonated beyond Israel and the Palestinian territories, with the United States and the UN Middle East envoy expressing concern.
Turkish president Recep Tayyip Erdogan has urged Israel to remove the detectors. He spoke by telephone with both Palestinian president Mahmud Abbas and Israeli president Reuven Rivlin on Thursday.
Israeli prime minister Benjamin Netanyahu stressed that the metal detectors were intended to ensure the safety of worshippers and visitors and not an attempt to disturb the fragile status quo under which Jordan is custodian of the site and Jewish prayer is forbidden.
Palestinians have been refusing to enter the compound in protest at the metal detectors, and hundreds have been holding prayers outside, with clashes occasionally breaking out with Israeli police.
The main weekly prayers on Fridays draw the largest number of worshippers — typically thousands — and speculation had been mounting that Netanyahu might order the metal detectors removed.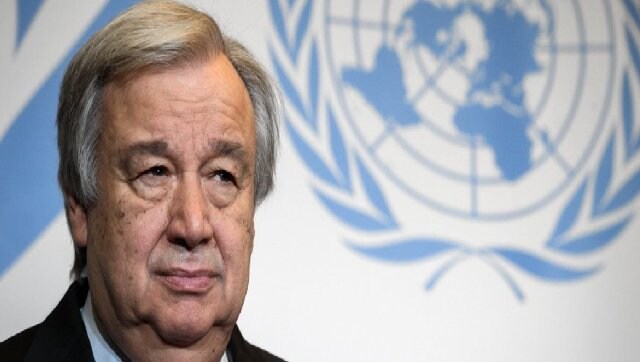 World
Guterres said the UN Security Council, which has the power to uphold international peace and security including by imposing sanctions and ordering military action, is divided
First Cricket News
Rizwan ruled the roost in 2021 when it came to the shortest format in the men's game, while Beaumont finished the year as the third-highest run-getter in women's T20Is
World
On Sunday, the US also advised its citizens against travelling to Russia, warning that Americans could face "harassment" and that Washington would have 'limited ability' to assist them