JeM begins conducting conferences across towns in Pakistan to explain Quranic verses on jihad
These conferences are called 'Daurat-e-Tafseer Ayaat-e-Jihad' or Tours for the Explanation of the Verses on Jihad and are undertaken by radical Islamic clerics associated with JeM
Jaish-e-Mohammad — which, along with Lashkar-e-Taiba, is one of the two lead Pakistani military-backed jihadist organisations waging war against Indian security forces in Kashmir — has begun organising a series of conferences across towns in Pakistan where the key objective is to impart the lessons of  Quranic verses on jihad to audiences.
These conferences are called 'Daurat-e-Tafseer Ayaat-e-Jihad' or Tours for the Explanation of the Verses on Jihad. These tours are undertaken by radical Islamic clerics associated with JeM. "The first phase of the tours for the explanation of the verses on jihad (has) begun in 18 towns under the auspices of the Al-Rahmat Trust, and hundreds of people (have) participated," according to a report in the latest issue of Haftroza Al-Qalam.
Al-Rahmat Trust is a non-governmental organisation run by JeM, a terrorist organisation headed by Maulana Masood Azhar, who was freed by India in exchange for the passengers of the Indian plane hijacked to Qandahar in 1999. Haftroza Al-Qalam is an Urdu-language weekly newspaper published by JeM.
As per the report in the 28 April-5 May 5 issue of Haftroza Al-Qalam, "In addition to men, women are also taking part (in the events to explain the Quranic verses on jihad) in Gujranwala, Daska and Lehri, Balochistan." The report states: "At the tours to explain the verses on jihad, the translation and explanation of the hundreds of those verses of the Quran are taught which are connected to jihad and which were revealed in the context of the jihadi events (ie Islamic wars fought during the era of Prophet Muhammad)."
"These tours were initiated by the Emir-ul-Mujahideen (the leader of the mujahideen), Maulana Masood Azhar May Allah Protect Him, in the year 2003. And every year, these tours are organised in different towns across the country where his students and Ulama (Islamic scholars) teach...," the front-page report says, adding that the first phase of these tours began from 22 April this year.
As per the details, 84 men and 70 women took part in the event at Gujranwala; 65 men and 20 attended the event at Daska, 30 men and 25 women were present at Lehri (Balochistan); 215 individuals participated at the event in Timergara (Lower Dir district); 75 people were present at Mardan and 45 at Mansehra; 33 people participated in the event at Abbottabad. These figures might look small, but they are large given that these events are organised by a known terrorist group.
Similarly, 20 people attended the event in Khyber Agency; 16 people at Lakki Marwat and 58 at Nawabshah; 56 participants were at the event at Larkana and 38 at Swabi. In Pakistan-occupied Kashmir, 17 people attended the event at Bhimber, 18 individuals at Muzaffarabad and 25 at Kotli. Along with Lehri, events were also organised in many other towns of Balochistan. Thirty people attended the event at Dalbadin and 55 at Khuzdar. These events were organised across Pakistan.
The radical clerics who are teaching the meanings of the Quranic verses on jihad to the audiences in these towns include Maulana Ateequr Rahman, Maulana Abdul Basit, Qari Muhammad Sadiq, Maulana Imdadullah, Mufti Mudassir Iqbal, Maulana Muhammad Ishtiaq, Maulana Muhammad Abdullah, Maulana Kalimullah, Mufti Laal Muhammad, Maulana Umar Rahman, Maulana Ziaur Rahman, Mufti Ubaidur Rahman, Maulana Muhammad Rafeeq, Mufti Abdur Rahman, Maulana Ataullah Kashif, Maulana Muhammad Sarfraz and Maulana Yusuf.
The town of Bahawalpur is the JeM headquarters. The terror group's major activities take place at the Jama Masjid Usman-o-Ali in Bahawalpur. As per another report in Haftroza Al-Qalam, a 15-day course was also begun at the mosque where teachings of Islam, Islamic history and jihad are being taught to 23 people. This course was designed by Maulana Masood Azhar and is arranged every month, the report notes.
According to another front-page report in the weekly which is available freely across Pakistan, an 'Azm-e-Jihad (Willingness for Jihad) Conference' was also organised at Mankpian in Muzaffarabad, the capital of Pakistan-occupied Kashmir. At the conference, "the air of Mankpian was filled with the slogans of Al-Jihad Al-Jihad." As per the report, Maulana Talha Rasheed, addressing the conference, said: "If the Ummah has to be rid of problems and difficulties, then one will have to wage Jihad fee Sabilillah (jihad in the path of Allah)."
We know for sure that JeM is a terror organisation created by Pakistani military's Inter-Services Intelligence (ISI).
Adnan Rasheed, a former Pakistan Air Force (PAF) technician who is now a commander of Tehreek-e-Taliban Pakistan (TTP), testified in an interview in 2013 that an institution called Idarat-ul-Pakistan was established within the PAF to coordinate jihadi activities across the three branches of the Pakistani military: Navy, army and air force.
His interview was published in a jihadi magazine called Azan. Rasheed noted that he was sent for training at a camp in Afghanistan, managed by Masood's JeM. At the training camp, Rasheed realised that JeM was "working under the ISI". He told his boss in the Idarat-ul-Pakistan: "There is no difference between us and JeM. We are soldiers in uniform and they are soldiers without uniform."
As India confronts the Pakistani military-backed jihadism in Kashmir, Indians must realise that there is no short-cut solution to the jihad in Kashmir — or elsewhere in India. This is because India is sandwiched between Pakistan in the West and Bangladesh — which remains a fragile State — in the East. In Pakistan, groups like LeT and JeM will acquire a lasting presence in the Pakistani State apparatus. In Bangladesh, the re-emergence of the Bangladesh Nationalist Party of Khaleda Zia and associated right-wing groups such as Jamaat-e-Islami will embolden jihadi groups. These forces will continue to have some influence in India.
At present, the Indian government is clueless how to meet this threat.
The author, a former BBC journalist, is a contributing editor at Firstpost and executive director of the Open Source Institute, New Delhi. He tweets @tufailelif
Find latest and upcoming tech gadgets online on Tech2 Gadgets. Get technology news, gadgets reviews & ratings. Popular gadgets including laptop, tablet and mobile specifications, features, prices, comparison.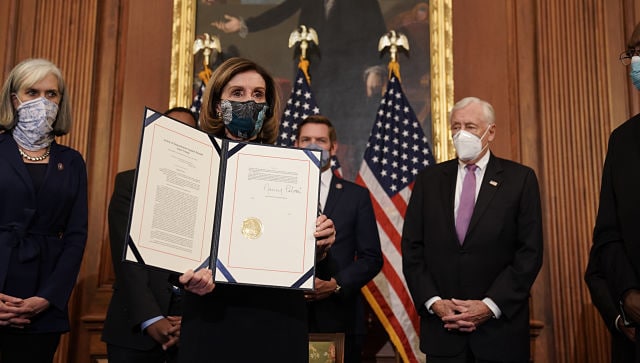 World
While the House moved with remarkable speed to impeach Trump, a Senate trial to determine whether to remove him cannot begin until 19 January, his final full day in office
India
Tapestry Pooling, the initiative developed by the team from Mumbai, is today a finalist in the Open Innovation Track of the $500,000 XPRIZE, a worldwide COVID-19 testing competition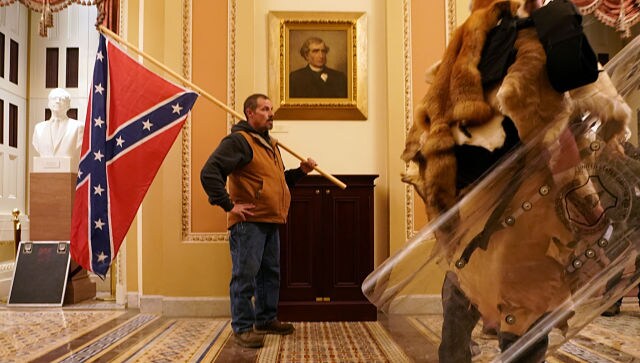 World
These days, democracies tend to collapse from piecemeal backsliding that falls short of the technical definition of a coup but is often ultimately more damaging