Japan's PM Abe not expected to call snap election - spokesman | Reuters
TOKYO Japan's top government spokesman said on Wednesday he did not think Prime Minister Shinzo Abe would call a snap election although it was up to him to decide. Speculation has simmered that Abe might dissolve parliament's lower house and call an election on the same day as an upper house poll is due in July
TOKYO Japan's top government spokesman said on Wednesday he did not think Prime Minister Shinzo Abe would call a snap election although it was up to him to decide.
Speculation has simmered that Abe might dissolve parliament's lower house and call an election on the same day as an upper house poll is due in July.
But the Sankei newspaper reported on Wednesday that Abe was unlikely to do so after earthquakes in the south last week killed nearly 50 people and caused considerable damage.
"The premier has been saying he was not thinking at all of dissolving (the lower house), so I don't think he will," Suga told a news conference when asked about the report.
"But it is the prime minister's jurisdiction and it is up to him to decide."
The Sankei said a double election would put a burden on the quake-hit area as it seeks to reconstruct its economy and help survivors return to normal life.
More than 100,000 people on Kyushu island remain in evacuation centres after the series of quakes measuring up to 7.3 hit late last week.
Suga repeated that the government would increase a sales tax as planned next April, barring a major financial crisis or natural disaster on the scale of an earthquakes and tsunamis in 2011, which killed about 20,000 people.
Asked if the quakes in the southern island qualified as such as disaster, Suga said that was not the case at present.
"There is no change at all at the moment," he said, referring to the plan to increase the levy to 10 percent from 8 percent.
Suga also said the government had never considered raising the tax in stages starting with one percentage point, after the ruling Liberal Democratic Party's policy chief said in an interview with the Nikkei business daily that such a move was possible if the economy was weak.
"It is the policy chief's thinking. I don't think there is any change in the environment basically," regarding the tax increase, he said.
Abe is expected to announce a final decision on the tax increase at around the time of a May 26-27 Group of Seven summit that he will host.
The premier had been expected to delay the tax increase, even before the latest earthquakes. Some private economists said a postponement was even more likely. 
The ruling coalition was also expected to postpone ratification of the Trans-Pacific Partnership (TPP) trade agreement until the next session of parliament, the Sankei and other media have said.
(Reporting by Kaori Kaneko and Linda Sieg; Editing by Michael Perry, Robert Birsel)
This story has not been edited by Firstpost staff and is generated by auto-feed.
World
Facing a strong contender in Erin O'Toole, will Justin Trudeau have the last laugh, or will the conservatives take over this time? All you need to know about Canada elections today
World
The UK's Department of Health and Social Care (DHSC) have said on Wednesday that they are unable to confirm this and will require further clarifications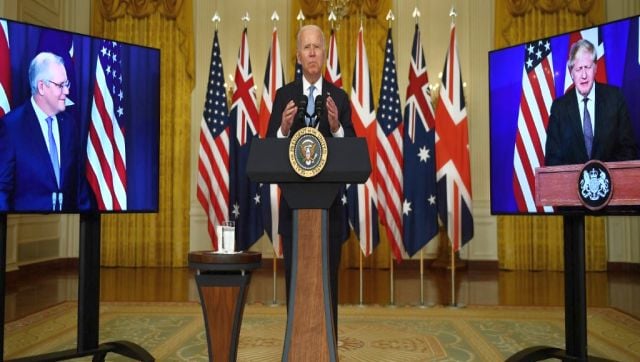 World
It is obvious that China's military aggressiveness, bullying of the nations in Indo-Pacific necessitated a response, and the 'historic' security alliance is aimed at mitigating the challenges