Japanese town deploys 'Monster Wolf' robots to deter wild bears
TOKYO (Reuters) - A Japanese town has deployed robot wolves in an effort to scare away bears that have become an increasingly dangerous nuisance in the countryside. The town of Takikawa on the northern island of Hokkaido purchased and installed a pair of the robots after bears were found roaming neighbourhoods in September. City officials said there have been no bear encounters since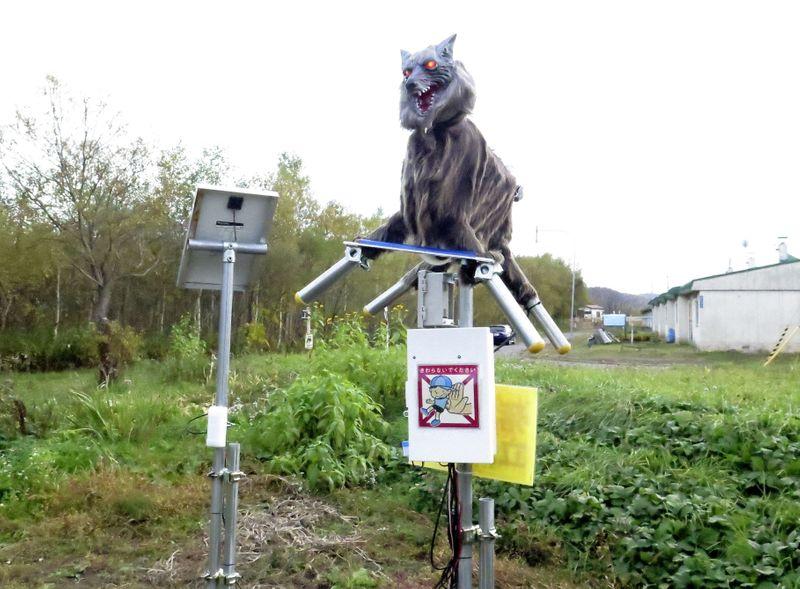 TOKYO (Reuters) - A Japanese town has deployed robot wolves in an effort to scare away bears that have become an increasingly dangerous nuisance in the countryside.
The town of Takikawa on the northern island of Hokkaido purchased and installed a pair of the robots after bears were found roaming neighbourhoods in September. City officials said there have been no bear encounters since.
Bear sightings are at a five-year high, mostly in rural areas in western and northern Japan, national broadcaster NHK has reported. There have been dozens of attacks so far in 2020, two of them fatal, prompting the government to convene an emergency meeting last month to address the threat they pose.
The so-called 'Monster Wolf' robot consists of a shaggy body on four legs, a blond mane and fierce, glowing-red eyes. When its motion detectors are activated, it moves its head, flashes lights and emits 60 different sounds ranging from wolfish howling to machinery noises.
Machinery maker Ohta Seiki has sold about 70 units of the robot since 2018.
The real Japanese wolf roamed the central and northern islands of the country before being hunted to extinction more than a century ago.
Takikawa city officials said that bears become more active and dangerous as they search for food before going into hibernation in late November. A decrease of acorns and nuts in the wild this year may have driven the animals to venture closer to towns in search of sustenance, according to local media.
(Reporting by Hideto Sakai, Akiko Okamoto and Rocky Swift in Tokyo; Editing by Gareth Jones)
This story has not been edited by Firstpost staff and is generated by auto-feed.
Find latest and upcoming tech gadgets online on Tech2 Gadgets. Get technology news, gadgets reviews & ratings. Popular gadgets including laptop, tablet and mobile specifications, features, prices, comparison.
Business
WASHINGTON (Reuters) - U.S. job openings increased moderately in September and layoffs appeared to abate, pointing to a gradual labor market recovery from the COVID-19 pandemic.
Business
By Balazs Koranyi and Francesco Canepa FRANKFURT (Reuters) - Taking a break from fighting the coronavirus crisis, the world's top central bankers will attempt to resolve the existential questions of their profession this week as they tune into the European Central Bank's annual policy symposium. Having struggled to lift anaemic inflation for years, officials including the heads of the ECB, the U.S. Federal Reserve and the Bank of England will attempt to figure out why monetary policy is not working as it used to and what new role they must play in a changed world - be it fighting inequality or climate change.
Business
By Lawrence Delevingne BOSTON (Reuters) - Asian shares rose on Wednesday as hopes for a successful coronavirus vaccine lifted expectations of a swift reopening of the global economy, which would help the region's heavily trade-dependent markets.