Japan finance minister Taro Aso to meet Mike Pence in September to discuss economy, trade
Japanese finance minister Taro Aso said that he would visit the US in September to hold informal talks with Mike Pence ahead of a second round of bilateral talks
Tokyo: Japanese finance minister Taro Aso said on Tuesday that he would visit the United States from 4 September to hold informal talks with Vice-President Mike Pence ahead of a second round of bilateral economic talks later this year.
Aso, who doubles as deputy prime minister, also plans to meet top economic officials of United States president Donald Trump's administration, government sources told Reuters on condition of anonymity.
Asked if the two sides would discuss North Korea, Aso said Pence was not the person directly in charge of the matter so he did not know how the issue would be discussed.
North Korea fired a missile that flew over Japan and landed in waters off the northern region of Hokkaido early on Tuesday, marking a sharp escalation of tensions on the Korean peninsula.
Aso has earlier expressed hope that the second round of economic talks would be held in October.
"There are some areas that need to be adjusted, so we are going to adjust them in order to hold (the next round of talks) by the end of this year," Aso told reporters after a cabinet meeting.
Japan-United States trade talks "have dealt with frictions in the past, starting from the negotiations on textile in the 1960s, but this time we approached (the United States), calling for cooperation but not frictions," Aso said.
He and Pence would likely discuss issues such as trade, investment and economic policies in accordance with the first round of economic talks launched in April, Aso added.
Aso will also hold informal talks with Gary Cohn, Trump's top economic adviser, and United States Commerce Secretary Wilbur Ross and United States Treasury Secretary Steven Mnuchin during his visit scheduled for 4 to 6 September, the sources said.
Aso and Pence have led the United States-Japan economic dialogue.
However, some analysts worry that Trump's administration, which is facing growing domestic turmoil, could pile pressure on the country's trading partners for concessions that would boost United States exports under his "America First" policy.
The upcoming talks could also include the issue of safeguard tariffs Japan has imposed on frozen beef from the United States and some other countries.
Sports
The Fijians will next play Argentina, which rebounded to beat South Africa 19-14, and Britain will have to contend with top-ranked New Zealand.
Sports
The gymnast was named by her father as 18-year-old Kara Eaker who is in Japan as a reserve on the squad led by superstar Simone Biles.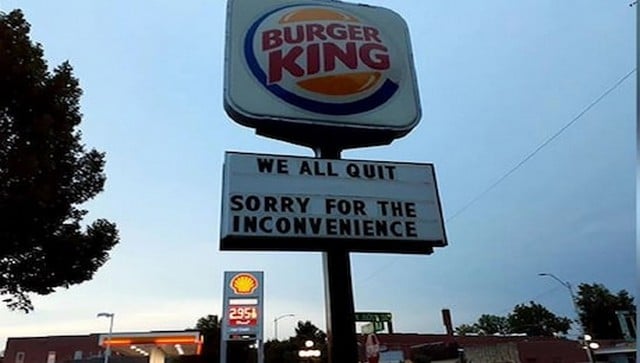 World
Put up by disappointed workers trying to send a message to the management, the sign reads "we all quit" and "sorry for the inconvenience"