James Mattis quits, shutdown looms, stocks dive; are the wheels coming off Donald Trump presidency?
The wheels are coming off the Donald Trump presidency. In one of the wildest days yet in the Trump era, Defence Secretary Jim Mattis quit exactly 24 hours after Trump's shock withdrawal of US troops from Syria - the final straw for Mattis after a string of run-ins with the US president over many months.
New York: In one of the wildest days yet in the Trump era, Defence Secretary James Mattis quit exactly 24 hours after Trump's shock withdrawal of US troops from Syria - the final straw for Mattis after a string of run-ins with the US president over many months. As Mattis' resignation spurred a chorus of protests at home and abroad, it can be argued that the wheels are coming off the Donald Trump presidency.
Trump's year of tantrums and meltdowns is ending exactly like it began — with Twitter decrees applauded in Russia and ripped to shreds in his backyard. "Breaking News" is no longer a phrase sufficient to describe the chaos in Trumpworld and today seemed like the last straw even for those who held their nose until now and tolerated Trump's unhinged manner. While these bombshells exploded one after another in Washington and Trump threatened to shut down the government over his $5 billion demand for a border wall, stocks went into free fall on Wall Street in what is shaping up as the worst December since the depths of the Great Depression, with prices dragged down by rising fears of a recession somewhere on the horizon.
Each of Trump's erratic domestic and foreign-policy moves have been part of a deliberate strategy to allow himself to operate in permanent freestyle mode, on the fly, spinning stuff out of thin air. Mattis' exit and Trump's border wall shutdown threat fit snugly with this theory of Crazytown.
The resignation of Mattis — widely regarded as the last 'adult' in the White House — comes on a day when Trump pushed the US government to the brink of a shutdown ahead of the holiday season, claiming he cares deeply about border security and will not sign a funding bill that does not deliver his $5 billion for a wall along the US-Mexico border. In the past few weeks, Trump has come at this from every flank. He's said he will sign, he has said he won't sign, he has said he's proud to shut down the government, he ran on this in 2016 and claimed Mexico will pay for it. Nobody is foolish enough to even care any longer, Trump can wring the last drop of political mileage from this mythical wall only as long as it doesn't get built and this con is playing out in broad daylight. If he gets the money for it and the first bricks are laid, what will Trump rail about, which tinder box will he take a match to?
"Chaos!" and "shaken" - this is how rattled Washington politicos are reacting to the bizarre events of the day which confirmed that Trump was caving to hard-right media dog whistling for the wall to be built. Rush Limbaugh pushed Trump via his radio show to shut the government down and Trump texted Limbaugh back saying that yes, he is doing exactly that. Did that really happen? Yes, a reality television star turned president is being played by the most racially charged idiot box shows in town and he's caving. "Veto this thing and then head down to Mar-a-Lago," Limbaugh said, referring to Trump's vacation plans. "I will meet you on the first tee wherever you want to play golf, whenever, and this will end up being resolved in your favor."
Hours after this came the Mattis resignation and newsrooms across the country were scrambling to rewrite their Page One stories by the hour.
"You have a right to have a defence secretary whose views are better aligned with yours" is Mattis' parting shot to Trump.
The two have clashed from the early days over a troop drawdown in Syria and Trump's go-it-alone stance in world affairs. Other lead actors of Trumpism also fed Trump stories about how generals like Mattis had spent so many years in the Central Command that covered the Middle East and Asia that their scope became too wide for Trump's rather narrow economic goals. "They never cared about the cost of anything", Trump's former chief strategist Steve Bannon said of Mattis, writes Bob Woodward, in 'Fear'.
Mattis, perhaps the most respected foreign policy official in Trump's administration, will leave by the end of February after two tumultuous years struggling to soften and moderate the US president's abruptly shifting policies.
In his resignation letter, Mattis alluded to disagreements with Trump as the reason for his departure.
"Because you have the right to have a secretary of defense whose views are better aligned with yours on these and other subjects, I believe it is right for me to step down from my position," Mattis wrote.
Trump's decision to pull troops out of Syria has been criticized for abandoning America's Kurdish allies, who may well face a Turkish assault once US troops leave. Mattis, in his resignation letter, emphasized the importance of standing up for U.S. allies in an implicit criticism of the president's decision.
"While the US remains the indispensable nation in the free world, we cannot protect our interests or serve that role effectively without maintaining strong alliances and showing respect to those allies," Mattis wrote.
Just in as the day winds up in the US East Coast: Robert Mueller is likely to submit his final report by February 2019, all signals indicate he is tying up "loose ends" reports NBC, where the story broke.
World
With his actions, Biden is doing more than simply complying with federal investigators assigned to look into the discovery of the records. The president is aiming to show that he never intended to retain classified materials, a distinction that diminishes the risks of criminal liability
World
The appearances in New Hampshire and South Carolina are an opportunity to address complaints from fellow Republicans that his intended contest with President Joe Biden has made a slow start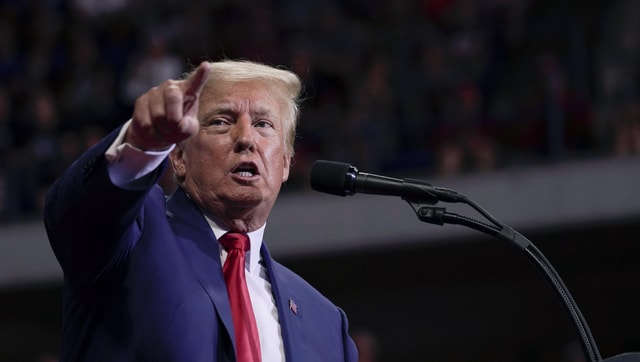 World
Former US President Donald Trump relied heavily on support from evangelical voters during his 2016 campaign.