James Mattis knows what conflict with Iran can cost US and the world; Donald Trump must pay heed to defence secretary
No one can second guess just what the US president has in mind but when it comes to war, the US military knows that such a war can be conventional only up to a point and asymmetric thereafter.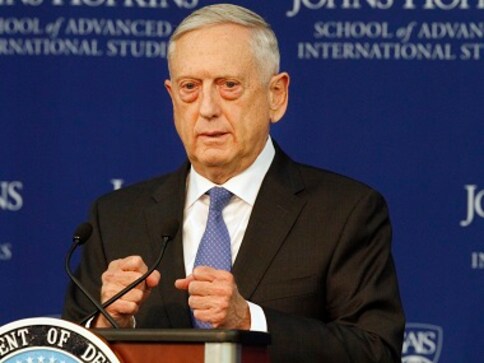 President Donald Trump's decision to pull the US out of the Joint Comprehensive Plan of Action (JCPA) of July 2015, also known as the Iran nuclear deal, did send signals of concern around the world. With JCPA in place, in the last three years, a number of nations had begun to invest in Iran being aware of opportunities in a nation which had been virtually out of the international economic ambit for many years due to sanctions. Now with fresh US sanctions about to be implemented the international community is once again examining how to remain outside the complex politics of these sanctions and continue to follow individual national interests. However, an even more serious threat appears to be emerging over the last few weeks with Trump and his core advisors, Secretary of State Mike Pompeo and National Security Advisor John Bolton, issuing naked threats against Iran and expressing their willingness to go to war to effect a regime change and destroy Iran's nuclear facilities which they suspect can put Iran on the path to attaining nuclear weapon status in an undetermined yet fairly early time frame.
US animosity towards Iran goes back to 1979-80, in fact to three specific events. First was Iran's clergy led revolution which overthrew one of US' closest allies of the Cold War era, Shah Reza Pahlavi, Iran's dictatorial monarch. The second was the takeover by renegade Iranian youth of the US Embassy in Tehran in mid-1980 when president Jimmy Carter allowed the ailing Shah To visit the US for treatment of cancer. The third was the botched attempt to rescue the hostages at the embassy by the US Special Forces which led to fatalities of US servicemen when two aircraft collided during a dust storm in the desert. It effectively sealed the fate of Carter who was then seeking a second term as president. More importantly, it hit US ego in a way that the same has yet to recover. Iran's belligerence, particularly the rhetoric during the era of former Iranian president Ahmadinejad some years ago, a clandestine nuclear programme and a clergy-led antipathy (not necessarily supported by the Iranian public) has kept the US-Iran relationship on tenterhooks.
No one can second guess just what the US president has in mind but when it comes to war, the US military knows that such a war can be conventional only up to a point and asymmetric thereafter. An initial occupation of territory in Afghanistan and Iraq did not guarantee any quick victory and those were multinational operations, initially conventional followed by asymmetric. Against Iran, the US is likely to find only Israel as a willing partner. There is no reason for Europe to join in and other Middle Eastern nations would be reluctant due to possible blowback. The Saudis are too deeply immersed in Yemen. The US lacks sufficient will to put boots on the ground except for a few Special Forces but objectives in such a war cannot be attained by Special Forces without ground holding capability. Thus the US will rely on three elements of warfighting -- missile forces, air power and a possible naval blockade. The aim would be twofold. First, the destruction of the nuclear sites which are known to exist in deep-dug facilities and would require deep penetration bombing, that is something the US and Israel have been preparing for long. Second, would be regime change. That can happen only through an engineered revolt with psychological warfare and information operations supported by other intelligence operations. There can be no guarantee that such operations will succeed as Shia unity is likely to strengthen. A study of Shiaite history will reveal to what extent sacrifice is extolled as a basic value within that ideology. Destruction of Iranian nuclear sites and other infrastructure will only cause unity among the Iranian people rather than antipathy towards the clergy based leadership.
The man who is realistically aware of the dangers of asymmetric warfare is defence secretary James Mattis. The former national security advisor, HR McMaster was similarly oriented. However, the experienced military advice is likely to be eschewed when it comes to higher decision making in the US. Bolton and Pompeo the current Trump favourites have long favoured military action. A war will have serious implications for international security as well as the global economy. Iran has larger than appreciated presence all over the Gulf region, especially in the Levant and controls one of the most lethal organisations, Hezbollah which can adopt terrorist ways very quickly. As per an Israeli estimate, Hezbollah has as many as 130,000 missiles of all varieties in its arsenal in Lebanon. It cannot be a walk away victory which Trump's advisers are imagining and Mattis, the pragmatic military brain knows it. The resultant chaos and turbulence will create the most ideal conditions for the return of an organisation such as the Islamic State which is yet kicking and alive in eastern Syria. Iran is unlikely to allow a blockade of the flow of its energy resources and trade without a matching blockade of the move of Arab oil. This will send the price of oil and gas skyrocketing bringing powers such as China, Japan and India into the issue thus further complicating it. The effect on the global economy will be catastrophic. High oil prices will benefit one country -- Russia but probably this has not occurred to the establishment in the US which favours military intervention.
The maxim that war is too risky a business to be left to Generals proves exactly the opposite in most conflicts in the post-Cold War period. That is because these wars are not simple conventional ones but deeply complex due to their hybrid nature. Military leaders well understand the implications of hybrid conflicts which usually end in No Victor No Vanquished type of situations and fester for years with unrealised side effects giving rise to subsidiary wars. Hopefully, Mattis, considered a rational hawk, will strongly oppose the President and advise him against stoking the fire unnecessarily. A war between the US and Iran can still be avoided with his intervention and timely advice.
Find latest and upcoming tech gadgets online on Tech2 Gadgets. Get technology news, gadgets reviews & ratings. Popular gadgets including laptop, tablet and mobile specifications, features, prices, comparison.
World
Given the dynamics at play, India is reduced to a mute spectator as are the other neighbouring countries like Iran, Tajikistan and Uzbekistan who have their own sovereign, sectarian, ethnic and strategic interests at stake, with the evolving narrative
World
Barack Obama's new memoir, 'A Promised Land', goes on sale on Tuesday, 17 November
World
The explosions hit various parts of central and north Kabul, including in and around the heavily fortified Green Zone that houses embassies and international firms