Jamal Khashoggi's disappearance: Mike Pompeo meets Turkey's Erdogan after Saudi Arabia promises 'nobody exempt' from inquiry
Mike Pompeo after his visit to Riyadh had said that Saudi Arabia promised to ensure a thorough probe and accountability over a missing Saudi journalist but stood by denials that the kingdom killed him.
US Secretary of State Mike Pompeo on Wednesday held talks with Turkish president Recep Tayyip Erdogan in Ankara over the disappearance of Saudi journalist Jamal Khashoggi as Riyadh faced new claims that he was killed inside its Istanbul consulate.
Pro-government Turkish media published gruesome new allegations that Khashoggi was killed by being gradually dismembered by a Saudi assassination squad, some of whom the New York Times said were tied to Crown Prince Mohammed bin Salman.
But the United States has refused to rebuke its ally despite the mounting diplomatic pressure, with President Donald Trump insisting on the principle of innocence before being proven guilty and US Secretary of State Mike Pompeo saying after talks in Riyadh: "I don't want to talk about any of the facts."
Pompeo met with Saudi Arabia's King Salman on Tuesday over the disappearance and alleged slaying of Khashoggi. Pompeo's arrival came hours after a Turkish forensics team finished a search inside the consulate.
He said Saudi Arabia has promised that no one will be exempt from the inquiry into Khashoggi's disappearance.
On Tuesday, UN High Commissioner for Human Rights Michelle Bachelet also urged the governments of Saudi Arabia and Turkey to "reveal everything they know" about the disappearance and a possible extra-judicial killing of the prominent journalist. Bachelet urged the authorities of both the countries "to ensure that no further obstacles are placed in the way of a prompt, thorough, effective, impartial and transparent investigation".
She welcomed the agreement that has allowed investigators to conduct an examination inside the consulate and possibly also at the residence of the Saudi Arabian Consul-General in Istanbul. She said diplomatic immunity of officials must be "waived immediately" to ensure a prompt and transparent probe.
Khashoggi disappeared two weeks ago while on a visit to the Saudi Consulate in Istanbul, sparking an international uproar involving the Kingdom, Turkey and the United States that remains unresolved. Khashoggi, a Washington Post contributor, had written columns critical of Saudi Crown Prince Mohammed bin Salman, the kingdom's stalemated war in Yemen and its crackdown on activists and businessmen.
Jamal Khashoggi's disappearance 
Khashoggi, went to the Saudi Consulate in Istanbul's upscale neighborhood on 28 September seeking documents so he could be married to his Turkish fiancee, Hatice Cengiz. He was told to return to the consulate on 2 October to pick up those documents, Cengiz claims.
Surveillance footage later aired on Turkish state television shows Khashoggi walking into the consulate at 1.14 pm on 2 October. A little less than two hours later, surveillance footage shows several vehicles with diplomatic license plates move from the consulate to the consul's home some 2 kilometers away.
Cengiz, who spent hours waiting for Khashoggi outside while holding his mobile phones, says her fiance never walked out of the consulate to meet her. Surveillance footage shows her pacing around outside at 5.33 pm, speaking on her phone. No footage made public so far has shown Khashoggi walked out of the consulate.
Turkey's stance
Turkish officials claim they have audio and video recordings of Khashoggi being interrogated, killed and dismembered. However, no such recordings have been released publicly so far.
Turkish security officials have leaked information through pro-government media. According to The Associated Press, Turkish media published the names and photographs of 15 Saudi men in the country's military and security services who are said to have formed an "assassination squad" sent to target Khashoggi. The media also released a series of videos, apparently taken from surveillance cameras, showing the alleged Saudi agents arriving on private jets the day Khashoggi disappeared, checking into and out of hotels near the consulate, and then flying out that night.
Despite the lurid allegations published in media loyal to him, Turkish president Recep Tayyip Erdogan has also taken a circumspect line in the case, saying his priority is to uncover the truth through an investigation, reported AFP.
Turkish police on Monday night undertook an eight hour search at the consulate, taking away soil and DNA samples, although a search expected on Tuesday at the consul's residence has so far not taken place.
Saudi Arabia's claims
Pompeo, after his visit to Riyadh, said that Saudi Arabia has promised to ensure a thorough probe and accountability over the missing Saudi journalist, but stood by denials that the Kingdom killed him. Pompeo added that the Saudi leadership "strongly denied knowledge of what took place" in the consulate, without outright rejecting that an incident occurred.
The Saudis had earlier insisted, without evidence, that Khashoggi left the consulate freely while later reportedly hinted that rogue elements could be responsible — a theory that Trump has mused about aloud, reported AFP.
The crown prince "pledged that the work of the Saudi public prosecutor will produce a full and complete conclusion with full transparency for the world to see," Pompeo added.
According to The Washington Post, Saudi officials have repeatedly denied any involvement in Khashoggi's disappearance and said that they have no information about his whereabouts.
Donald Trump and the US media
Earlier US president Donald Trump had threatened "severe punishment" if it is proven that Khashoggi was killed in the Saudi consulate. However, he later suggest that "rogue killers" could be behind Khashoggi's disappearance. The US president has also opposed the idea of cancelling the mega $110 billion arms deal with Riyadh, saying this will hurt American companies and jobs.
Trump has also pushed back at the global condemnation of Saudi Arabia over Khashoggi's disappearance, saying the Kingdom deserved to be "presumed innocent". Saudi Arabia is one of the closest US partners in a bid to undermine Iran and also a massive client of the US weapons industry.
Earlier, unconfirmed reports in the US media suggested that Saudi Arabia was preparing to admit that Khashoggi died as a result of a botched interrogation and that the original intention had been to abduct him, according to a BBC report.
The American media, meanwhile, have reported that suspects identified by Turkey have links to Saudi crown prince.
With inputs from agencies
Business
Saudi Arabia is bidding to co-host the World Cup in 2030 and has signed Cristiano Ronaldo as an ambassador for the bid
World
US president Joe Biden campaigned on a pledge to work toward abolishing federal capital punishment. But the Justice Department continues to press for the death penalty in certain cases — even as a moratorium means no federal executions are likely to happen anytime soon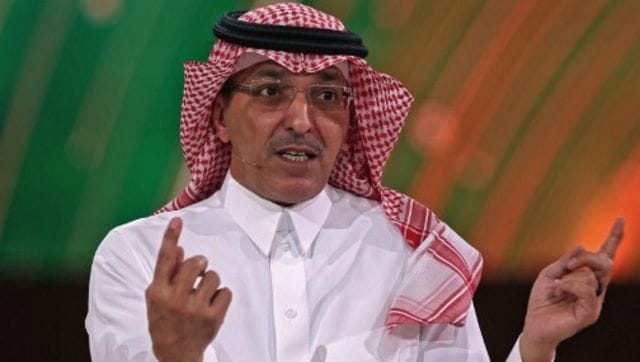 World
The statement Saudi Arabia's finance minister comes within months after he held discussions with Indian trade minister Piyush Goyal on the feasibility of institutionalising Rupee-Riyal trade and introduction of UPI and Rupay cards in the kingdom