Jamal Khashoggi murder: Donald Trump vows to remain Saudi's 'steadfast partner'; US Republicans push for action against Riyadh
Defying intense pressure from US lawmakers to impose tougher sanctions on Saudi Arabia, Trump also said he would not cancel military contracts with the kingdom, claiming it would be a 'foolish' move that would only benefit Russia and China.
Washington: President Donald Trump vowed on Tuesday to remain a "steadfast partner" of Saudi Arabia despite saying that Saudi Crown Prince Mohammed bin Salman may have known about the plan to murder dissident journalist Jamal Khashoggi last month.
Defying intense pressure from US lawmakers to impose tougher sanctions on Saudi Arabia, Trump also said he would not cancel military contracts with the kingdom, claiming it would be a "foolish" move that would only benefit Russia and China.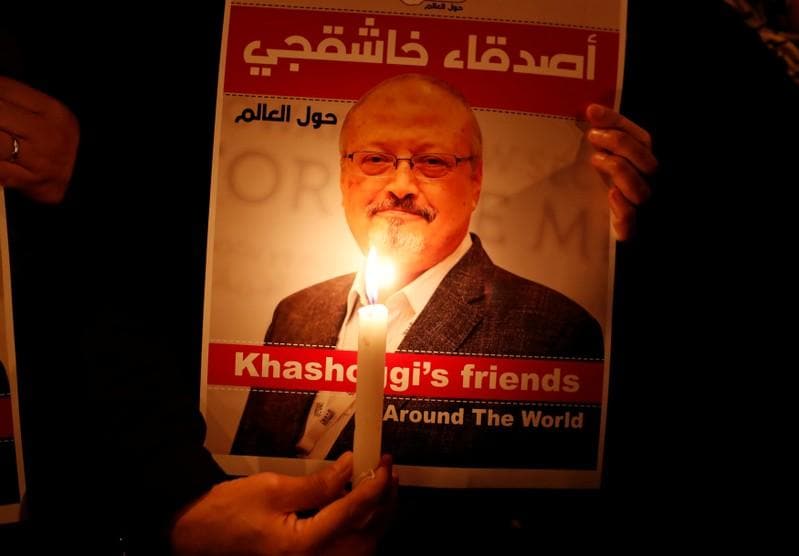 Trump said US intelligence agencies were still studying the evidence around Khashoggi's murder inside the Saudi consulate in Istanbul on 2 October and who planned it. Since the murder, Trump has taken varying positions on how to react, including possible sanctions.
"It could very well be that the Crown Prince had knowledge of this tragic event – maybe he did and maybe he didn't!" Trump said in a statement issued by the White House.
His comments contradicted the Central Intelligence Agency (CIA), which believes Khashoggi's death was ordered directly by the crown prince, Saudi Arabia's de facto ruler widely known by his initials MBS.
Trump was quickly accused by Democratic lawmakers of undermining his own intelligence agencies and failing to confront Saudi Arabia over a human rights atrocity.  "Human rights is more than just a phrase, it has to mean something. And that means standing up and condemning a brazen murder by a foreign government. Everyone who played a role in this killing must be held accountable," Senator Dianne Feinstein said.
Democratic and Republican lawmakers have urged Trump to drop his support for MBS over the Khashoggi case, but the president has been reluctant.
Trump said on Tuesday that both Saudi Arabia's King Salman and MBS "vigorously deny any knowledge of the planning or execution of the murder," and that the truth may never be known.
He also stressed that Saudi Arabia, a major oil producer, is an important business partner and a "great ally" in the fight against Iranian power in the Middle East. "The United States intends to remain a steadfast partner of Saudi Arabia to ensure the interests of our country, Israel and all other partners in the region," Trump said.
On Twitter, Iranian Foreign Minister Mohammad Javad Zarif said of the statement: "Trump bizarrely devotes the FIRST paragraph of his shameful statement on Saudi atrocities to accuse Iran of every sort of malfeasance he can think of."
Congressman Adam Schiff, who is expected to become the leader of the House of Representatives' intelligence committee in January, said the United States should immediately end support for Saudi Arabia in the Yemen war, suspend arms sales to the kingdom, and reduce its reliance on Riyadh in the Middle East.
"The president adds to his track record of ignoring his own intelligence agencies, and undermining American values at home and abroad, by giving Saudi Arabia a pass for the brutal and premeditated murder of a US resident and journalist. Outrageous," Democratic Senator Dick Durbin said.
Republicans' Criticism
Some of Trump's fellow Republicans have also vowed to break with him and push for firmer US action against Saudi Arabia.
Representative Francis Rooney, a Republican on the House Foreign Affairs Committee, said Washington should apply the so-called Magnitsky Act to those responsible for Khashoggi's death.
The legislation hits human rights violators with freezes on US assets, US travel bans, and prohibitions on Americans doing business with them.
Trump has placed the alliance with Saudi Arabia at the heart of his Middle East policy, and it was the first country he visited after becoming president in 2017.
Republican Senator Lindsey Graham, a sometime Trump ally, said there will be bipartisan support for sanctions against Saudi Arabia, "including appropriate members of the royal family, for this barbaric act which defied all civilized norms."
"While Saudi Arabia is a strategic ally, the behaviour of the crown prince – in multiple ways – has shown disrespect for the relationship and made him, in my view, beyond toxic," Graham said.
Trump's son-in-law, Jared Kushner, has developed a close relationship with MBS, and both he and Trump have tried to maintain the alliance.
Trump said on Tuesday he would not suspend arms sales to Riyadh. "If we foolishly cancel these contracts, Russia and China would be the enormous beneficiaries - and very happy to acquire all of this newfound business. It would be a wonderful gift to them directly from the United States!" Trump said.
Representative Eliot Engel, who has the power to block arms deals as the top Democrat on the House Foreign Affairs Committee, said the United States should use its ability to sell weapons to the Saudis as leverage to influence Riyadh's behaviour. "The reality is that the Saudis couldn't simply buy their weapons somewhere else," Engel said in a statement. "It would take years for the Saudi military to re-equip with Russian or Chinese weapons."
When Trump mentions the $110 billion package with Riyadh last year, he often adds that "it's 500,000 jobs."
But arms manufacturer Lockheed Martin Corp predicts the deal could create nearly 10,000 new jobs in Saudi Arabia while keeping up to 18,000 existing US workers busy if the whole package comes together - an outcome industry experts say is unlikely.
US Secretary of State Mike Pompeo defended Trump's support for Saudi Arabia. The United States was obligated to adopt policies that furthered US national security interests, Pompeo told a news conference following a meeting with Turkish Foreign Minister Mevlut Cavusoglu in Washington.
Cavusoglu said that Turkey is not entirely satisfied with the level of cooperation it is receiving from Saudi Arabia over Khashoggi's murder, and may seek a formal United Nations inquiry.
(Reporting by Mike Stone; additional reporting by David Alexander, Susan Heavey, Mohammad Zargham, Patricia Zengerle and Richard Cowan; editing by Jonathan Oatis and Grant McCool)
This story has not been edited by Firstpost staff and is generated by auto-feed.
Opinion
There are a host of issues that involve a major policy shift in entrenched positions by both sides. We need to wait and see the outcome as the two month period outlined in the agreement is not easy to bridge the bitter gulf
World
Iran and Saudi Arabia agreed on Friday to re-establish relations after seven years of hostility which had threatened stability and security in the Gulf and helped fuel conflicts in the Middle East from Yemen to Syria.
World
Riyadh and Tehran announced on Friday that after seven years of severed ties they would reopen embassies and missions within two months and implement security and economic cooperation agreements signed more than 20 years ago