Jakarta blasts: Joko Widodo urges people to remain calm after suicide bombings
Indonesia's president urged people to remain calm on Thursday, a day after suspected suicide bombers killed three police officers at a Jakarta bus terminal.
Jakarta: Indonesia's president urged people to remain calm on Thursday, a day after suspected suicide bombers killed three police officers at a Jakarta bus terminal in an attack that authorities believe is highly likely to be linked to the Islamic State group.
Six police officers and six civilians were also wounded in the twin blasts that were detonated five minutes apart by the two suspected attackers in the Indonesian capital late on Wednesday evening, police said.
The attack was the deadliest in Indonesia since January 2016, when eight people were killed, four of them attackers, after suicide bombers and gunmen attacked the capital.
"We must continue to keep calm (and) keep cool. Because... we Muslims are preparing to enter the month of Ramadan for fasting," President Joko Widodo said in a statement.
Authorities in the world's biggest Muslim-majority nation are increasingly worried about a surge in radicalism, driven in part by a new generation of militants inspired by Islamic State.
It was "highly likely" an Islamic State-linked group was behind Wednesday's attack, National Police spokesman Awi Setyono said. "There's a link, but we're still studying whether it's an international network," Setyono said.
Setyono told reporters earlier that police was investigating whether the attackers had direct orders from Syria or elsewhere.
Police has not yet named the two dead suspects but a law enforcement source, who spoke on condition of anonymity, said they may have been linked to Jemaah Ansharut Daulah, an umbrella organisation on a US State Department "terrorist" list that is estimated to have drawn hundreds of Islamic State sympathisers in Indonesia.
Indonesia has suffered a series of mostly low-level attacks by Islamic State sympathisers in the past 17 months.
Blood, broken glass
Residents helped clean up debris at the bus terminal in East Jakarta on Thursday, where splattered blood stains and broken glass remained after the attacks.
"After what happened in Manchester, in Marawi in the Philippines, maybe the cells here were triggered by the bombs and that lifted their passion to start bombing again," Setyono told television station TVOne.
He was referring to the suicide bombing that killed 22 people in a crowded concert hall in the British city of Manchester this week.
In the southern Philippines, thousands of civilians in Marawi City fled their homes this week after Islamist militants took over large parts of the city, leading to a declaration of martial law.
While most recent attacks in Indonesia have been poorly organised, authorities believe about 400 Indonesians have joined Islamic State in Syria and could pose a more lethal threat if they come home.
Police said Wednesday's attackers had used pressure cookers packed with explosives.
A similar type of bomb was used by a lone attacker in the Indonesian city of Bandung in February. Authorities suspect the attacker, killed by police, had links to a radical network sympathetic to Islamic State.
Find latest and upcoming tech gadgets online on Tech2 Gadgets. Get technology news, gadgets reviews & ratings. Popular gadgets including laptop, tablet and mobile specifications, features, prices, comparison.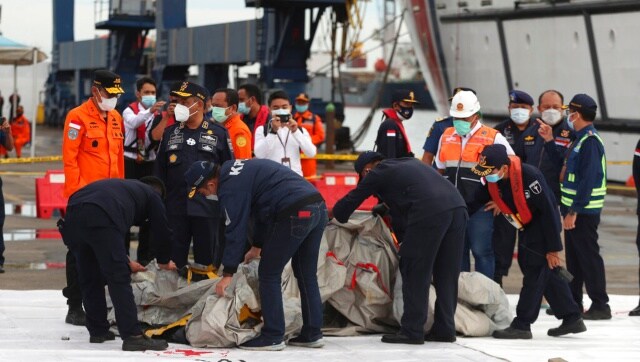 India
This discovery could offer critical clues to explaining why Sriwijaya Air Boeing 737-500 plunged about 10,000 feet in less than a minute before slamming into the Java Sea on Saturday
World
Flight tracking data showed the Sriwijaya Air Boeing 737-500 plunged into a steep dive about four minutes after it left Soekarno-Hatta international airport
World
No one immediately took responsibility for the attack, but Iraq has seen assaults perpetrated by both the Islamic State group and other militia groups in recent months