Ivory Coast president and opposition to pursue talks amid deadly standoff
ABIDJAN (Reuters) - Ivory Coast President Alassane Ouattara and a main opposition leader promised on Wednesday to press ahead with talks to resolve a bitter standoff over the Oct.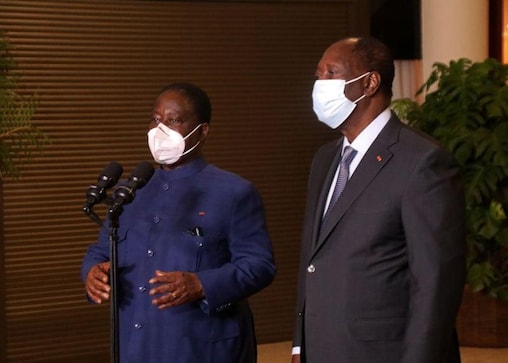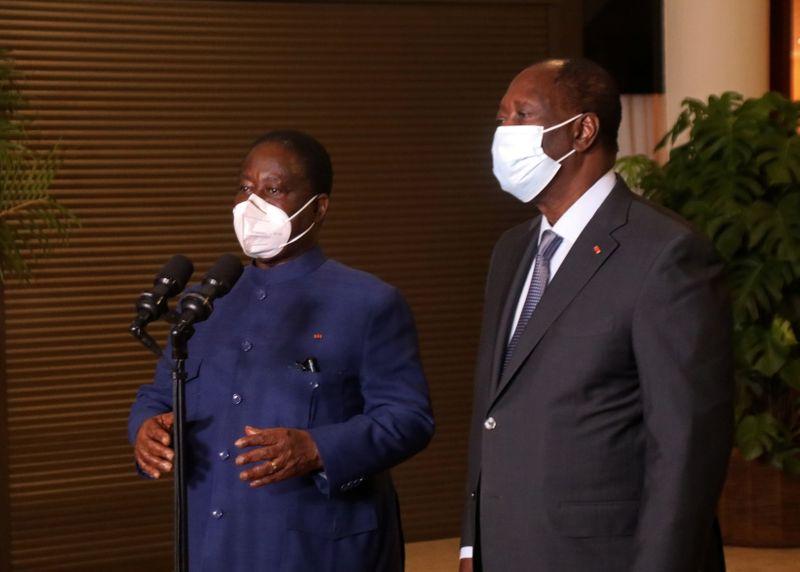 ABIDJAN (Reuters) - Ivory Coast President Alassane Ouattara and a main opposition leader promised on Wednesday to press ahead with talks to resolve a bitter standoff over the Oct. 31 election that has sparked clashes killing 85 people.
Ouattara met former president and opposition candidate Henri Konan Bedie in the commercial capital Abidjan in a bid to calm tensions over the vote, which handed Ouattara a third term that his opponents say is illegal.
In comments to journalists, both said the meeting had been an important first step towards a peaceful resolution of the crisis, but did not indicate that either side had made or was prepared to make any concessions.
"We met and decided to make peace in Ivory Coast," Ouattara said, describing the encounter as an ice-breaker.
Bedie said: "In the days and weeks ahead, we will call each other and meet so that the country becomes what it was before."
Earlier the government updated the death toll from recent fighting between rival political supporters to 85 - including 34 killed before the vote, 20 on election day and 31 since then.
While the violence has not been as widespread as some feared, many Ivorians worry about a repeat of the civil war that followed the 2010 election. About 3,000 people died in the war, which was fought largely along ethnic lines.
Bedie's party and political allies have said that progress to end the current dispute will only be possible if the authorities meet certain demands, including dropping criminal charges against other opposition leaders for forming a rival government.
The disagreement stems from Ouattara's decision to seek a third term, which opposition groups say violates a constitutional two-term limit. The president maintains the approval of a new constitution in 2016 allowed him to restart his mandate.
(Reporting by Ange Aboa and Loucoumane Coulibaly; Writing by Alessandra Prentice; Editing by Mark Heinrich and Nick Macfie)
This story has not been edited by Firstpost staff and is generated by auto-feed.
Find latest and upcoming tech gadgets online on Tech2 Gadgets. Get technology news, gadgets reviews & ratings. Popular gadgets including laptop, tablet and mobile specifications, features, prices, comparison.
World
ADDIS ABABA/NAIROBI (Reuters) - Ethiopia's military is fighting battle-hardened troops in the northern Tigray region, threatening stability around the Horn of Africa. Here are some facts on the forces: THE NATIONAL MILITARY: THE ENDF The Ethiopian National Defence Force (ENDF) has around 140,000 active personnel, the vast majority of them in the army, according to the Janes security data group. Its troops have been tested by Islamist militants in Somalia and rebel groups in Ethiopia's border regions, as well as a two-year border war with Eritrea followed by an 18-year standoff that only ended in 2018.
World
ISTANBUL (Reuters) - Turkey's President Tayyip Erdogan said on Tuesday that the government will impose tighter measures to fight with the coronavirus and impose partial lockdowns on weekends across the country. Speaking after the cabinet meeting, Erdogan also said all schools will remain closed until the year-end and all restaurants will only work by delivery
World
BRASILIA (Reuters) - Brazilian President Jair Bolsonaro said on Tuesday his government in coming days will name countries that are importing wood illegally extracted from the Amazon. Addressing a BRICS summit of big developing economies, Bolsonaro said Brazilian police had developed a way of tracking wood exported from the Amazon using isotopes.