It's sheer lunacy to give free airtime to Pak hate-mongers
Far from fostering better people-to-people understanding, the move to allow Pakistani TV channels to beam into India will only inflame hardline views on both sides of the border.
There are, of course, many grounds on which one can fault the Indian media. They are too shrill and too shallow, they thrive on manufactured outrage, they polarise without providing clarity, and they are borderline prosecutorial (and oftentimes judgemental, as well). And the concept of 'paid news' has dented media credibility in a way that they have not even begun to fathom.
The vehement - and trenchant - criticism that Indian media (and frontline journalists) receives on social media platforms is testimony to the fact that the talk-down, one-to-many broadcast model is flawed and is being called to account. Social media platforms, like Twitter, have opened up ways for ordinary folks to challenge mainstream media narratives in ways that was not possible in an earlier age.
But with all their fault,  it must be said in their defence that at least Indian television anchors or studio guests don't offer open incitement to sectarian violence or killings or openly propagate anti-Indian views.
That could soon change if a proposal that's being considered by the UPA government - to lift the ban on Pakistani televisions channels and allow the transmission of both the official Pakistani propagandist PTV  and private TV channels in India.
The proposal comes in response to the demand last week by visiting Pakistani foreign secretary Jalil Abbas Jilani that India lift the ban on Pakistani TV channels in the spirit of reciprocity: because  Indian channels have unfettered rights to beam into Pakistan.
At a theoretical, intellectual level, it may seem a no-brainer: India's open media environment, where countless viewpoints and ideas clash in the public domain - and are accepted or rejected on their merits and on the basis of how credible they are, may have nothing to fear from the injection of one more voice from across the Wagah border.
There are some very vibrant, feisty television news programmes in Pakistan that explore domestic and regional issues and present an alternative viewpoint that enhances viewers' understanding. To the extent that they open up viewers' minds to 'multiple truths and realities', they do serve a purpose.
The experience of social media enthusiasts from India and Pakistan, who gathered in Karachi for a Social Media Mela (more here), demonstrates that collaboration between two equals in the media space may enhance people-to-people understanding.
But there's a problem with the proposal to allow Pakistani television to beam into India - by citing the fact that Indian channels have unfettered access to Pakistani airwaves: the two are not equal.
To this day, Pakistani television channels provide an open platform for the most venomous anti-India hate-mongering and incitement of sectarian violence in a way that Indian television channels don't do with respect to Pakistan.
You don't have to look far for evidence of this. Television anchors and guests openly preach the vivisection of India - and issue open threats to India and to the Indian people (for instance, here).  One of the most egregious hate-mongers, Zaid Hamid, who calls himself a strategic analyst, public articulates his dream of implanting the Pakistani green flag on the Red Fort.
Since the 26/11 terror attacks, Hamid has been carrying on a disinformation campaign to establish that the attacks were orchestrated by "Hindu terrorists" to discredit Pakistan. Even this television programme, where he is royally fisked by the interviewer, only ends up amplifying his most venomous views on this subject: despite glaring evidence establishing that Ajmal Kasab was, in fact, from Pakistan, and that the operation was masterminded from a Karachi control room, he claims that Kasab is an Indian. He says Pakistan will "forgive India for what it did to Pakistan in 1947 and 1971" but only after extracting revenge. And even then, he says, only the "shudras" in India will be forgiven, not the "pandits".
In other spaces, he directly appeals (here)to all the Hindus in India, including the "pandits" and  "shudras", to convert to Islam.
You could, of course, argue that Hamid is a non-entity, who doesn't count for much, and that even Pakistani commentators and journalists are calling him to account. But just the fact that these television appearances give him the oxygen he needs to propagate his vile views means he gets what he wants out of it.
Other such instances of open hate-mongering and incitement to violence abound. For instance, Aamir Liaquat Husain, who is Vice President of the GEO Network, one of Pakistan's biggest television channels, and Editor of the Jang Group, has in the past openly endorsed the fatwa to kill writer Salman Rushdie. (Watch here.)
And as this blogger points out, in 2009, Husain, who is also former Religious Affairs Minister, said that  the killing of adherants of the Ahmadi sect was justifiable. Barely hours later, fanatics acted out his "edict" by killing two leading members of the Ahmadi community.
As Vikram Sood, former chief of RAW notes (here), "free exchange of media and easy transmission of channels is a laudable objective provided there is reasonable exchange of ideas including political ideas, culture, arts and entertainment and provided the debates are reasonable and measured. This is not what Pakistan will feed the Indian audience because it has given little reason to show responsibility especially on issues concerning India."
If even in "normal times", the level of anti-India hate-mongering on Pakistan television is high, Sood wonders how bad it might get if there is another Mumbai 2008 type attack  - about which he reckons there is "reasonable certainty" that it will happen.
Even the fact that the Indian government is considering a proposal to allow Pakistani television channels to beam such nonsense into India is proof that (as Firstpost had noted earlier) the Indian government is in absolute denial about Pakistan's intentions vis-a-vis India. The prime purpose of the Pakistani state is, as we'd said, to oversee India's failure as a state.
Allowing Pakistani propagandists and hate-mongers free airtime in India is utter folly that compounds that state of denial. Far from fostering better people-to-people understanding, the move will only inflame hardline views on both sides of the border.
First Cricket News
After reviewing footage of the incident, match officials are believed to have come to the conclusion that de Kock was not in breach of the law on fielders deceiving batsmen.
World
Originally started by journalist Steven Brill in 1991, Court TV became known for coverage of sensational trials involving OJ Simpson and the Menendez brothers.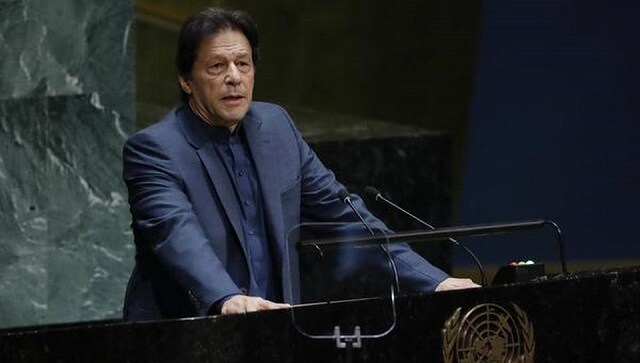 World
In a weekend interview on live television, Oxford-educated Khan said an increase in rapes indicated the "consequences in any society where vulgarity is on the rise"