"It's not too late to save Brexit," Johnson tells UK parliament
By Andrew MacAskill and Kate Holton LONDON (Reuters) - Boris Johnson, who quit as Britain's former foreign minister last week, accused Prime Minister Theresa May on Wednesday of planning a phoney Brexit that would betray voters by failing to take the country completely out of the European Union. The former London mayor, who has made his ambition to be prime minister clear in the past, told parliament he backed May but then savaged her Brexit policy saying it would leave Britain in a 'miserable, permanent limbo'. Johnson led the main 'leave' campaign in the 2016 referendum and is once again positioning himself as the champion of hard-Brexiteers against moderates who say Britain must compromise with Brussels to keep preferable access to the EU market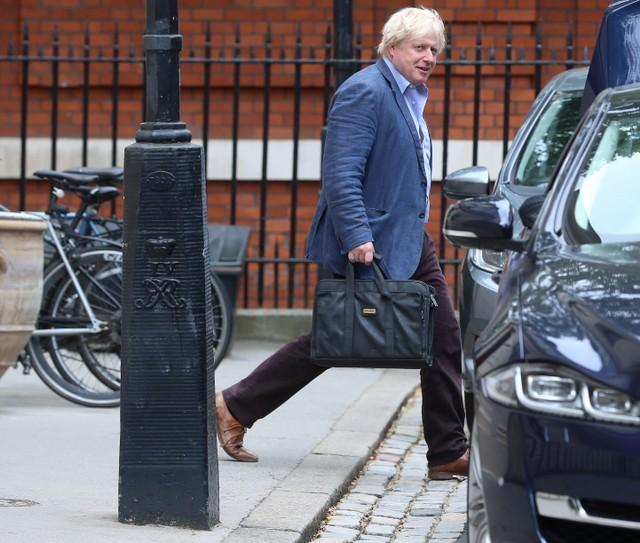 By Andrew MacAskill and Kate Holton
LONDON (Reuters) - Boris Johnson, who quit as Britain's former foreign minister last week, accused Prime Minister Theresa May on Wednesday of planning a phoney Brexit that would betray voters by failing to take the country completely out of the European Union.
The former London mayor, who has made his ambition to be prime minister clear in the past, told parliament he backed May but then savaged her Brexit policy saying it would leave Britain in a "miserable, permanent limbo".
Johnson led the main "leave" campaign in the 2016 referendum and is once again positioning himself as the champion of hard-Brexiteers against moderates who say Britain must compromise with Brussels to keep preferable access to the EU market.
"It is not too late to save Brexit," Johnson said in his first statement to parliament since his resignation. "We have time in these negotiations - we have changed tack once and we can change again."
The intervention was cheered by pro-Brexit members of parliament but after he failed to detail how he would achieve a Brexit that does not ravage the economy, one sceptical lawmaker cried out: "Is that it?"
His speech comes as veteran Conservatives say the party is more divided than ever, and there is speculation she could face a leadership challenge, eight months before the country is due to leave the bloc.
The government narrowly won three votes in parliament on trade and customs arrangements this week despite rebellions by pro-European members of her party.
Johnson said May had deviated from a Brexit stance she set out in a speech in January 2017 for a "strong independent, self-governing Britain" with a focus on having independent trade and regulation.
Instead, the government is proposing to negotiate the closest possible commercial links - "a common rule book" - for goods trade with the bloc, saying this is the only way to balance political and economic priorities.
Johnson said that would deliver "Brexit in name only" and leave Britain in a state of "economic vassalage".
"It is absolute nonsense to imagine, as I fear some of my colleagues do, that we can somehow afford to make a botched treaty now, and then break and reset the bone later on," he said.
Johnson said Britain had become "mired in a fog of self-doubt" and that there had been a stealthy retreat over the last 18 months from what he called the "bright certainties" of May's earlier vision of Brexit.
May was giving evidence to a parliamentary committee so was not in the chamber to hear Johnson's speech.
(Editing by Stephen Addison and Robin Pomeroy)
This story has not been edited by Firstpost staff and is generated by auto-feed.
Find latest and upcoming tech gadgets online on Tech2 Gadgets. Get technology news, gadgets reviews & ratings. Popular gadgets including laptop, tablet and mobile specifications, features, prices, comparison.
World
By Guy Faulconbridge and Kate Holton LONDON (Reuters) - Rich countries could be back to close to normal by late 2021 if a COVID-19 vaccine works, is ready soon and distributed properly at scale, Microsoft founder Bill Gates said on Tuesday. "By late next year you can have things going back pretty close to normal - that's the best case," Gates, 64, told The Wall Street Journal CEO Council. "We still don't know whether these vaccines will succeed," Gates said.
World
By Rupam Jain (Reuters) - Taliban and Afghan government-backed negotiators have agreed on a broad code of conduct to advance the intra-Afghan peace talks in Qatar, even as key differences between the two warring sides remain, three official sources told Reuters on Tuesday.
World
MOSCOW (Reuters) - Russian rights groups on Tuesday called on the authorities to stop using home searches as a tactic to intimidate opponents after a journalist set herself on fire following a police raid of her apartment last week. Irina Slavina, editor-in-chief at a small news outlet in the city of Nizhny Novgorod, self-immolated in front of the local branch of the interior ministry in Nizhny Novgorod last Friday after blaming Russian authorities for her death in a Facebook post