Italy's Salvini hopes Macron's support dwindles at EU elections
ROME (Reuters) - Italian Deputy Prime Minister Matteo Salvini said on Wednesday he hoped the French people would not choose President Emmanuel Macron's party in European parliament elections later this year, heightening recent tensions between Rome and Paris. Relations between Italy and France, generally close allies, have worsened since the far-right League and anti-establishment 5-Star Movement formed a coalition government in Italy last year and took aim at pro-European Union Macron's En Marche (On the Move) party. 'Macron may no longer be our interlocutor (in the future),' Salvini said in an interview with state-owned radio RAI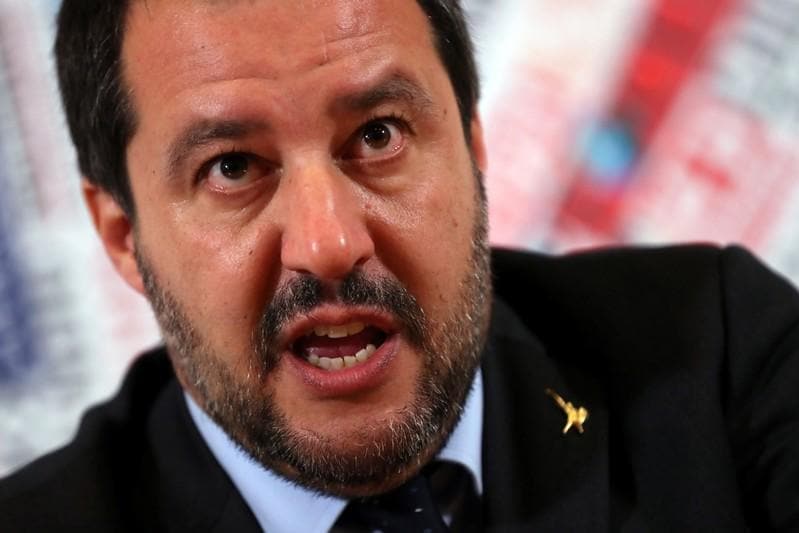 ROME (Reuters) - Italian Deputy Prime Minister Matteo Salvini said on Wednesday he hoped the French people would not choose President Emmanuel Macron's party in European parliament elections later this year, heightening recent tensions between Rome and Paris.
Relations between Italy and France, generally close allies, have worsened since the far-right League and anti-establishment 5-Star Movement formed a coalition government in Italy last year and took aim at pro-European Union Macron's En Marche (On the Move) party.
"Macron may no longer be our interlocutor (in the future)," Salvini said in an interview with state-owned radio RAI. "His support is less than 20 percent. I hope the French people can shortly make different choices," he said, referring to the May European elections.
On Monday, France summoned Italy's ambassador after Salvini's fellow deputy prime minister, Luigi Di Maio, accused Paris of creating poverty in Africa and generating mass migration to Europe.
On Tuesday, Salvini said France was not interested in stabilising war-torn Libya, a staging point for smugglers who send migrants toward Europe on unsafe boats, because French energy interests there clash with Italy's.
Salvini, who is the leader of the League party, also said he is not concerned about the effect the dispute will have on the government's effort to save troubled airline Alitalia.
Italian newspapers have reported that the French-Dutch airline Air France-KLM is in talks with Rome to take a stake in the carrier.
"There are other (players) in a position to take a share of Alitalia's capital," Salvini said.
(Reporting by Giselda Vagnoni and Giuseppe Fonte; editing by Steve Scherer, Larry King)
This story has not been edited by Firstpost staff and is generated by auto-feed.
Find latest and upcoming tech gadgets online on Tech2 Gadgets. Get technology news, gadgets reviews & ratings. Popular gadgets including laptop, tablet and mobile specifications, features, prices, comparison.
Business
By Jessica Resnick-Ault NEW YORK (Reuters) - Oil prices strengthened on Wednesday, as OPEC and its allies were seen complying with a pact to cut oil supply in September, even as concerns loomed that recovery in fuel demand will be stalled by soaring global coronavirus cases. Early in the day crude was boosted by a bullish stock market. Even as equities whipsawed on pandemic worries, oil stayed higher, buoyed by expectations that OPEC could staunch a supply glut
Business
By Tina Bellon and C Nivedita (Reuters) - Tesla Inc will further cut the price of its Model S "Long Range" sedan in the United States to $69,420, the electric carmaker's chief executive, Elon Musk, announced in a tweet https://bit.ly/2H0JCP0 on Wednesday. The anticipated drop marks the second time this week Tesla has cut the price for the high-end sedan, following a 4% cut of the Model S's price in the United States on Tuesday to $71,990.
World
By Jeff Mason DES MOINES, Iowa (Reuters) - Under siege over his handling of the novel coronavirus pandemic, President Donald Trump on Wednesday cited what he said was his son's mild bout of the virus as a reason why American schools should reopen as soon as possible. Trump made the comment about his son, Barron, as the president swept into Iowa on a mission to shore up support in battleground states that he won in 2016 but is in danger of losing to Democrat Joe Biden barely three weeks before the election. First lady Melania Trump announced in a statement earlier in the day that the virus that struck both her and her husband had also infected their 14-year-old son