Italy's populists challenge EU with plans to boost deficit
By Gavin Jones and Steve Scherer ROME (Reuters) - Italy's populist government brushed off protests from its own economy minister to back a significant rise in deficit spending next year, spooking financial markets and setting up a battle with Brussels. After tussling with Economy Minister Giovanni Tria for weeks, the four-month old government on Thursday proposed a 2019 deficit that is, at 2.4 percent of gross domestic product (GDP), three times the previous administration's target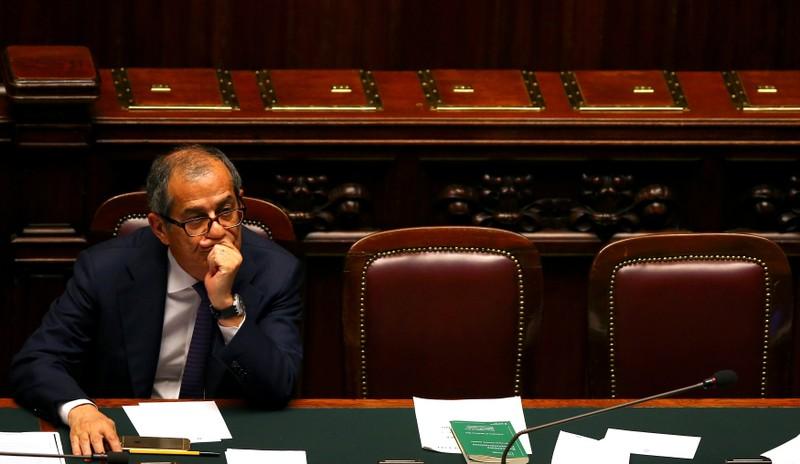 By Gavin Jones and Steve Scherer
ROME (Reuters) - Italy's populist government brushed off protests from its own economy minister to back a significant rise in deficit spending next year, spooking financial markets and setting up a battle with Brussels.
After tussling with Economy Minister Giovanni Tria for weeks, the four-month old government on Thursday proposed a 2019 deficit that is, at 2.4 percent of gross domestic product (GDP), three times the previous administration's target.
The spending is meant to finance the campaign promises of the ruling parties - the anti-establishment 5-Star Movement and right-wing League - to lower the retirement age, cut taxes, invest in infrastructure and boost welfare.
The rub is that Italy has the largest debt among big European Union economies, at 131 percent of GDP, and it is under pressure from the EU to rein in spending amid fears it could sow the seeds of a new debt crisis in the euro zone.
In a move certain to raise hackles with the European Commission, which monitors and enforces EU fiscal rules, the government sees the deficit remaining at 2.4 percent for the next three years, rather than progressively declining towards zero as the Commission's recipe prescribes.
And yet the first reaction from Brussels was measured.
Nothing would be gained from a clash with Italy, European Economics Commissioner Pierre Moscovici said, but he added, "We don't have any interest either that Italy does not respect the rules and does not reduce its debt, which remains explosive."
The plan to lift deficit spending rattled markets, prompting a selloff of bonds and a rout of banking stocks, though both recovered slightly in the afternoon. The euro slumped on the news overnight, then recovered.
Dutch Prime Minister Mark Rutte said he was "very worried", while Finnish Finance Minister Petteri Orpo deadpanned: "Populism and responsibility do not always fit in the same room."
CELEBRATION
Late on Thursday while a cabinet meeting was still ongoing, Deputy Prime Minister and 5-Star leader Luigi Di Maio stepped onto the balcony of the prime minister's palace, pumping his arms to celebrate the budget, which foresees 10 billion euros for the movement's flagship minimum wage for the poor next year.
Below, 5-Star lawmakers and supporters waved flags and chanted, "Luigi! Luigi!"
The decision marked a victory for the ruling parties -especially 5-Star - over Tria, an unaffiliated technocrat who investors were relying on to avert the financial risks associated with unchecked spending.
Tria had wanted a deficit as low as 1.6 percent of GDP next year, or at least below 2 percent, government sources said.
A deficit of 2.4 percent of GDP remains under the 3.0 percent ceiling dictated by EU rules, but Italy had promised Brussels to cut the deficit decisively to curb its huge debt.
Di Maio and League leader Matteo Salvini argue that the new budget will spur economic growth, boost revenues and allow the debt to fall as a percentage of output.
Asked what Rome will do if Brussels rejects its budget plan, Salvini, who is also deputy prime minister, said: "Press ahead".
"Italy is not a problem for Europe," Prime Minister Giuseppe Conte said. "I can't wait to go to Brussels to illustrate the budget plan."
The EU executive is not the government's only concern. The budget risks running afoul of ratings agencies as well, and that could further roil markets.
The agencies have been waiting for the fiscal plans before reconsidering their ratings on Italy's sovereign debt. Moody's, which has a negative outlook on Italy's Baa2 rating, said it would pass judgment by the end of October.
On Thursday lawmakers said Tria had offered his resignation in protest against the deficit hike. But on Friday, Salvini said his position had "never been in doubt", and Conte said the minister told him on the telephone he had never offered to step aside.
($1 = 0.8609 euros)
(Additional reporting by Angelo Amante, Giuseppe Fonte and Giselda Vagnoni in Rome; Abhinav Ramnarayan in London; Sara Rossi in Milan; Leigh Thomas in Paris; Jussi Rosendahl in Helsinki and Stephanie van der Berg at The Hague; editing by Mark Bendeich, Larry King and Andrew Heavens)
This story has not been edited by Firstpost staff and is generated by auto-feed.
India
The Pulitzer prize winner, who was in Kandahar covering operations against Taliban, was killed when he was riding along with the Afghan Special Forces
India
Siddiqui had also covered the 2020 Delhi riots, COVID-19 pandemic, Nepal earthquake in 2015 and the protests in Hong Kong
India
Danish's photographs were not just documentation, but the work of someone who went down to eye-level, as they say in photographic parlance.