Italy's coalition partners trade barbs over tax amnesty
By Crispian Balmer and Gavin Jones ROME (Reuters) - The leaders of Italy's ruling coalition parties accused each other on Friday of misleading voters over a disputed tax amnesty in their most acrimonious falling-out since they formed a government in June. Prime Minister Giuseppe Conte has called a cabinet meeting for Saturday to try to resolve the row over the measure, which forms part of a free-spending 2019 budget that has led to a standoff between Rome and EU authorities. League leader Matteo Salvini said he was ready to bin the contested amnesty, but he bristled at 5-Star suggestions someone in his party had surreptitiously broadened it to offer relief to financial criminals, including money launderers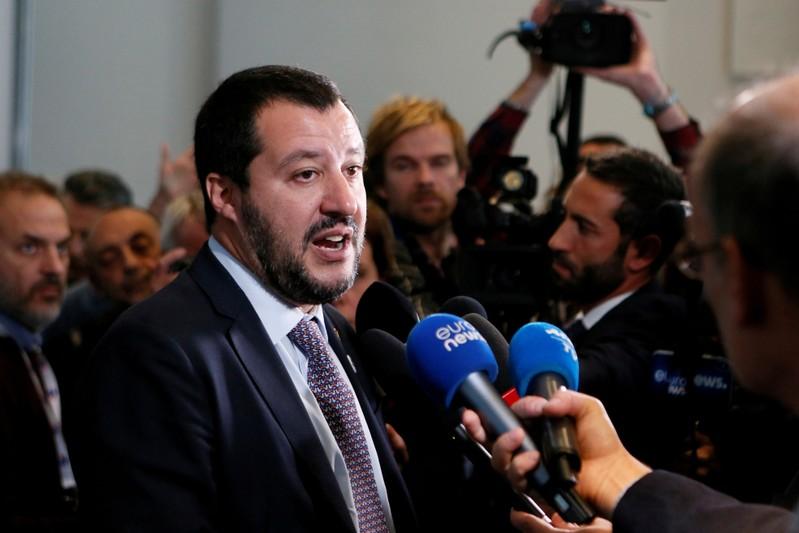 By Crispian Balmer and Gavin Jones
ROME (Reuters) - The leaders of Italy's ruling coalition parties accused each other on Friday of misleading voters over a disputed tax amnesty in their most acrimonious falling-out since they formed a government in June.
Prime Minister Giuseppe Conte has called a cabinet meeting for Saturday to try to resolve the row over the measure, which forms part of a free-spending 2019 budget that has led to a standoff between Rome and EU authorities.
League leader Matteo Salvini said he was ready to bin the contested amnesty, but he bristled at 5-Star suggestions someone in his party had surreptitiously broadened it to offer relief to financial criminals, including money launderers.
In a blunt video posted on Facebook, Salvini said 5-Star leader Luigi Di Maio and Prime Minister Giuseppe Conte were both present at a meeting when the amnesty was fully outlined.
"I am beginning to get cross because at that cabinet meeting, Conte read (the text) and Di Maio wrote (the minutes)," Salvini said. He nonetheless added: "I couldn't give a stuff about this amnesty."
Conte's office denied Salvini's account, while Di Maio took to Facebook to hit back, saying: "I do not want to pass for a liar, and I am not even going to let people say I was distracted."
The budget, was approved by the cabinet on Monday, promises to boost welfare spending, cut the retirement age and hike the deficit.
Brussels sent Rome a warning letter about it on Thursday, the first formal step of a procedure that could lead to EU rejection of the budget and fines against Italy.
The letter said the budget appeared to be in "particularly serious non-compliance" with EU rules and its deviation from targets was "unprecedented". It gave Rome until Oct. 22 to respond.
While 5-Star has opposed tax amnesties in the past, the right-wing League, with its traditional voter-base of self-employed businessmen, has pushed for the measure, arguing it could raise billions of euros for the cash-strapped treasury.
The main scheme involved people who have failed to declare up to 100,000 euros of earnings during the last five years, on which they will be able to pay a rate of 20 percent.
The spat broke out when it emerged that in the final draft to be sent to parliament the 100,000 euros referred to each of a series of taxes evaded, including in hidden, overseas accounts, rather than to the overall total. 5-Star said this was unacceptable and it had been tricked.
Rome's escalating fight with the Commission over the budget is also alarming markets.
The spread between yields on Italian benchmark government bonds and the German equivalent widened on Friday to a 5-and-a-half-year high of some 340 basis points before falling back to just over 300 points late Friday.
"Tomorrow we will meet and sort everything out. Then on Monday we will work on explaining this budget to Europe," Di Maio said.
(Additional reporting by Giuseppe Fonte, Angelo Amante, Giselda Vagnoni and Stephen Jewkes; Editing by Janet Lawrence and John Stonestreet)
This story has not been edited by Firstpost staff and is generated by auto-feed.
Find latest and upcoming tech gadgets online on Tech2 Gadgets. Get technology news, gadgets reviews & ratings. Popular gadgets including laptop, tablet and mobile specifications, features, prices, comparison.
Business
By David Lawder WASHINGTON (Reuters) - U.S. Customs and Border Protection officials have prepared orders to block imports of cotton and tomato products from western China's Xinjiang region over allegations they are produced with forced labor, although a formal announcement has been delayed. The Trump administration announcement of the actions, initially expected on Tuesday, has been put off until later this week because of "scheduling issues," a CBP spokesman said
Business
By Daniel Trotta and Gabriella Borter NEW YORK (Reuters) - As the ruins of New York's World Trade Center smoldered following the September 11 attacks of 2001, skeptics doubted it could ever rise again. Now, as the 19th anniversary of 9/11 approaches, the grand vision set forth after its destruction has largely been realized
Business
By Subrat Patnaik (Reuters) - Tesla Inc shed about $80 billion of its market value on Tuesday, an amount that overshadows the combined value of General Motors Co and Ford Motor Co , after its surprise exclusion from the S&P 500 index. Tesla's shares recorded their worst single-day percentage drop ever and added to the broader sell-off in technology stocks, which have dominated Wall Street's recovery from the coronavirus-driven crash earlier this year. The stock closed 21.06% lower, while fellow electric automaker Nikola Corp jumped more than 40% after General Motors said it was acquiring an 11% stake in the company