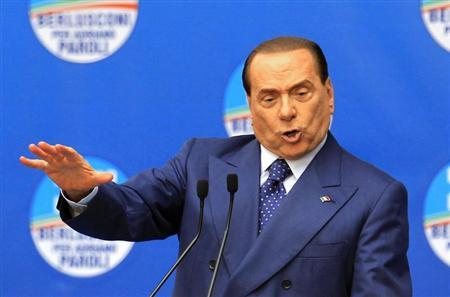 ROME (Reuters) - Italian centre-right leader Silvio Berlusconi was questioned by Rome prosecutors for three hours on Tuesday over allegations the former prime minister paid 750,000 euros to buy the silence of people aware that he used prostitutes.
The interrogation centred on a case in which the 76-year-old media tycoon is believed to have been the victim of extortion by three former associates, sources at the prosecutors office said.
One of these associates, businessman Gianpaolo Tarantini, is accused of providing prostitutes for parties at Berlusconi's private villa outside Milan.
Berlusconi is also accused by prosecutors in the southern city of Bari of "inducement to give false testimony," by paying the money to Tarantini, Tarantini's wife, and a former political associate, Walter Lavitola.
Berlusconi, whose People of Freedom party is vital to the survival of the left-right coalition government of Prime Minister Enrico Letta, has seen his many legal difficulties mount in recent weeks.
On Monday, prosecutors in Milan called for him to serve six years in jail on charges of abuse of office and paying for sex with a minor, and last week he lost an appeal against a four year sentence for tax fraud.
The verdict in the Milan sex case is expected next month, while Berlusconi has launched a second and final appeal against the tax fraud conviction. He will serve no time in jail until the appeals process, which can last for years, is exhausted.
Berlusconi denies any wrongdoing in all the cases against him.
(Writing by Gavin Jones; editing by Giles Elgood)
Updated Date: May 15, 2013 02:15 AM