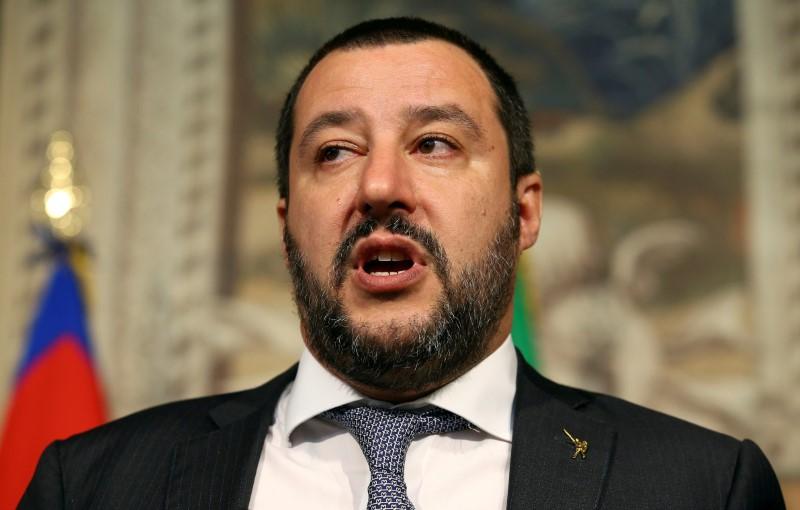 By Gavin Jones and Massimiliano Di Giorgio
ROME (Reuters) - Italy's anti-system 5-Star Movement and the far-right League moved on Wednesday to end nine weeks of political deadlock following inconclusive elections and form a government - a prospect that has alarmed investors.
President Sergio Mattarella said he would hold off on plans to name a non-partisan prime minister for 24 hours after the two parties told him they were holding last-minute talks to try to clinch an elusive coalition deal.
The spread between Italian benchmark bond yields and the safer German equivalent swiftly reached its widest level in nearly six weeks. Italian shares were little changed.
A March 4 vote ended in a hung parliament and repeated efforts to end the impasse have failed. Frustrated by the stalemate, Mattarella was set to nominate someone from outside the world of politics to head a "neutral government" and prepare the country for early elections, perhaps as soon as July.
With the clock ticking, the leaders of 5-Star and the League - the two largest groups in parliament - unexpectedly met once more and indicated they had made progress, but needed more time.
"We are doing all we can," said League leader Matteo Salvini. Parliamentarians from both parties expressed optimism that the outline of a deal would be in place by Thursday.
5-Star has repeatedly offered to form a government with the League but on condition it breaks from its ally Forza Italia, led by former Prime Minister Silvio Berlusconi.
Salvini has so far refused to do this in the name of loyalty to the centre-right alliance, but he has been putting growing pressure on Berlusconi to voluntarily stand aside to allow him to hook up with 5-Star.
5-Star views the 81-year-old Berlusconi, who has a conviction for tax fraud and is on trial for allegedly bribing witnesses, as a symbol of political corruption.
ELECTION THREAT
Senior Forza Italia lawmaker Renato Brunetta said the centre-right alliance would remain intact even if his party were excluded from government, and Salvini confirmed that "whatever happens we won't break the alliance".
Lorenzo Codogno, head of LC Macro Advisors and former chief economist at the Italian treasury, warned that a 5-Star and League government would probably trigger a market backlash.
"An anti-establishment, anti-euro (though somewhat watered down) and anti-austerity government would not bode well for Italian financial assets," he said.
Both parties want to renegotiate the EU's fiscal rules to allow Italy to spend more. 5-Star has rowed back on a previous pledge to hold a referendum on Italy's membership of the euro zone, but the League still calls the euro a "flawed currency" and wants to exit it as soon as is politically feasible.
5-Star's flagship policy is universal income support for the poor, while the League's main campaign promise was a "flat tax" of 15 percent for individuals and companies. Both policies would be costly for Italy's strained public finances.
Berlusconi has previously rejected all calls to stand aside, saying such a move would betray the centre-right electorate. However, recent polls have shown support for his Forza Italia tumble and his lawmakers have expressed fears in private that a swift return to the polls would cost their group heavily.
Even if Berlusconi takes a step back, government talks between Di Maio and Salvini will not be simple.
"We still need to talk about programmes, things to do, taxes, labour, pensions, immigration, schooling," Salvini told reporters after meeting Di Maio.
On Sunday, the 31-year-old Di Maio withdrew his previous insistence that he should be prime minister, saying instead that he and Salvini should pick a mutually acceptable figure.
Italy's economy is slowing, recent data suggests, and the first task of any new government will be to work on a 2019 budget to stave off the threat of an automatic increase in sales taxes that would be triggered because of missed deficit targets.
(Editing by Crispian Balmer and Matthew Mpoke Bigg)
This story has not been edited by Firstpost staff and is generated by auto-feed.
Firstpost is now on WhatsApp. For the latest analysis, commentary and news updates, sign up for our WhatsApp services. Just go to Firstpost.com/Whatsapp and hit the Subscribe button.
Updated Date: May 10, 2018 00:08:53 IST