Italy president begins talks to seek way out of government crisis
By Angelo Amante and Gavin Jones ROME (Reuters) - Italian President Sergio Mattarella begins two days of talks with parties on Wednesday to seek a way out of a political crisis that will lead to formation of the country's 67th government since World War Two or early elections.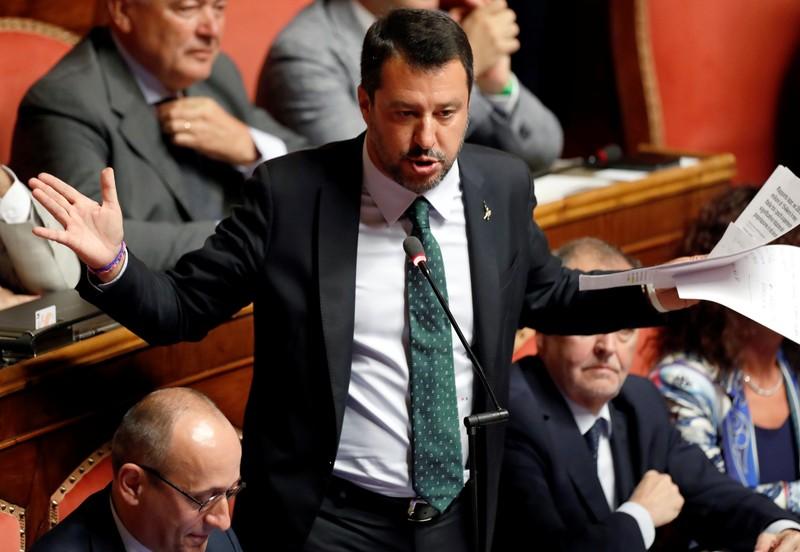 By Angelo Amante and Gavin Jones
ROME (Reuters) - Italian President Sergio Mattarella begins two days of talks with parties on Wednesday to seek a way out of a political crisis that will lead to formation of the country's 67th government since World War Two or early elections.
Prime Minister Giuseppe Conte resigned on Tuesday after launching a blistering attack on his own interior minister, Matteo Salvini, accusing him of sinking the coalition and endangering the economy for personal and political gain.
In a shock move on Aug. 8, Salvini, leader of the far-right League party, declared that his alliance with the anti-establishment 5-Star Movement was dead and called for elections.
Salvini had repeatedly promised the 14-month old government would last a full five-year term and appeared confident his move would trigger early elections, allowing him to cash in on the League's surging popularity.
But the gambit could backfire and open the door to power for his rivals.
Politicians from 5-Star and the centre-left Democratic Party (PD) are openly discussing forming a new coalition that would push the League into opposition and give Italy a more centrist, pro-European government.
"The interior minister has shown he is following his own interests and those of his party ... his decisions pose serious risks for this country," Conte, who does not belong to either ruling party, told the Senate on Tuesday before heading to the president's palace to resign.
Financial markets rallied on Conte's resignation, seemingly hopeful that a 5-Star/PD coalition can be ushered in and snap polls avoided.
Mattarella will meet with all the parties in parliament, one after the other, to see if a new coalition can be formed. Failing that, he would have to dissolve parliament, 3-1/2 years ahead of schedule, to allow for autumn elections.
He will begin with minor groups at 1400 GMT but will not hear the main parties until Thursday, concluding with 5-Star at 1500 GMT.
The PD's leadership is also scheduled to meet on Wednesday, at 0900 GMT, to discuss the prospect of hooking up with 5-Star. The two parties have been bitter political foes for years.
Salvini said on Tuesday he would repeat to the president that he wants new elections following the March 2018 vote that led to the 5-Star/League government.
He accused the other parties of trying to cobble together a deal because they were afraid to return to the polls, but Conte said fresh political uncertainty was the last thing Italy needed as it prepares a difficult 2020 budget in the autumn.
"Getting citizens to vote is the essence of democracy. Urging them to vote every year is irresponsible," the outgoing premier said.
(Reporting by Angelo Amante and Gavin Jones; Writing by Gavin Jones; Editing by Peter Cooney)
This story has not been edited by Firstpost staff and is generated by auto-feed.
Find latest and upcoming tech gadgets online on Tech2 Gadgets. Get technology news, gadgets reviews & ratings. Popular gadgets including laptop, tablet and mobile specifications, features, prices, comparison.
World
By Crispin Kyala KAMITUGA, Democratic Republic of Congo (Reuters) - Kinyenye Furaha passed out from shock when he realised a mine collapse in eastern Congo had buried more than 50 fellow miners including his brother, he said on Sunday, as the hunt continued for bodies two days after the disaster. Miners searching the site near the town of Kamituga in Democratic Republic of Congo have so far recovered 18 bodies, after heavy rains on Friday caused the artisanal gold mine to cave in, burying those working below ground.
World
By Tom Balmforth and Maria Tsvetkova MOSCOW/TOMSK (Reuters) - The ruling United Russia party looked set for an array of local election wins on Sunday, but was also on course for some setbacks as stricken Kremlin critic Alexei Navalny's supporters made rare gains in city politics in Siberia. The local elections were closely watched for signs of protest voting against the ruling party that backs President Vladimir Putin amid frustrations over years of falling wages and the government's handling of the pandemic. The votes also followed the suspected poisoning by a rare nerve agent of opposition politician Navalny who had promoted a tactical voting strategy to hurt United Russia and fielded dozens of candidates for city councils in Siberia
World
By Linda Sieg TOKYO (Reuters) - Japanese Chief Cabinet Secretary Yoshihide Suga, a longtime loyal aide of outgoing Prime Minister Shinzo Abe, was poised to win a ruling party leadership election on Monday, virtually ensuring that he replaces Abe this week in the nation's top job. Suga, 71, who has said he would pursue Abe's key economic and foreign policies, is expected to get the bulk of votes from 394 Liberal Democratic Party (LDP) lawmakers and is likely to win a majority of 141 votes from the party's local chapters.