Italy arrests navy captain for spying, expels Russian diplomats
By Crispian Balmer and Angelo Amante ROME (Reuters) - Italy expelled two Russian diplomats on Wednesday after police said they had caught an Italian navy captain passing secret documents to a Russian military official in return for money. The Italian captain and the Russian embassy staff member were arrested in a car park in Rome and accused of 'serious crimes tied to spying and state security' after their meeting on Tuesday night, Italian Carabinieri police said. The suspects were not officially identified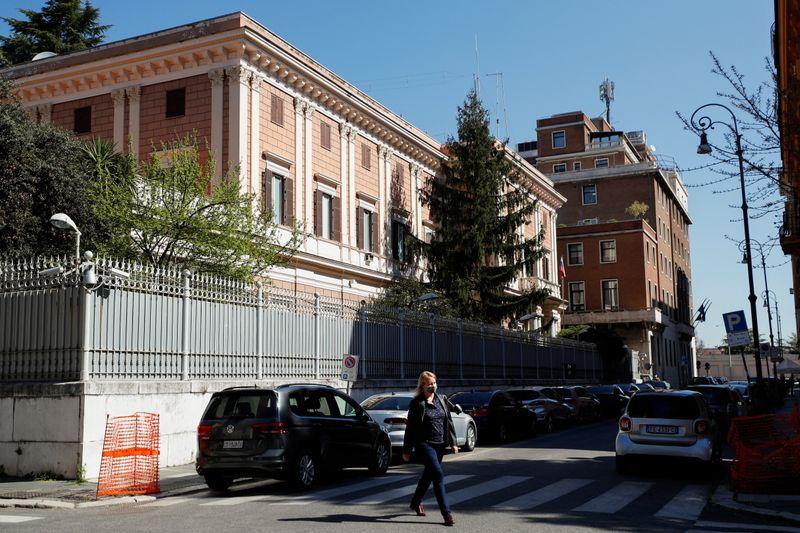 By Crispian Balmer and Angelo Amante
ROME (Reuters) - Italy expelled two Russian diplomats on Wednesday after police said they had caught an Italian navy captain passing secret documents to a Russian military official in return for money.
The Italian captain and the Russian embassy staff member were arrested in a car park in Rome and accused of "serious crimes tied to spying and state security" after their meeting on Tuesday night, Italian Carabinieri police said.
The suspects were not officially identified. A police source said the captain was called Walter Biot and had accepted 5,000 euros ($5,900) in return for the information.
It was not immediately possible to contact Biot, who was in custody, and the name of his lawyer was not disclosed.
Ansa news agency said NATO documents were among the files that the Italian had handed over, raising potential security worries for other members of the Western military alliance.
Italy immediately summoned the Russian ambassador Sergey Razov and expelled two Russian officials believed to be involved in what Foreign Minister Luigi Di Maio called an "extremely grave matter".
Biot, 54, had the rank of a frigate captain but was working at the defense ministry department tasked with developing national security policy and managing part of the relations with Italy's allies, a ministry source told Reuters.
Previously, he had worked at the ministry's external relations unit. His name and picture appear in the book of contacts for Italy's 2014 European Union presidency.
"The accusation of espionage against Italian and Russian officers shows that we must continue to work closely with Europe and our allies to constantly improve our means of protecting the safety and well-being of our citizens," Di Maio said.
Russian news agencies, citing the Russian embassy in Italy, said the pair who were expelled worked in the military attaché's office. Officials did not say whether the Russian army official who had met the captain was one of those ordered to leave.
Russia's Interfax news agency quoted a Russian lawmaker as saying Moscow would reciprocate for the expulsions, standard practice in such cases.
However, statements from Moscow suggested Russia was keen to play down the incident. The Russian foreign ministry was quoted as saying that it regretted the expulsions, but that they did not threaten bilateral relations.
Earlier, the Kremlin said it did not have information about the circumstances of the case but hoped the two countries would maintain positive and constructive ties.
The incident was the latest in a series of spying accusations in recent months against Russians in European countries. Bulgaria expelled Russian officials on suspicion of spying in March, and the Netherlands did so in December.
Tuesday's arrests were ordered by prosecutors following a long investigation carried out by the Italian intelligence with the support of the military, the police said.
($1 = 0.8524 euros)
(Additional reporting by Gavin Jones; Editing by Peter Graff and Nick Tattersall)
This story has not been edited by Firstpost staff and is generated by auto-feed.
World
CARACAS (Reuters) - Human rights groups from Venezuela and Colombia on Wednesday called on the United Nations to appoint a special envoy to address the humanitarian crisis caused by clashes between Venezuelan troops and Colombian armed groups near the countries' border. Colombian officials estimate that some 4,000 people have fled Venezuela for Colombia since March 21 following a military offensive in Venezuela's Apure state.
World
By Anton Zverev and Andrew Osborn MOSCOW (Reuters) - Jailed Kremlin critic Alexei Navalny went on hunger strike on Wednesday in an attempt to force the prison holding him outside Moscow to provide him with proper medical care for what he said was acute pain in his back and legs. The fate of Navalny, one of President Vladimir Putin's most prominent critics, is in focus after he said last week that being woken up by a guard every hour during the night amounted to torture and that his appeals for medical treatment had been ignored. In a handwritten letter addressed to the governor of his prison which was posted to social media by his team on Wednesday, Navalny said daily requests for a doctor of his choice to examine him and for proper medicine had been ignored
World
By Stephanie van den Berg THE HAGUE (Reuters) - The International Criminal Court on Wednesday upheld its 2019 acquittal of former Ivory Coast President Laurent Gbagbo on charges of crimes against humanity during post-election violence and ordered all conditions of his release be removed. The decision may open the way for Gbagbo, 75, who has been living in Belgium, to return to Ivory Coast