Islamic State 'bombers' kill 41 at Istanbul's Ataturk airport; security beefed up at borders
Suicide attackers killed dozens and wounded more than 140 at Istanbul's busy Ataturk Airport, the latest in a series of bombings to strike Turkey in recent months. Turkish officials said the massacre was most likely the work of the Islamic State group.
The death toll from the suicide attack on Istanbul's Ataturk airport has risen to 41, with over 230 others injured, BBC reported on Wednesday citing Turkish officials. The terror attack is the latest in a series of bombings to strike Turkey in recent months. Turkish officials said the massacre was most likely the work of the Islamic State group.
Istanbul's Governor Vasip Sahin confirmed the toll and said that at least 13 of those killed were of foreign or dual nationality.
One Iranian and one Ukrainian were confirmed dead.
Among the dead are the three suicide bombers, who arrived at the airport in a taxi and blew themselves up after opening fire.
Another senior government official told The Associated Press the death toll could climb much higher. The senior official, who spoke on condition of anonymity in line with government protocol, at first said close to 50 people had already died, but later said that the figure was expected to around that many.
Airport surveillance video posted on social media showed the moment of one blast, a huge ball of fire, and passengers fleeing in terror. Another appeared to show an attacker, felled by a gunshot from a security officer, blowing himself up seconds later.
The recent attacks on a key partner in the US-led coalition against Islamic State and a Nato member have increased in scale and frequency. They have scared away tourists and hurt the Turkish economy, which relies heavily on tourism.
As dawn broke over the destroyed terminal Wednesday, workers began removing debris left by the blast. The airport partially reopened, but the international arrivals area remained closed and several emergency vehicles maintained a heavy security presence. An information board inside showed that about one-third of scheduled flights had been canceled, with a host of others delayed.
Earlier, the hundreds of passengers who fled the airport in fear were left sitting on the grass outside. Several ambulances drove back and forth, and security vehicles surrounded the scene.
Adam Keally, from Boston, said he heard gunfire followed by several explosions, then saw people "very badly injured."
Hevin Zini, 12, had just arrived from Duesseldorf, Germany, with her family and was in tears.
"There was blood on the ground," she told AP. "Everything was blown up to bits... if we had arrived two minutes earlier, it could have been us."
Yildirim, speaking to reporters at the airport, said all initial indications suggested the Islamic State group was behind the attacks.
"The findings of our security forces point at the Daesh organization as the perpetrators of this terror attack," Yildirim said, using the Arabic name for Islamic State. "Even though the indications suggest Daesh, our investigations are continuing."
Another Turkish official said two of the attackers detonated explosives at the entrance of the international arrivals terminal after police fired at them, while the third blew himself up in the parking lot.
The official, who also spoke on condition of anonymity in line with government regulations, cited interior ministry information and said that none of the attackers managed to get past security checks at the terminal's entrance.
Turkey shares long, porous borders with Syria and Iraq, war-torn countries where Islamic State controls large pockets of territory. Authorities have blamed Islamic State for several major bombings over the past year, including on the capital Ankara, as well as attacks on tourists in Istanbul.
Turkey has stepped up controls at airports and land borders and deported thousands of foreign fighters, but has struggled to tackle the threat of Islamic State militants while also conducting vast security operations against Kurdish rebels, who have also been blamed for recent deadly attacks.
The devastation at Istanbul's airport follows the March attack on Brussels Airport, where two suicide bombings ripped through check-in counters, killing 16 people. The Islamic State group claimed responsibility for that attack, as well as a subsequent explosion at a Brussels subway station that killed 16 more people.
Belgian Prime Minister Charles Michel said on Twitter: "Our thoughts are with the victims of the attacks at Istanbul's airport. We condemn these atrocious acts of violence."
Our thoughts are with the victims of the attacks at Istanbul's airport. We condemn these atrocious acts of violence #Istanbul

— Charles Michel (@CharlesMichel) June 28, 2016
Turkish airports have security checks at both the entrance of terminal buildings and then later before entry to departure gates.
South African Judy Favish, who spent two days in Istanbul as a layover on her way home from Dublin, had just checked in when she heard an explosion followed by gunfire and a loud bang.
She says she hid under the counter for some time.
Favish says passengers were ushered to a cafeteria at the basement level where they were kept for more than an hour before being allowed outside.
Two South African tourists, Paul and Susie Roos from Cape Town, were at the airport and due to fly home at the time of the explosions.
"We came up from the arrivals to the departures, up the escalator when we heard these shots going off," Paul Roos said. "There was this guy going roaming around, he was dressed in black and he had a hand gun."
The prime minister called for national unity and "global cooperation" in combatting terrorism.
"This (attack) has shown once again that terrorism is a global threat," Yildirim said. "This is a heinous planned attack that targeted innocent people."
He suggested that the attack was linked to what he said was Turkey's success against Kurdish rebels, as well as steps Ankara took Monday toward mending strained ties with Israel and Russia.
"It is meaningful that this heinous attack came at a time when we have become successful in the fight against separatist terrorism ... and at a time when we started a process of normalizing ties with our neighbors," Yildirim said.
Yildirim said there was no security lapse at the airport, but added the fact the attackers were carrying weapons "increased the severity" of the attack.
Turkish airports have security checks at both the entrance of terminal buildings and then later before entry to departure gates.
Asked whether a fourth attacker might have escaped, Yildirim said authorities have no such assessment but are considering every possibility.
Saudi Arabia's Embassy in Turkey said at least seven Saudis were injured in the attack and all are in stable condition.
Dozens of anxious friends and relatives waited early Wednesday outside Istanbul's Bakirkoy Hospital, where victims were taken.
"You can hear that people are wailing here," said Serdar Tatlisu, a relative of a victim. "We cannot cope anymore, we can't just stay still. We need some kind of solution for whatever problem there is."
Turkey is beset by an array of security threats, 26, including from ultra-left radicals, Kurdish rebels demanding greater autonomy in the restive southeast, and IS militants.
On 12 January, an attack that Turkish authorities blamed on IS claimed the lives of a dozen German tourists visiting Istanbul's historic sites. On 19 March, a suicide bombing rocked Istanbul's main pedestrian street, killing five people, including the bomber, whom the authorities identified as a Turkish national linked to IS.
Last October, twin suicide bombings hit a peace rally outside Ankara's train station, killing 102 people. There was no claim of responsibility but Turkish authorities blamed the attack on a local cell of IS.
Istanbul's Ataturk Airport was the 11th busiest airport in the world last year, with 61.8 million passengers, according to Airports Council International. It is also one of the fastest-growing airports in the world, seeing 9.2 percent more passengers last year than in 2014.
The largest carrier at the airport is Turkish Airlines, which operates a major hub there. Low-cost Turkish carrier Onur Air is the second-largest airline there.
The independent Dogan news agency reported that a plane carrying Albanian Prime Minister Edi Rama was arriving on an official visit at the airport when the attack occurred. The prime minister and his entourage were safely taken to an official residence.
With inputs from agencies
Sports
In remarks to reporters ahead of a US Olympic team media event, USOPC president Susanne Lyons said the organisation firmly believed that boycotts were ineffective.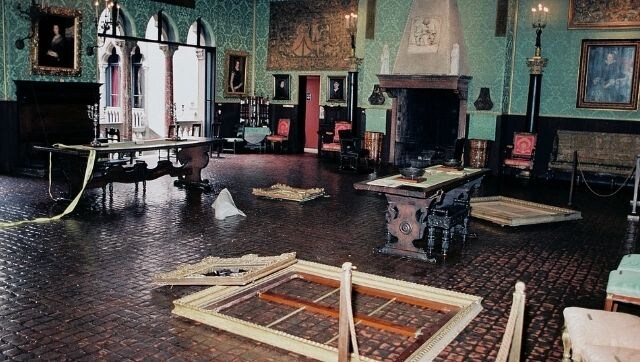 Entertainment
This is a Robbery delivers what it promised — a simple, well-told story that does its best to unpack one of America's most intriguing, unsolved crimes
World
Kinston Police chief Tim Dilday said officers were called to a business after an employee, who alleged the man had threatened her, tripped a silent alarm