Israeli author quits over sexual harassment allegations | Reuters
By Jeffrey Heller | JERUSALEM JERUSALEM A prominent Israeli journalist and author quit his job on Sunday after a second woman accused him of sexual harassment, the first having been persuaded to go public by the raft of sexual assault allegations against U.S. presidential candidate Donald Trump. Ari Shavit worked as a columnist for the left-wing newspaper Haaretz and wrote the 2013 internationally acclaimed historical narrative, 'My Promised Land: The Triumph and Tragedy of Israel'
By Jeffrey Heller
| JERUSALEM
JERUSALEM A prominent Israeli journalist and author quit his job on Sunday after a second woman accused him of sexual harassment, the first having been persuaded to go public by the raft of sexual assault allegations against U.S. presidential candidate Donald Trump. Ari Shavit worked as a columnist for the left-wing newspaper Haaretz and wrote the 2013 internationally acclaimed historical narrative, "My Promised Land: The Triumph and Tragedy of Israel". "I am ashamed of the mistakes I made with regard to people in general and women in particular," Shavit wrote in his resignation note, apologising to his wife and children.Last week, American reporter Danielle Berrin wrote on U.S. news site Jewishjournal.com that she was a victim of unwanted sexual advances by an "accomplished journalist from Israel" in 2014.She said she had gone public now because U.S. Republican presidential candidate Trump had "put sexual assault at the forefront of the national conversation" in the United States.
At least 10 women have accused Trump of unwanted sexual advances - allegations he has dismissed as "totally and absolutely false". But a video made public earlier this month featured him bragging about sexually assaulting women.Berrin described how an Israeli journalist and author she was interviewing in a hotel lobby in the United States grabbed the back of her head and tried to kiss her.
She did not name him in the piece, but left enough clues about his physical appearance and his book to set social media abuzz with rumours that Shavit, married and in his 50s, was the man.On Thursday, Shavit - whose book has won praise in the New York Times, Washington Post and The Economist - acknowledged an "interaction" with Berrin - calling it a "flirtation" that he now realised she had seen as "inappropriate, even harassing behaviour on my part"."I apologise from the bottom of my heart for this misunderstanding," Shavit wrote in a statement. Berrin's response, on the Jewish Journal website: "None of this was flirtation; this was an assault on my dignity and professionalism that frightened and disturbed me".
On Sunday, after a second woman came forward to accuse him of sexual harassment in 2014, Shavit issued another statement saying he was taking "full moral responsibility for my actions" and resigning from Haaretz and Israel's Channel 10 television, where he had been a commentator.Hillel International, a U.S. Jewish students group, had already announced on Friday that it was suspending a Shavit campus lecture tour in the wake of the accusations. (Editing by Larry King and Raissa Kasolowsky)
This story has not been edited by Firstpost staff and is generated by auto-feed.
World
Australian Prime Minister Scott Morrison said the capability being delivered by France's Attack Class submarine was not going to meet their strategic interests
World
The move comes after Australia's decision to break a 2016 deal for French submarines in favour of American nuclear-powered vessels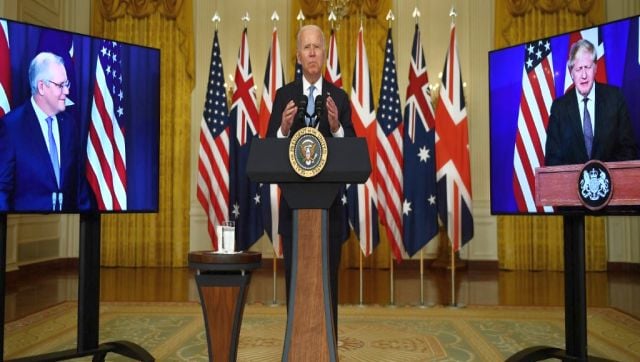 World
It is obvious that China's military aggressiveness, bullying of the nations in Indo-Pacific necessitated a response, and the 'historic' security alliance is aimed at mitigating the challenges