Israel searches for Syrian rocket thought to have landed in Sea of Galilee
JERUSALEM (Reuters) - Israeli police searched the Sea of Galilee for a rocket launched from Syria that may have landed in the lake on Wednesday, a spokesman said. After air raid sirens sounded in the south of the Israeli-occupied Golan Heights, the army said a rocket had been spotted launching from Syria towards Israel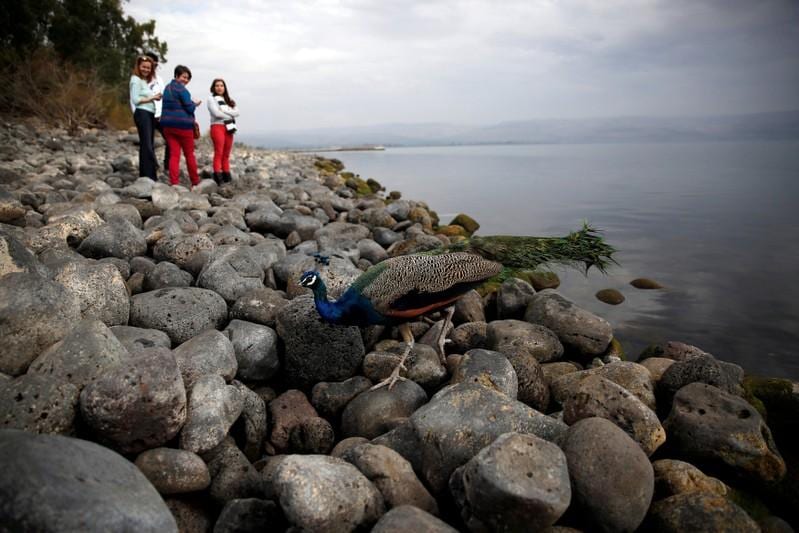 JERUSALEM (Reuters) - Israeli police searched the Sea of Galilee for a rocket launched from Syria that may have landed in the lake on Wednesday, a spokesman said.
After air raid sirens sounded in the south of the Israeli-occupied Golan Heights, the army said a rocket had been spotted launching from Syria towards Israel. It appeared to be stray fire from fighting inside Syria.
Israelis on the eastern shore of the fresh-water lake said they heard explosions as an object landed in the water, but Israeli police spokesman Micky Rosenfeld said that nothing had been found during initial searches.
"As I was watching the water, I saw something fall in. I didn't see what it was but I saw the spray from the impact," Hasdia Rada, a life guard at one of the lake's beaches told Israeli commercial TV news. Another man said he heard a whistling sound before an impact.
There have been many instances of stray fire landing on the Israeli side of the rocky Golan plateau during years of fighting between Syrian rebels and forces loyal to President Bashar al-Assad, but a rocket flying between 7-10 kilometres (4-6 miles) into the lake is thought to be the farthest yet.
Tensions rose a day earlier after Israel said it shot down a Syrian warplane that had crossed into airspace above the Israeli-occupied Golan. However Syrian state media said the plane was targeted by Israel while it was conducting raids in Syrian-controlled air space.
The Golan has seen days of bombing as Russian-backed Syrian government forces advance on rebel-held positions near the 1974 ceasefire line with Israel. The holdouts include one pocket near the frontier held by a group affiliated to the Islamic State.
Israel worries that Syrian President Bashar al-Assad may defy a U.N. armistice that demilitarized much of the Golan, or allow Iranian and Lebanese Hezbollah forces to deploy there once he and his allies retake the Syrian side.
(Writing by Ori Lewis; Editing by Andrew Bolton)
This story has not been edited by Firstpost staff and is generated by auto-feed.
Find latest and upcoming tech gadgets online on Tech2 Gadgets. Get technology news, gadgets reviews & ratings. Popular gadgets including laptop, tablet and mobile specifications, features, prices, comparison.
World
MOSCOW (Reuters) - Russian President Vladimir Putin said on Wednesday he had noted what he called "sharp anti-Russian rhetoric" from U.S. Democratic presidential candidate Joe Biden, but that he had been encouraged by Biden's comments on arms control. Putin, in comments on state television ahead of the U.S.
World
By John Irish and Robin Emmott PARIS/BRUSSELS (Reuters) - France and Germany said on Wednesday they would propose European Union sanctions against Russian individuals after receiving no credible answers from Moscow over the poisoning of Kremlin critic Alexei Navalny with a nerve agent. Several Western governments have said Russia, which has denied accusations by Navalny that it was involved in the poisoning, must help in investigations or face consequences. The decision and speed with which Europe's two main powers agreed to push ahead with sanctions suggests a hardening of the bloc's diplomacy towards Moscow.
World
By Steve Holland WASHINGTON (Reuters) - U.S. President Donald Trump, under coronavirus quarantine in the White House and restricted from traveling, is seeking ways to put a spark back in his struggling re-election bid and get behind his desk in the Oval Office with four weeks left until Election Day.