Islamic State presses assault on rebel territory in north Syria: Monitor
Fighting along Syria's northern border intensified Tuesday as the Islamic State group pressed an offensive against a key swathe of rebel territory
Beirut: Fighting along Syria's northern border intensified Tuesday as the Islamic State group pressed an offensive against a key swathe of rebel territory where thousands of civilians remain trapped, a monitor said.
IS swept towards the opposition strongholds of Marea and nearby Azaz in Aleppo province on Friday, forcing thousands of civilians to flee.
Rebel groups in Azaz tried to launch a counter-offensive on Tuesday but failed, said the Syrian Observatory for Human Rights.
IS blocked the attack with a suicide bomber, killing six rebel fighters, the Britain-based monitor said. "The battles are intensifying," said Observatory head Rami Abdel Rahman.
The UN relief agency said thousands of civilians were still trapped in Marea and a nearby town after Kurdish authorities closed the main road towards the autonomous Kurdish canton of Afrin to the west. "Due to the closure of the Marea-Afrin road, an estimated 7,000 civilians are effectively trapped in Marea and Sheikh Issa towns," the UN Office for the Coordination of Humanitarian Affairs said on Monday.
Some 2,000 people had already managed to leave Marea and Sheikh Issa before the road was closed on Sunday, OCHA said. Around 5,000 people in total have been displaced by fighting since Friday, and the situation remains "volatile and unpredictable," it said.
The UN's humanitarian coordinator for Syria, Yacoub El Hillo, called on armed groups to "ensure the unhindered movement and protection of civilians trying to reach safety".
Kurdish authorities on Sunday announced the closure of the two roads from Afrin to Marea and Azaz in response to rebel shelling of a majority-Kurdish district of the provincial capital, Aleppo city. The Observatory said rebels continued to shell the Sheikh Maqsud neighbourhood on Tuesday.
Rebels have been shelling Sheikh Maqsud for months after an advance by Kurdish forces into rebel territory west of Marea, Abdel Rahman said.
An estimated 130 civilians have died in the shelling since February, he said. The UN has said that the recent clashes have also trapped some 165,000 civilians between Azaz and the closed Turkish border.
Pablo Marco, the regional manager of Doctors Without Borders, said Monday tens of thousands -- many of them already displaced from other areas -- were caught less than five kilometres (three miles) from the front line with "nowhere to go". Also in Aleppo city on Tuesday, four civilians were killed in air strikes on a car crossing the bombed-out Castello road, the civil defence rescue force told AFP.
At least 280,000 people have been killed and more than half of Syria's population have fled their homes since the conflict first erupted in 2011.
News & Analysis
Russia has submitted the world's first draft convention to the United Nations to expand types of recognised cybercrimes.
Sports
Syria is aiming to secure the war-battered country's fourth-ever Olympic medal in Tokyo.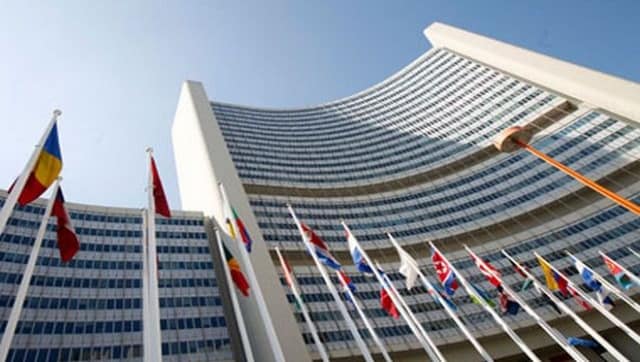 World
India will assume the rotating presidency of the UN Security Council on 1 August