Islamic State blows up Mosul mosque where Abu Bakr al-Baghdad declared himself 'caliph'
Islamic State blew up Mosul's iconic leaning minaret and the adjacent mosque where their leader Abu Bakr al-Baghdadi in 2014 declared himself 'caliph' in his only public appearance.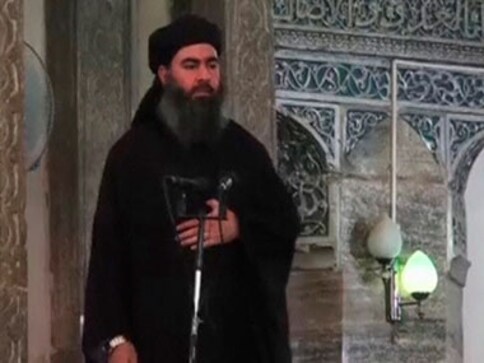 Baghdad: Jihadists blew up Mosul's iconic leaning minaret and the adjacent mosque where their leader Abu Bakr al-Baghdadi in 2014 declared himself "caliph" in his only public appearance, Iraqi officials said.
The Islamic State group swiftly issued a statement via its Amaq propaganda agency blaming a US strike, but the US-led coalition condemned the destruction as a crime against "the people of Mosul and all of Iraq".
Iraqi rime minister Haider al-Abadi said on Tuesday that the destruction of the sites was "an official declaration of defeat" from the jihadists in the eight-month-old battle for Mosul.
"Our forces were advancing toward their targets deep in the Old City and when they got to within 50 metres of the Nuri mosque, Daesh (Islamic State) committed another historical crime by blowing up the Nuri mosque and the Hadba" mosque, Staff Lieutenant General Abdulamir Yarallah, the overall commander of the Mosul offensive, said in a statement.
The destruction of two of Mosul's best-known landmarks comes on the fourth day of an Iraqi offensive backed by the US-led coalition to take the Old City, where holdout jihadists are making a bloody last stand.
It adds to a long list of Iraqi heritage sites and monuments the jihadist organisation has destroyed in Iraq and Syria since Baghdadi created his "caliphate" straddling both countries, almost exactly three years ago.
Islamic State proclaimed its self-styled "caliphate" in June 2014, after sweeping across Iraq's Sunni Arab heartland, an unprecedented experiment in jihadist statehood.
The Iraq-born Baghdadi appeared at the Nuri mosque in Mosul, Iraq's second city, days later to declare himself "caliph" and urge the world's Muslims to move in.
It remains the last public appearance to date for the jihadist supremo, whose fate and whereabouts are currently unclear and whose "state" has been shrinking for two years.
Iraqi forces on Sunday launched an assault on the Old City of Mosul, eight months into a huge offensive to wrest back the northern city from the jihadists, who had made it their de facto Iraqi capital.
The ancient minaret known as "Al-Hadba" (Hunchback) lies next to the Nuri mosque and was the most loved and recognisable landmark in Mosul, sometimes referred to as Iraq's Tower of Pisa.
The "Hadba" was completed in 1172 and had distinctive ornamental bands of brickwork wrapping around its cylindrical shaft. It started listing centuries ago and has long been considered an endangered monument.
The minaret, with its unmistakeable shape, was the symbol of the city and featured in many local shops signs and advertisements. It gave its name to countless restaurants, companies and sports clubs.
When Islamic State imposed its tyrannic brand of sharia, or Islamic law, in the early stages of its "caliphate", it destroyed several key heritage sites in Mosul, including the main museum and shrines to Jonah and Seth.
It reportedly rigged the "Hadba", which it sees as the subject of a cult that transgresses its own regressive and ultra-conservative brand of Islam, but had been prevented from blowing it up by the local population.
"The minaret of Al-Hadba has been here forever, it is part of the history of Mosul, it is the symbol of the city," Ahmed Thilij Hamed, a 49-year-old resident of a neighbourhood near the Old City, told AFP on Monday.
It had become clear to most in Mosul that IS would not give up its last redoubt in the city without destroying landmarks whose capture by the Iraqi forces would have dealt them a massive symbolic blow.
"When the minaret is destroyed, it will be the final blow to Mosul's heritage because all the other landmarks are gone," Hamed said. "I will be very sorry, I cannot imagine such a moment."
Staff Lieutenant General Abdulwahab al-Saadi, one of the top commanders of the Counter-Terrorism Service that has spearheaded the fighting against IS, explained why he thought the Nuri mosque and nearby "Al-Hadba" would almost inevitably be destroyed.
"The mosque has some symbolism for the terrorist gangs, being the mosque where Abu Bakr al-Baghdadi gave his first sermon" as Islamic State leader, he told AFP on Monday from his command post on the edge of Mosul.
"Perhaps they won't want to leave this place that Abu Bakr al-Baghdadi took to the security forces and maybe they'll send a message accusing Iraqi units of of destroying them," he predicted.
The US-led coalition which carries out daily air strikes and has advisers on the ground supporting the Mosul operation condemned the destruction.
"This is a crime against the people of Mosul and all of Iraq, and is an example of why this brutal organization must be annihilated," said Major General Joseph Martin.
Sports
The 15-year-old Praggnanandhaa (Elo rating 2608), playing in his maiden World Cup, did not seem overawed by the reputation and superior rating (Elo 2760) of his opponent and held him to a 29-move draw in a Grunfeld Burille Variation opening.
World
UNESCO on Wednesday voted narrowly to remove the city's waterfront from its list of world heritage sites, citing concerns about overdevelopment including plans for a new football stadium
Sports
Vidit Gujrathi played the Catalan closed variation against the Polish opponent and signed peace in 33 moves.