Islamic State attack kills 45 pro-Assad regime fighters in east Syria, reclaims 4 villages in Euphrates Valley
Islamic State attacked eastern Syria and has killed 45 members pro-regime Shiite militia and has retaken four villages in Euphrates Valley.
Beirut (Lebanon): An offensive by the Islamic State jihadist group in eastern Syria has left at least 45 pro-regime fighters dead, a monitoring group said on Tuesday.
Islamic State fighters launched the operation on Sunday against Euphrates Valley villages seized from them in 2017 by government forces and their allies, and have retaken four of them, the Syrian Observatory for Human Rights said.
The villages are located on the road between the provincial capital of Deir Ezzor and the city of Albu Kamal, which lies further south on the border with Iraq. Near those villages is the small town of Hajin, the single largest populated hub still under the control of Islamic State.
Observatory head Rami Abdel Rahman said at least 26 Islamic State fighters were also killed since "fierce" fighting started on Sunday. He said there had not yet been any intervention by Russian aircraft supporting pro-government forces in the area.
The observatory said the casualties on the pro-regime side were mostly fighters from Shiite militias present in the area, including groups from Iraq, Afghanistan and Lebanon's Hezbollah. The small pockets controlled by Islamic State in that area are the last dregs of the sprawling self-styled caliphate the group proclaimed over large parts of Syria and Iraq in 2014.
A series of victories by Russian-backed regime troops and US-backed Kurdish forces have shattered the caliphate, but thousands of surviving jihadists are holding out in remote parts of the Euphrates Valley
World
A video shared by Israeli PM Benjamin Netanyahu's spokesperson purportedly of Palestinian militants firing rockets at Israelis from civilian areas in Gaza Strip was taken down by Twitter, as it was a 2018 clip from Syria or Libya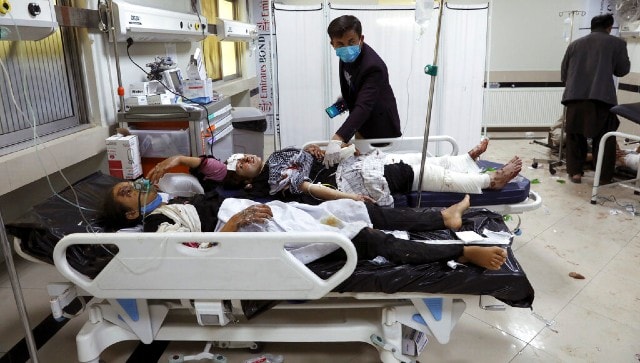 World
No one claimed responsibility for the attack at the school located in the Shiite majority neighborhood of Dasht-e-Barchi in Afghanistan's capital, although Islamic State has previously claimed attacks in the same area
Sports
Ahead of the remaining World Cup qualifiers matches, Thapa mentioned that Stimac wanted to assess the new players' performances in the friendlies against Oman and UAE to see who all were geared up for big games in the future.