Is US attorney Preet Bharara using the Khobragade case for a political career?
There are whispers that Bharara jumped the gun because he is looking for trophy 'scalps' as a springboard to public office.
New York: Tough-talking Manhattan US Attorney Preet Bharara, the prosecutor credited with 'busting' Wall Street and the Gambino and Colombo mafia crime families, has jolted India by making a harsh example out of deputy consul Devyani Khobragade in New York.
Khobragade was a sitting duck for Bharara because it's the worst kept secret that Indian diplomats come to America with help in tow who are paid "Indian salaries," dreadfully below US minimum wages.
Khobragade is hardly the first diplomat from a developing country to fudge salary figures on her nanny's visa application — or even the last.
"Diplomats of several countries bring domestic servants from their respective countries and pay them more or less what Indian diplomats pay, but only Indians have been targeted," an Indian official told the Daily Mail.
India could take a leaf out of Russia's playbook
Will Bharara lance more diplomats from India and other developing countries who can't afford to pay their help US minimum wages? Envoys say anything is possible as Bharara doesn't give a toss about diplomatic niceties or what India thinks.
He has certainly made plenty of enemies in Russia. Bharara charged 49 current and former Russian diplomats and their families with participating in a Medicaid scheme to get $1.5 million in health benefits intended for the poor by lying about their income. Russia in turn has accused the US of "biased and politically motivated" prosecution of its citizens.
In a snappy comeback to a US law executed in December 2012 that bars Russians seen as human rights abusers from entering the US, President Vladimir Putin signed off on a law that same month barring some prominent Americans from Russia. You guessed correctly — Bharara tops Moscow's blacklist for fingering their diplomats and is banned from Russia.
"Mail circulating among South Block officials shows Bharara has come under the scanner for targeting people of Indian origin," according to a British newspaper.
Last year, Bharara's office secured a high-profile conviction, former Goldman Sachs director Rajat Gupta, on four counts of insider trading. The Rajaratnam case also toppled former McKinsey senior executive Anil Kumar, and Rajiv Goel from Intel Capital. Bharara also made Indian tech analyst Sandeep Aggarwal plead guilty last month to providing information about a pending deal between Microsoft and Yahoo to a SAC Capital portfolio manager at SAC Capital.
But to be fair, since 2009 Bharara's office has filed charges of insider trading against 72 hedge fund portfolio managers and company executives, in the most wide-ranging investigation into Wall Street.
However, the main criticism of Bharara is that the sheriff of Wall Street has brought no criminal or civil cases against the bankers whose actions helped exacerbate the 2008 financial Armageddon.
"The civil charges that should be brought [against Wall Street] are there screaming out to be brought," former New York governor and attorney general Eliot Spitzer said on CNN. "And the fact that it hasn't been done yet is really staggering."
Beef with Bharara
Some members of the Indian American community are gob-smacked that Bharara went hammer-and-tong after a "small fry" Indian consular staff member. Since Indian diplomats appear to be exploiting the A-3 US visa loophole, wouldn't the slave labour/visa fraud issue be sorted out more effectively if the State Department took it up with the Ministry of External Affairs (MEA) in New Delhi at the highest level?
That way Bharara could have avoided stirring up a hornet's nest and left India-US bonhomie intact. This does seem like a US self goal after pouring so much energy into boosting diplomatic ties with India.
The US India Political Action Committee (USINPAC), which lobbied the civil nuclear energy deal on Capitol Hill, is delivering a strong message to Washington.
"We are asking our members of Congress to investigate the arrest procedures of Ms Khobragade," said Sanjay Puri, chairman of USINPAC. "The dignity and respect due to any diplomat is non-negotiable."
Is it a fool's errand to infer a motive?
There are whispers that Bharara jumped the gun because he is looking for trophy 'scalps' as a springboard to public office. A former Indian government official who served in the US told the Business Standard that the "extremely public nature" of Khobragade's arrest was linked to Bharara's latent political ambitions.
"After taking down one state senator, two members of the assembly, a member of the council and others in two alleged bribery plots; after going after Rajat Gupta and Raj Rajaratnam; and pursuing the case against IMF chief Dominique Strauss Kahn, Bharara was looking for another scalp. Now, he has one — Devyani Khobragade," the former Indian government official told the Business Standard.
Bharara's friends certainly think he would be able to win elective office. The attorney himself has expressed little interest in wanting to mount a political campaign. He says that being US attorney in the Southern District of New York is his "dream job" and that he won't use it as a stepping stone to higher office.
"I don't think Mr Bharara is singling the Indian diplomat out for any particular reason. I think it would be a mistake to read any more into this episode than what meets the eye. I think it simply has everything to do with the fact that this matter came to his attention; it was a clear infraction of the law and he chose to prosecute. There ends the matter," South Asia expert Sumit Ganguly, who holds the Rabindranath Tagore Chair in Indian Cultures and Civilizations at Indiana University, told Firstpost.
"Trying to read the tea leaves and infer greater meaning and significance into this episode is a fool's errand," added Ganguly.
Takeaway for India
If the US is going to be a stickler for rules, the MEA should think twice about allowing diplomats the privilege of taking domestic workers from India to America when they clearly can't afford to pay them US minimum wages. It just leaves Indian diplomats open to embarrassment when they are caught underpaying their help. India's image abroad has now taken a beating three years in a row over nanny and maid scandals.
The depressing saga all started in 2011 when Santosh Bhardwaj sued her employer India's then consul general in New York, Prabhu Dayal, accusing him of treating her like a slave, forcing her to work long hours for $300 a month, confiscating her passport and making her sleep in a storage closet.
In the middle of this high-decibel diplomatic row, I think everyone can agree that we have to treat our domestic help with basic decency, fairness and generosity. And, our diplomats have a duty to ensure they don't give India a bad name.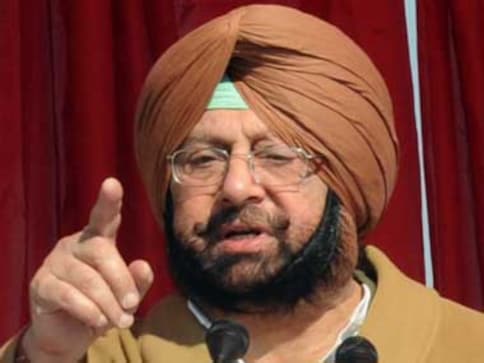 Politics
Amarinder, who was one of the Congress' powerful regional satraps, also said he had never experienced "this sort of interference ever as a chief minister"
India
Communal tensions have long simmered in Bangladesh, whose constitution designates Islam as the state religion but also upholds the principle of secularism.
World
US President Joe Biden's announcement of a new trilateral security partnership between the US, Australia and Great Britain in September was met with disbelief and outrage.