Is Tahir-ul-Qadri Pakistan's Anna Hazare?
The arrival of the preacher in Pakistan has meant many questions have been raised about political reform in the country.
Who is Tahir-ul-Qadri?
Head of the Tehrik Minhaj-ul-Quran organisation, Tahir-ul-Qadri, has hit headlines since he returned to Pakistan after living in Canada for nearly seven years.
As the head of a populist Barelvi group, Qadri has the support of numerous followers that are a result of a widespread educational and preaching institutions that are spread mainly across Punjab and other provinces as well, the Dawn noted. And it doesn't hurt that he's managed to preach a philosophy that merges modernist views with Islam, thereby garnering wider appeal than most other religious preachers.
He first came to prominence  by writing a 2010 fatwa condemning terrorism, reports the Associated Press.
According to a Foreign Policy report, Qadri's departure from the country following his resignation as a Member of the National Assembly had rendered him politically irrelvant and the fact that he has Canadian citizenship, in addition to his Pakistani citizenship, means he cannot contest elections himself.
What does he want?
Among the things that Qadri is demanding are electoral reforms which includes candidates standing for elections should be made to pay taxes  and the formation of a caretaker government that will mean the removal of the current government.
However, he is also accused of being rather vague in his charter of demands which has resulted in some in the political establishment accusing of him being allied with the military to replace the existing democratic government with one that could be controlled by the military.
His sources of funding have also been kept under wraps and the group reportedly hasn't been too open about how they funded television advertisements urging people to join the march.
Why is the government worried about him?
Because he is said to have a million people behind him, all of whom are against the existing government. He has accused them of corruption, something that has found resonance among the Pakistani public and resulted in thousands hitting the streets to support his rally.
He has called for a military role in picking the caretaker government that will take over temporarily ahead of elections and has said it could stay in place longer than normal to enact necessary reforms. Many see this as the military's assertion of power ahead of the next elections and have thus accused him of being a front for the military.
Is he a force to reckon with?
Maybe not just yet. While he was scheduled to have a 'million-man' march seeking electoral reforms he instead managed to secure a crowd of only around 5,000 people according to conservative estimates and definitely not higher than 30,000, according to the Wall Street Journal.
Apparently Qadri managed to attract more people to visit him when he came from Canada to Pakistan, which is estimated to be around 100,000 people.
Qadri has claimed people from several cities were not allowed to participate in the rally and around 30 vehicles  had been stopped. However, despite the relatively poorer than expected turnout, the determination of the protesters to take on security forces in Islamabad and the widespread support for the cleric has meant that he can't be written off just yet.
First Cricket News
Follow live score and commentary from Day 3 of the first Test between Zimbabwe and Pakistan.
First Cricket News
Misbah said while some might play down the wins over Zimbabwe but the success in South Africa and Zimbabwe was very satisfying.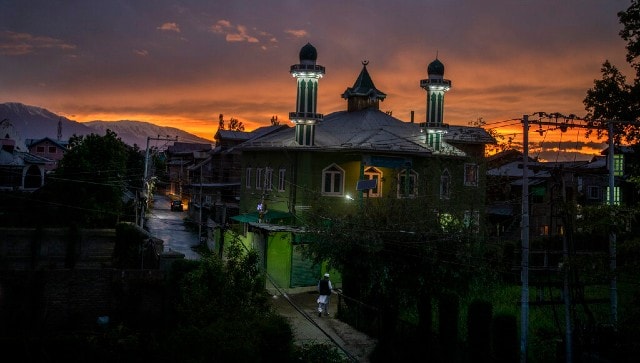 India
An artist was also arrested for painting a pro-Palestinian graffiti on a bridge in Srinagar showing a woman wearing a scarf made of a Palestinian flag and a tear tricking from her eye, with the words: "We Are Palestine"