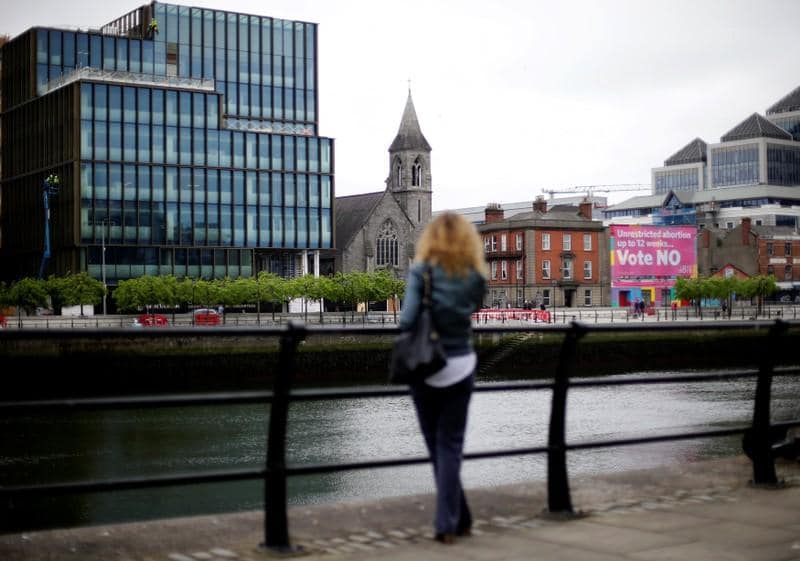 By Padraic Halpin
DUBLIN (Reuters) - Irish Prime Minister Leo Varadkar accused campaigners opposing a referendum on liberalising Ireland's abortion regime of trying to dupe voters into thinking the government could still change the laws even if they voted 'No'.
Voters will be asked on Friday if they wish to repeal a constitutional amendment inserted following a 1983 referendum that enshrined the equal right to life of the mother and her unborn child, and to enable parliament to set the laws.
Some politicians appealing for a 'No' vote have suggested in recent days that if the referendum fails, the constitution could instead be amended again to allow for abortions in cases such as rape, incest and fatal foetal abnormality.
A complete ban was lifted in Ireland five years ago for cases where the mother's life is in danger.
"What I see now in the final days of this campaign is a tactic by the 'No' campaign to try and make out that there is some sort of alternative amendment that we could put into our constitution," Varadkar, who is campaigning for a 'Yes' vote, told parliament.
"I would ask those people 30 years after that amendment was put into our constitution, why has nobody put forward an alternative that would deal with all these hard cases? Why only three days from the vote are people only suddenly raising that?"
"It's not a realistic alternative. It is just a tactic and I believe the Irish people will see through that."
While not on the ballot paper, much of the campaign has focused on the legislation Varadkar intends to bring forward if the referendum is carried, which calls for terminations with no restrictions to be allowed up to 12 weeks into a pregnancy.
That was in line with recommendations made by an all-party parliamentary committee, which came to a more liberal position than some had anticipated after concluding that legislating for termination for reasons of rape and incest was too complex.
The leaders of Fianna Fail and Sinn Fein, the two largest opposition parties, backed Varadkar in saying amending the constitution for such cases was impossible.
However 'No' campaigners, which include more than half of the Fianna Fail parliamentary party, say the government's proposals go too far.
"The government has used difficult, tragic cases to push through extreme abortion on demand. This is why people are increasingly voting "NO" to abortion this Friday," Clare McCarthy, a spokeswoman for the LoveBoth group said in a statement.
Opinion polls have put those who favour liberalising one of the world's most restrictive regimes in a clear lead and while there has been some tightening in the margin, two surveys on Sunday showed the 'Yes' side pulling further ahead.
(Reporting by Padraic Halpin; Editing by Alison Williams)
This story has not been edited by Firstpost staff and is generated by auto-feed.
Updated Date: May 23, 2018 00:10:05 IST