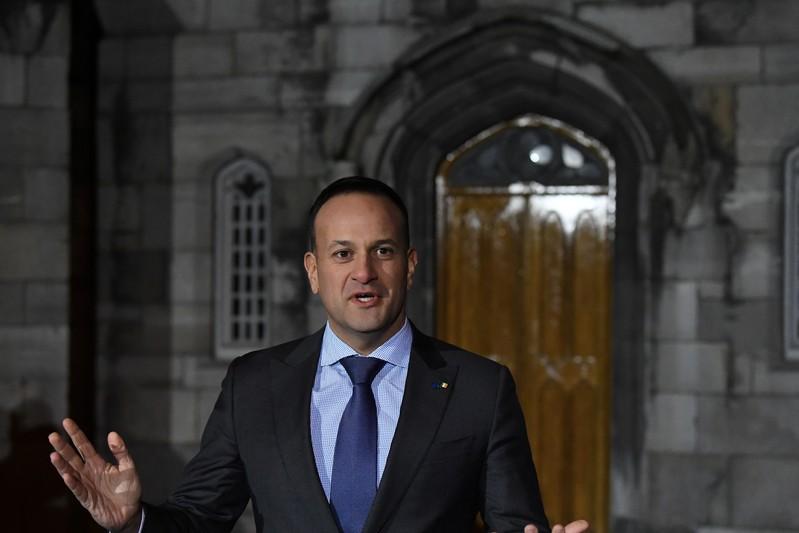 By Conor Humphries
DUBLIN (Reuters) - Ireland's prime minister on Friday said for the first time his government would find it very difficult to avoid imposing a hard border on Northern Ireland if Britain crashed out of the European Union without an exit agreement.
The Irish government has in the past maintained it would not countenance physical infrastructure on the border, which has been effectively open since a 1998 peace deal ended three decades of sectarian violence in Northern Ireland.
But after widespread opposition to a withdrawal agreement unveiled by British Prime Minister Theresa May this week sharply increased the likelihood of a so-called "no-deal" Brexit, Leo Varadkar said he might not have a choice.
"I think in a no-deal scenario it would be very difficult to avoid a hard border because of the obvious fact that, Ireland remaining part of the European Union, would no doubt be asked to implement European Union law," Varadkar told reporters in Dublin.
The United Kingdom, in turn, would likely be required by the World Trade Organisation to enforce its own border in Northern Ireland, he added.
"So those hard Brexiteers who say that just through good political will you could avoid a hard border, that doesn't make sense," Varadkar said.
"Are they really saying they would join the World Trade Organisation and the first thing they would be to refuse to implement World Trade Organisation rules?"
LEGACY AND TARGET
An open border is a legacy of the 1998 Good Friday agreement, which ended fighting between the north's pro-British unionists and nationalists who favour a united Ireland.
The Irish government has repeatedly warned that physical infrastructure at the border would anger nationalists and could become a target for militants opposed to the peace deal.
May has pledged to see her Brexit plan through, despite ministerial resignations and a plan to topple her by disgruntled Conservative lawmakers opposed to major elements of the deal.
Varadkar said he did not see any scope for renegotiating it unless the British government delayed its exit beyond March 29, something it has repeatedly ruled out.
"I think it is very hard to start making amendments without everyone wanting to make amendments and you could see the whole thing unravel," he said.
And while there is widespread opposition to May's Brexit withdrawal deal now, that could ease "as reality kicks in, as the precipice approaches", Varadkar said.
If Britain leaves without a deal next March, "we might find ourselves, after a few weeks of chaos, signing up to an agreement very close to the one we have now," he said.
(Writing by Conor Humphries, James Davey and Alistair Smout; editing by Andrew Roche)
This story has not been edited by Firstpost staff and is generated by auto-feed.
Firstpost is now on WhatsApp. For the latest analysis, commentary and news updates, sign up for our WhatsApp services. Just go to Firstpost.com/Whatsapp and hit the Subscribe button.
Updated Date: Nov 17, 2018 00:09:00 IST