Ireland votes in "once-in-a-generation" abortion referendum
By Padraic Halpin and Graham Fahy DUBLIN (Reuters) - Ireland votes on Friday in an abortion referendum that could be a milestone on a path of change in a country that, only a few decades ago, was one of Europe's most socially conservative. Polls suggest Irish voters are set to overturn one of the world's strictest bans on terminations. Prime Minister Leo Varadkar, in favour of change, has called the referendum a 'once-in-a-generation' chance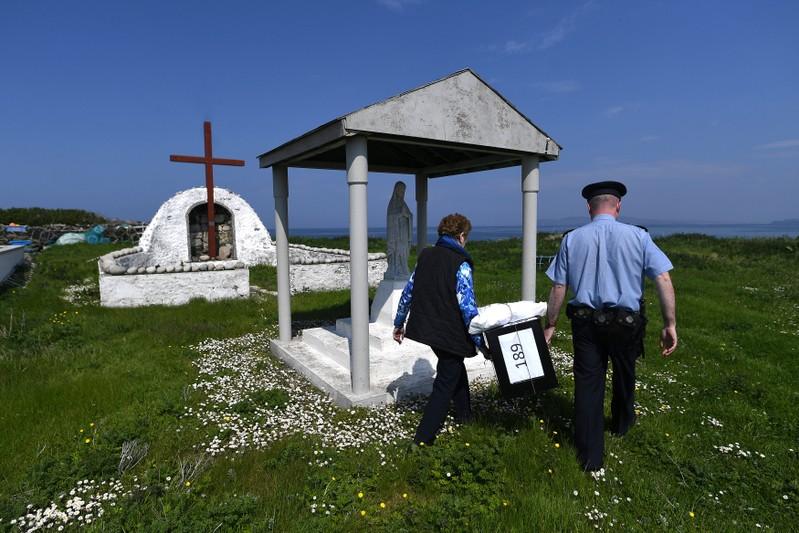 By Padraic Halpin and Graham Fahy
DUBLIN (Reuters) - Ireland votes on Friday in an abortion referendum that could be a milestone on a path of change in a country that, only a few decades ago, was one of Europe's most socially conservative.
Polls suggest Irish voters are set to overturn one of the world's strictest bans on terminations. Prime Minister Leo Varadkar, in favour of change, has called the referendum a "once-in-a-generation" chance.
Voters in the once deeply Catholic nation will be asked if they wish to scrap a prohibition that was enshrined in the constitution by referendum 35 year ago, and partly lifted in 2013 only for cases where the mother's life is in danger.
Ireland has been changing fast. It legalised divorce by a razor-thin majority only in 1995, but three years ago became the first country in the world to adopt gay marriage by popular vote.
A decades-old battle over abortion has played out in a fiercely contested debate that divided political parties, saw the once mighty church take a back seat and became a test case for how global internet giants deal with social media advertising in political campaigns.
Unlike in 1983, when religion was front and centre and abortion was a taboo subject for most people, the campaign was instead defined by women on both sides publicly describing their personal experiences of terminations.
"The conversation that has resulted in me going to the ballot box to vote 'Yes' with certainty hasn't been a straightforward one," Deputy Prime Minister Simon Coveney wrote in the Irish Independent newspaper on Thursday.
"I have found it difficult, I have stumbled but I have met extraordinary women and men along the way who have changed my perspectives on this deeply emotive issue."
"Yes" campaigners like Coveney have argued that with over 3,000 women travelling to Britain each year for terminations and others ordering pills illegally online, abortion is already a reality in Ireland.
GOVERNMENT PLANS "EXTREME"
Although not on the ballot paper, the "No" camp has seized on government plans to allow terminations with no restriction up to 12 weeks into a pregnancy if the referendum is carried, calling it a step too far for most voters.
"More and more people are realising that this government has planned to introduce an extreme abortion law, the only way to stop this is to vote 'No'," said Mary Butler, an anti-abortion lawmaker from the main opposition party, Fianna Fail.
Opinion polls have put those who favour changing the law in a clear lead. The two most recent surveys showed the "Yes" side pulling further ahead.
Polling stations close at 2100 GMT and national broadcaster RTE plans to publish an exit poll at 2230 GMT. The first indications of the result are expected mid-morning on Saturday, after the count begins at 0800 GMT.
Many expatriate Irish have travelled home to vote in one of the few European Union countries that does not allow those abroad to vote via post or in embassies.
Those away for less than 18 months remain eligible to vote at their former local polling station, and a majority appeared to back change.
Analysts said a high turnout, particularly in urban areas, would likely favour the "Yes" side.
"If anything, I'm sitting a little bit more comfortably after the last week having viewed the debates and the general moods and commentary of the 'No' camp," said Richard Colwell, chief executive of Red C, whose latest poll on Sunday showed 56 percent for, 27 percent against and 14 percent still undecided.
"But that's what everybody thought when Brexit happened. We can't be complacent about it but it does appear that it's going to be a 'Yes' vote at this stage."
(Reporting by Padraic Halpin; editing by Andrew Roche)
This story has not been edited by Firstpost staff and is generated by auto-feed.
also read
World
COPENHAGEN A South Korean woman wanted for questioning in connection with the scandal that brought down president Park Geun-hye has withdrawn her appeal against extradition from Denmark, the Danish state prosecutor said on Wednesday.
World
By Philip Pullella and Steve Holland | VATICAN CITY VATICAN CITY Pope Francis urged U.S.