Iraq's traumatised minorities: a test of unity after Mosul offensive | Reuters
By Babak Dehghanpisheh and Michael Georgy | ALQOSH, Iraq ALQOSH, Iraq Behnam Abboush won't feel any safer if Iraqi forces drive Islamic State out of their stronghold of Mosul. That's why he and 300 other Assyrian Christians in the paramilitary force under his command are taking matters into their own hands.Abboush says some members of his community, one of Iraq's many religious and ethnic minorities, were abandoned to their fate when the jihadists swept through northern Iraq two years ago
By Babak Dehghanpisheh and Michael Georgy
| ALQOSH, Iraq
ALQOSH, Iraq Behnam Abboush won't feel any safer if Iraqi forces drive Islamic State out of their stronghold of Mosul. That's why he and 300 other Assyrian Christians in the paramilitary force under his command are taking matters into their own hands.Abboush says some members of his community, one of Iraq's many religious and ethnic minorities, were abandoned to their fate when the jihadists swept through northern Iraq two years ago. Now his fighters are determined to protect Christian towns and villages in the Mosul region without relying on anyone else, while Iraqi government troops and other forces launch their offensive to regain the city nearby.Ancient minorities have always been an integral part of Iraq's complex social fabric. Their attitudes towards the government in Baghdad and their re-assimilation into society after the upheaval caused by Islamic State will test Iraqi leaders' pledges to deliver stability after the Mosul campaign.The Shi'ite-led government has promised that the assault, which started in the early hours of Monday, will improve security and unite a nation that has been in turmoil since the U.S.-led invasion in 2003.But Abboush's experiences illustrate why so many of the minorities - which range from the Christians and Yazidis to Turkmens and the Shabak people - have so little faith in the regional and central governments. He recalls the night of Aug. 6, 2014, about two months after the fall of Mosul, when he said Kurdish forces stationed in the Christian town of Karakosh suddenly announced they were fleeing.Many of the Karakosh's 55,000 people managed to escape before the militants arrived a few hours later, but Abboush said the abrupt departure of the peshmerga troops controlled by the Kurdish regional government showed how communities have to defend themselves. "They said to us 'we will protect you'. At half past ten in the evening they said 'we will go'. It was very difficult, especially for the women and children," Abboush, an engineer and former air defence officer under Saddam Hussein, said at his training base in the town of Alqosh, 50 km (30 miles) from Mosul.He is now the general of an Assyrian force that he says received only half the amount of weapons it needs from authorities and relies heavily on donations from Iraqi Christians living abroad. "If there was a strong central government we would need nothing. If you want to solve the problem, we must have a protection force," Abboush, an intense, white-haired man, said shortly before joining his officers for a lunch of eggplant, stew and rice.Abboush prepares his men at an obstacle course on a tiny mountain training ground, only about 13 km from Islamic State fighters. Their mission is to reassure local people it is safe to return to their homes in areas cleared of the militants. SUPPORT FOR ALL IRAQIS
Others say the drive for Mosul will benefit Iraqis of all communities. "The whole idea of this offensive is to get people back to their homes safely, not to abandon them – Christians, Shi'ites and Sunnis, everyone," said Hoshiyar Zebari, a top Kurdish official.Khisro Goran, a Kurdish member of Iraq's parliament, said lightly-armed peshmerga forces withdrew from Karakosh in 2014 because they were unprepared for the Islamic State onslaught. However, he sympathised with Abboush's views."I agree that minorities from Yazidis, Christians or Shabak should have their own local police to protect their societies and this is the ideal way to resolve a trust issue," he said.In Baghdad, a military spokesman rebuffed Abboush's complaints over a lack of support from the central government, saying the budget cannot be changed continuously to accommodate the rising or dwindling numbers of each force lined up to fight Islamic State - known by its opponents in Arabic as Daesh."The government is keen on providing support to all those who are fighting Daesh", he said.  Iraq's Sunni Muslims, the biggest minority, dominated the country until the fall of Saddam Hussein in 2003. Now Shi'ites are in control, with politicians from the majority community running the government, its militias ruling many streets.
LONGING TO BE ACCEPTED
Abboush's sentiments are echoed at a church in central Erbil, capital of the Kurdish region which has become increasingly autonomous since Saddam's demise.At evening mass, Father Salim Saka told his packed congregation to work with all communities in Iraq. In private, he conceded those wishes may be unrealistic. "For two years the government has been saying they will liberate Mosul. It's just talk. There can be no harmony. We are not accepted," he said. "We feel left out."Outside the church, beside the candle box, Evaan Khalas, 24, was also sceptical. As a Christian, he fought alongside the peshmerga for five years against Al Qaeda, but is no longer among the Kurdish ranks."Now they don't accept me. I wanted to fight with them against Daesh," he said. "As long as there is Islam we can't live here." Some of the worshipers are Christians who fled to Erbil from villages, towns and cities under Islamic State. One such, Sobhi Abu Fadel, recalled his family's close escape from Mosul when only about 800 militants seized the city as the army collapsed.
Standing beside a statue of the Virgin Mary as church guards checked bags for explosives, he pulled up a photograph of his mother on his smart phone. She died aged 90 because of the heat in the car as they fled Islamic State, which tells Christians to convert or die."We had neigbourhood watches but not enough ammunition," he said.Hundreds of thousands of Christians have fled Mosul and other cities in recent years in the face of intimidation, death threats and violence. The Yazidis have suffered particular cruelty at the hands of Islamic State, which regards them as devil worshipers. Hundreds of Yazidis were killed by the jihadists in 2014 while thousands fled to camps in the Kurdish region. Many women who could not escape were raped or turned into sex slaves.These ordeals have led some Yazidis to the conclusion that they too can depend only on themselves.For example, one Yazidi militia - the YBS or Sinjar Resistance Units - is also only partially backed by the state even though it is part of the government-funded Popular Mobilisation Forces, according to its commander Saeed Hassan.The fighters are 2,700 strong, yet only 1,000 are getting salaries from Baghdad, he said."An overwhelming majority of the Yazidis want a self-rule administration under international protection. We have no trust in the provincial administration," said Haji Hassan, a civilian member of the YBS administration. "They have been treating us badly even since before Daesh took over."At a ramshackle camp near a five-star hotel in central Erbil frequented by Western executives, other Yazidis said they rely on the generosity of local tribes for supplies such as rice and sugar.Tables under a tent serve as a classroom for children twice a week. Young boys use dirty rags from a plastic water bucket to wipe the floor. Posters of sports like archery and horse racing remind them of the limitations of life in their barren camp.Ali Khalaf, a camp resident who has occasional work as a labourer, contemplated the future. "Yazidis are alone. Even if Islamic State is driven out of Mosul, we want an international force to protect us from genocide," he said. (Additional reporting by Maher Chmaytelli and Ahmed Rasheed in Baghdad; editing by David Stamp)
This story has not been edited by Firstpost staff and is generated by auto-feed.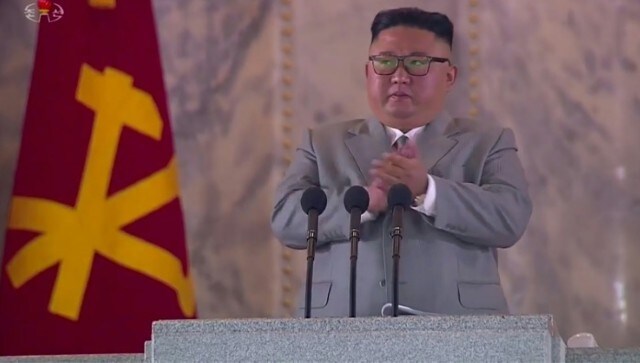 World
Kim also accused South Korea of hypocrisy because it criticises North Korea's weapons development as provocations while spending heavily to increase its own military capabilities
World
Their comments came as Iran has hinted it's ready to return to indirect negotiations with the US in Vienna but has not committed to a date
World
A total of 3,449 candidates are vying for 329 seats in the parliamentary elections, which will be the sixth held since the fall of Saddam Hussein after the US-led invasion of Iraq