Iraqi Shi'ite fighters mass near flashpoint town west of Mosul | Reuters
By Isabel Coles | TAL AFAR AIR BASE, Iraq TAL AFAR AIR BASE, Iraq Convoys of military vehicles loaded with Shi'ite paramilitary fighters hurtled across desert terrain in northwestern Iraq towards the Islamic State-held city of Tal Afar, chanting religious slogans and covering their faces to keep out the dust.After routing the militants from an air base south of Tal Afar several days ago, a coalition of Shi'ite paramilitaries known as the Hashid Shaabi or Popular Mobilization Forces (PMF), is preparing to finish the task of encircling the city. 'Our goal is clear: it is to liberate all Iraqi land and sever supply routes from Raqqa in Syria,' said commander Abu Mohammed al-Attabi, at the base from which a silo in the centre of Tal Afar is clearly visible. Mortar rounds hit the base perimeter from time to time.Astride the main road between Mosul and Syria, Tal Afar has been a centre for insurgents in Iraq since 2003, producing several senior Islamic State members and many of its foot soldiers. Once Tal Afar has been completely surrounded, local fighters under the command of the Hashid will be first to enter the city, which had a mixed population of mainly Shi'ite and Sunni Turkmen before Islamic State overran it in 2014.If they are not able to defeat the militants alone, other groups will join in, said Attabi, who leads a battalion of the Badr Organisation - the most powerful force in the Hashid Shaabi. Tal Afar saw some of the worst sectarian violence after the U.S.-led invasion of 2003, so the Hashid's role has raised fears that Shi'ite Turkmen who were displaced by Islamic State will seek revenge against Sunni Turkmen who stayed.Amnesty International says that in previous campaigns the PMF has committed serious human rights violations, including war crimes against civilians fleeing Islamic State territory, although there have been no such reports during the current campaign. [nL8N19R20H] [nL8N1CM02F]Turkey, which sees itself as protector of Iraq's Turkmen minority, has threatened to respond if Shi'ite militias 'cause terror' in Tal Afar and recently reinforced its troops on the Iraqi border
By Isabel Coles
| TAL AFAR AIR BASE, Iraq
TAL AFAR AIR BASE, Iraq Convoys of military vehicles loaded with Shi'ite paramilitary fighters hurtled across desert terrain in northwestern Iraq towards the Islamic State-held city of Tal Afar, chanting religious slogans and covering their faces to keep out the dust.After routing the militants from an air base south of Tal Afar several days ago, a coalition of Shi'ite paramilitaries known as the Hashid Shaabi or Popular Mobilization Forces (PMF), is preparing to finish the task of encircling the city. "Our goal is clear: it is to liberate all Iraqi land and sever supply routes from Raqqa in Syria," said commander Abu Mohammed al-Attabi, at the base from which a silo in the centre of Tal Afar is clearly visible. Mortar rounds hit the base perimeter from time to time.Astride the main road between Mosul and Syria, Tal Afar has been a centre for insurgents in Iraq since 2003, producing several senior Islamic State members and many of its foot soldiers. Once Tal Afar has been completely surrounded, local fighters under the command of the Hashid will be first to enter the city, which had a mixed population of mainly Shi'ite and Sunni Turkmen before Islamic State overran it in 2014.If they are not able to defeat the militants alone, other groups will join in, said Attabi, who leads a battalion of the Badr Organisation - the most powerful force in the Hashid Shaabi. Tal Afar saw some of the worst sectarian violence after the U.S.-led invasion of 2003, so the Hashid's role has raised fears that Shi'ite Turkmen who were displaced by Islamic State will seek revenge against Sunni Turkmen who stayed.Amnesty International says that in previous campaigns the PMF has committed serious human rights violations, including war crimes against civilians fleeing Islamic State territory, although there have been no such reports during the current campaign. [nL8N19R20H] [nL8N1CM02F]Turkey, which sees itself as protector of Iraq's Turkmen minority, has threatened to respond if Shi'ite militias "cause terror" in Tal Afar and recently reinforced its troops on the Iraqi border. [nL8N1D34L7]
Attabi dismissed concerns that Hashid fighters were out for revenge and warned Turkey against intervening: "We are Iraqis, and sons of our country, and consider the entry of any foreign force an affront."   Iraqi Prime Minister Haider al-Abadi has tried to allay fears of ethnic and sectarian killings in Tal Afar, saying any force sent to recapture it would reflect the city's diversity.    
STRATEGIC FOOTHOLD
The Tal Afar offensive illustrates how the conflict with Islamic State is reshaping Iraq, giving the various forces arrayed against it, and their regional patrons, an opportunity to expand their territory and influence.
In the month since Shi'ite paramilitaries joined the battle for Mosul, they have cleared an area of around 200 square km (80 square miles) southwest of the city, cutting across Iraq's arid and sparsely populated Sunni heartland. The barren landscape is now decorated with posters of Shi'ite imams, martyrs and militia leaders, and flags identifying the different groups within the Hashid fly by the side of the road.    The route they have carved out passes through abandoned Sunni villages turned into bases for the Hashid, which have sprayed the names of their battalions on building walls, and are storing tanks, artillery and Humvees there.Then it goes off-road, across open desert where vehicles use their headlights during the day to be seen through the dust until reaching the air base, around 100 km (60 miles) west of the Syrian border.
Built during Saddam Hussein's time and used by U.S.-led forces after they overthrew the dictator in 2003, little of the airport has survived Islamic State's occupation, except several hangars and a damaged runway.    Everything else has been destroyed -- either during the battle for the base in 2014, or before the militants were forced out, when they wrecked whatever was left to deprive their enemies of it, according to Hashid fighters there.It is nevertheless a strategic foothold for the Hashid, which officially answers to the Iraqi government but is largely made up of groups backed by Iran and loyal to its Supreme Leader, Ayatollah Ali Khamenei.On one of the few structures left standing, Islamic State graffiti has been crossed out by the base's new occupants, who put up a poster commemorating their martyrs with pictures of Iran's Ayatollahs Khomeini and Khamenei.   Hashid commanders have previously said the Tal Afar base will serve as a staging post to fight the militants in Syria, although fighters there denied any intention to take the battle beyond Iraq's borders. [nL8N1D93FA]    The PMF is not officially involved in Syria, but tens of thousands of Iraqi Shi'ite militiamen are fighting there on behalf of the government of President Bashar al-Assad with backing from Iran. "We are going to Tal Afar to drive Daesh (Islamic State) from our land," said one fighter riding in a convoy towards the city, which included someone brandishing a meat cleaver. "God willing we will enter Syria and Yemen". (Editing by Giles Elgood)
This story has not been edited by Firstpost staff and is generated by auto-feed.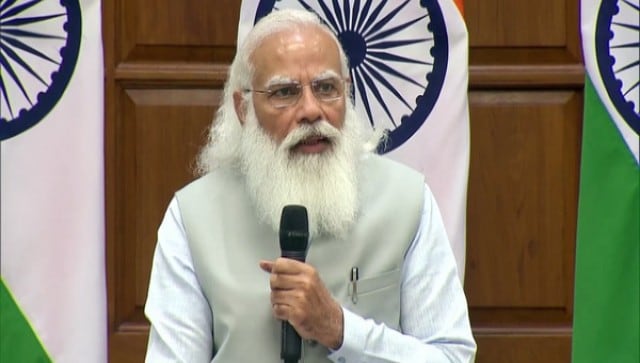 World
New strategic alignments and alliances are taking shape, even as old relationships suddenly seem to have regained their relevance
World
Of all the events the outcome of a meeting on Wednesday of the foreign ministers of the five veto-wielding permanent members of the Security Council is eagerly awaited
World
The Pentagon pumped out more contracts than it could oversee, lawmakers and government special investigators said