Iraq unearths mass grave of Kurds killed by Saddam
SAMAWA, Iraq (Reuters) - Iraq must never forget Saddam Hussein's crimes or allow his party to return, President Barham Salih said on Sunday after attending the unearthing of a mass grave of Kurds killed by the former leader's forces three decades ago. The grave, found in the desert about 170 km (106 miles) west of the city of Samawa, contained the remains of dozens of Kurds made to 'disappear' by Saddam's forces, Salih's office said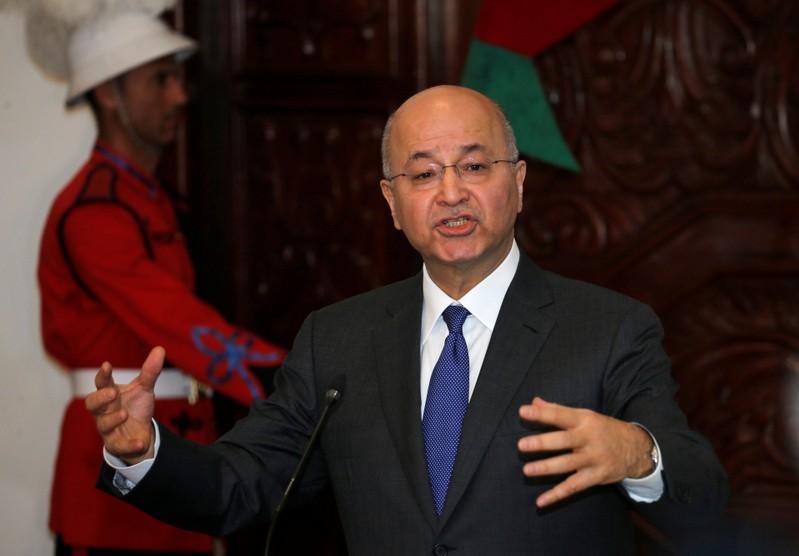 SAMAWA, Iraq (Reuters) - Iraq must never forget Saddam Hussein's crimes or allow his party to return, President Barham Salih said on Sunday after attending the unearthing of a mass grave of Kurds killed by the former leader's forces three decades ago.
The grave, found in the desert about 170 km (106 miles) west of the city of Samawa, contained the remains of dozens of Kurds made to "disappear" by Saddam's forces, Salih's office said.
They were among up to 180,000 people who may have been killed during Saddam's "Anfal" campaign that targeted Iraqi Kurds in the late 1980s when chemical gas was used, villages were razed and thousands of Kurds were forced into camps.
"He killed them because they did not accept the continuation of this regime, because they wanted to live a free and dignified life," Salih, a Kurd, told a news conference at the grave site.
"He brought them to Samawa to bury them but our people in Samawa embraced them," Salih added. Iraq's southern provinces are predominantly inhabited by Shi'ite Arabs, who also suffered oppression and mass killings under Saddam, a Sunni Arab.
"The new Iraq must never forget these crimes that were committed against Iraqi people from all groups," he said.
(Writing by Ahmed Aboulenein; Editing by Susan Fenton)
This story has not been edited by Firstpost staff and is generated by auto-feed.
Find latest and upcoming tech gadgets online on Tech2 Gadgets. Get technology news, gadgets reviews & ratings. Popular gadgets including laptop, tablet and mobile specifications, features, prices, comparison.
Business
By Jessica Resnick-Ault NEW YORK (Reuters) - Oil prices strengthened on Wednesday, as OPEC and its allies were seen complying with a pact to cut oil supply in September, even as concerns loomed that recovery in fuel demand will be stalled by soaring global coronavirus cases. Early in the day crude was boosted by a bullish stock market. Even as equities whipsawed on pandemic worries, oil stayed higher, buoyed by expectations that OPEC could staunch a supply glut
Business
By Tina Bellon and C Nivedita (Reuters) - Tesla Inc will further cut the price of its Model S "Long Range" sedan in the United States to $69,420, the electric carmaker's chief executive, Elon Musk, announced in a tweet https://bit.ly/2H0JCP0 on Wednesday. The anticipated drop marks the second time this week Tesla has cut the price for the high-end sedan, following a 4% cut of the Model S's price in the United States on Tuesday to $71,990.
World
By Jeff Mason DES MOINES, Iowa (Reuters) - Under siege over his handling of the novel coronavirus pandemic, President Donald Trump on Wednesday cited what he said was his son's mild bout of the virus as a reason why American schools should reopen as soon as possible. Trump made the comment about his son, Barron, as the president swept into Iowa on a mission to shore up support in battleground states that he won in 2016 but is in danger of losing to Democrat Joe Biden barely three weeks before the election. First lady Melania Trump announced in a statement earlier in the day that the virus that struck both her and her husband had also infected their 14-year-old son