Iraq announces recapture of western town Rutba from Islamic State
Iraq announced on Thursday that its forces have recaptured the western town of Rutba which had been held by the Islamic State jihadist group since 2014.
Baghdad: Iraq announced on Thursday that its forces have recaptured the western town of Rutba which had been held by the Islamic State jihadist group since 2014.
"The Joint Operations Command announces the complete liberation of the Rutba district," it said in a statement.
Special forces, soldiers and police took part in the operation, the statement said.
Iraqi forces launched the drive to retake Rutba, located in western Anbar province along the main road to Jordan, on Monday.
Islamic State overran large areas north and west of Baghdad in June 2014, and later made further advances in Anbar, seizing its capital Ramadi in 2015.
Iraqi forces have since regained significant ground from the jihadists, securing the Ramadi area earlier this year and retaking the town of Heet last month.
But parts of Anbar - including its second city Fallujah - are still under Islamic State control, as is most of Nineveh province, to its north.
The US-led coalition, which provided air support for the Rutba operation, stopped short of saying the town was under the full control of Iraqi forces.
Asked if there were still Islamic State fighters in the area, coalition spokesman Steve Warren said: "There's still quite an amount."
In the course of the operation, Iraqi forces encountered "light to moderate resistance", he told AFP.
Rutba is a remote desert town, several hours away from Anbar's major cities, but Warren expressed confidence the Iraqi forces would successfully hold it.
"They've got enough fighters, they've got tribal forces there, they'll hold it just like they've held every single other thing they've taken," he said.
In a briefing to Pentagon reporters yesterday, Warren described Rutba as a small town with "outsized strategic value".
"Rutba lies on the main route between Baghdad and Jordan, and opening it will impact the economies of both Iraq and Jordan, and will deny (Islamic State) a critical support zone as well," he said.
The Iraqi government said earlier this month that the amount of land under IS control had shrunk to 14 per cent of the national territory, from 40 percent in 2014.
The two major cities still under jihadist rule are Fallujah, which lies only 50 kilometres west of Baghdad, and Mosul, the capital of Nineveh.
Sports
Syria's seventh win in as many matches ensured they would be among the 12 teams competing in the next phase of qualifying for four confirmed spots from Asia in next year's tournament in Qatar. A fifth team from the continent could make the cut via an intercontinental play-off.
long reads
It has been more than two years that some 27,000 children have been left to languish in al-Hol camp. Most of them not yet teenagers, they are spending their childhood in a limbo of miserable conditions with no schools, no place to play or develop and seemingly no international interest in resolving their situation.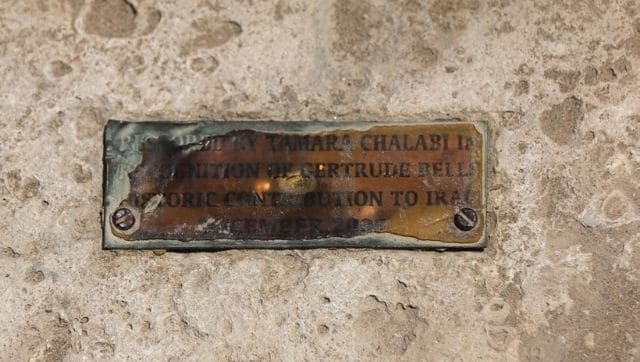 World
The role Bell played in the formation of the nation — especially remarkable back then as a woman in a very male-dominated world — is largely unknown by most Iraqis.