Iraq: 40 Indians missing in Mosul, hundreds more trapped
Apart from the 41 construction workers in Mosul, there are 46 Indian nurses stranded in Tikrit — most of them are from Kerala.
Around 40 Indians working near Mosul in Iraq have been allegedly kidnapped by ISIS militants while they were being evacuated from the area, the Times of India reported online.
According to the TOI report, former ambassador to Iraq Suresh Reddy has been sent to Mosul. "Prime Minister Narendra Modi, who reviewed the situation with foreign policy and security experts, has directed that no effort be spared to ensure the safe return of hapless Indian workers. Sources in the government said the PM has asked all sources to be tapped for locating the workers. National security advisor AK Doval is coordinating the rescue effort", the report said,
Last week, Sunni and Kurdish militants captured key cities and towns in Iraq in a brisk onslaught. Later, militants captured and killed several Iraqi security personnel. The grisly killings, which were photographed and posted on social media drew sharp reactions from world leaders, and many countries decided to evacuate embassy staff.
Apart from the 41 construction workers in Mosul, there are 46 Indian nurses stranded in Tikrit — most of them are from Kerala.
The DNA newspaper reported that external affairs minister Sushma Swaraj has formed a crisis management group, under the secretary (east) Anil Wadhwa to constantly monitor the situation.
The report quoted External affairs ministry spokesperson Syed Akbarudin as saying that the secretary (east), Anil Wadhwa, on Tuesday also met the Iraqi ambassador Ahmad Tahseen Ahmad Berwari. "They discussed possibilities of ground-level cooperation and assistance in helping Indian nationals who are in the affected areas. We shall, of course, be monitoring the situation on an hourly basis and will keep you informed if there are further developments in this regard," he said.
According to NDTV, another 100 Indian workers could be stranded in Tikrit and another city, Erbil.
"Government sources say it has been difficult to track them as they are directly recruited by contractors without registration with the authorities", the report said.
On Monday, India had voiced its strongly condemnation of attacks by terrorist outfits in Iraq, saying that the takeover of cities such as Mosul and Tikrit was a direct threat to security and territorial integrity of the West Asian country.
On Tuesday, Baquba, capital of Diyala province, 60 km from Baghdad, saw Sunni militants of the Islamic State in Iraq and the Levant (ISIS) take control of several districts on the western outskirts of the city before government troops and allied Shia militia regained control, according to reports.
Pentagon spokesman Rear Admiral John Kirby said Iraqi troops, with help from Shiite volunteers, were "stiffening their resistance" around Baghdad.
"It certainly appears as if they have the will to defend the capital," he said.
After taking Mosul, militants captured a major chunk of mainly Sunni Arab territory stretching towards the capital.
The offensive has displaced hundreds of thousands of people and sent jitters through world oil markets as the militants have advanced ever nearer to Baghdad, leaving the Shiite-led government in disarray.
Officials said Tuesday that militants briefly held parts of the city of Baquba, just 60 kilometres (40 miles) from the capital.
They also took control of most of Tal Afar, a strategic Shiite-majority town between Mosul and the border with Syria, where ISIL fighters are engaged in that country's three-year-old civil war.
The overnight attack on Baquba, which was pushed back by security forces but left 44 prisoners dead at a police station, marked the closest the fighting has come to the capital.
In Tal Afar, militants controlled most of the town but pockets of resistance remained.
Further south, security personnel abandoned the Iraqi side of a key crossing on the border with Syria, officers said.
Syrian rebels opposed to ISIL were then able to seize the Iraqi side of the Al-Qaim crossing as well.
The US and Iran are actively considering ways to help the Iraqi government tackle the situation.
The swift advance of militants has sparked international alarm, with UN envoy to Baghdad Nickolay Mladenov warning that Iraq's territorial integrity was at stake.
"Right now, it's life-threatening for Iraq but it poses a serious danger to the region," Mladenov told AFP.
"Iraq faces the biggest threat to its sovereignty and territorial integrity" in years.
The violence has stoked regional tensions, with Iraq accusing neighbouring Saudi Arabia Tuesday of "siding with terrorism" and of being responsible for financing the militants.
The comments came a day after the Sunni kingdom blamed "sectarian" policies by Iraq's Shiite-led government for triggering the unrest.
With inputs from agencies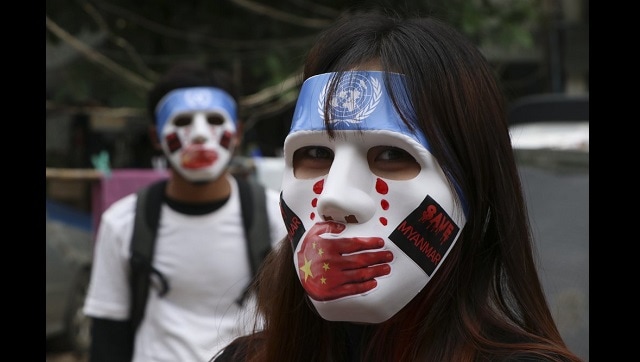 World
Paing Takhon, 24 — a star in both Myanmar and neighbouring Thailand — has been active in the protest movement both in person at rallies and through his massive social media following.
India
The day also underlines the struggles millions go through for having lost their voice to several voice-related illnesses
science
This was the second missions for Kate Rubins, and Sergei Ryzhikov Ryzhikov but first mission for Sergei Kud-Sverchkov.