Iran's Rouhani defends execution of dissident journalist
DUBAI (Reuters) - Iranian President Hassan Rouhani defended on Monday the execution of a prominent dissident journalist based in France and captured by Iran last year, saying the death sentence passed on Ruhollah Zam was carried out lawfully. European countries 'have the right to comment, but Zam was executed upon a court's ruling,' Rouhani told a televised news conference, noting that the judiciary was independent. 'I think it's unlikely that this will hurt Iran-Europe relations.' Zam had been based in Paris and was seized last year in circumstances that have not been officially disclosed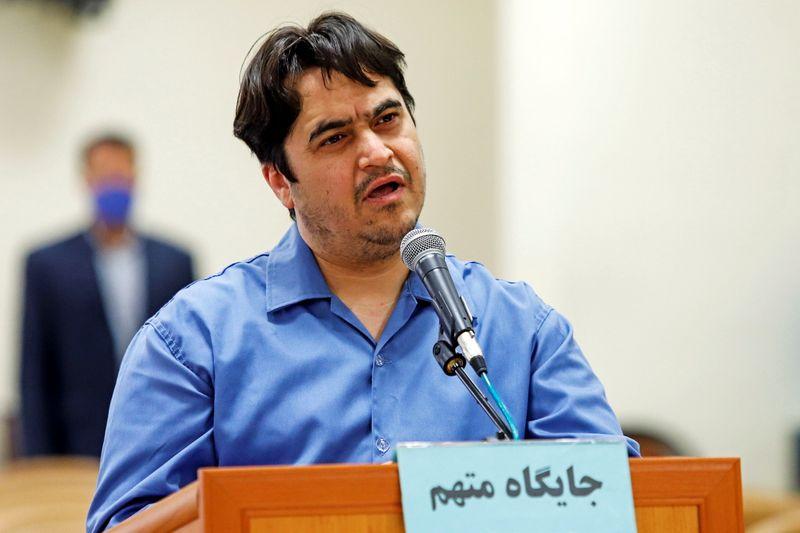 DUBAI (Reuters) - Iranian President Hassan Rouhani defended on Monday the execution of a prominent dissident journalist based in France and captured by Iran last year, saying the death sentence passed on Ruhollah Zam was carried out lawfully.
European countries "have the right to comment, but Zam was executed upon a court's ruling," Rouhani told a televised news conference, noting that the judiciary was independent. "I think it's unlikely that this will hurt Iran-Europe relations."
Zam had been based in Paris and was seized last year in circumstances that have not been officially disclosed. A news agency close to Iran's Revolutionary Guards said last week he had been captured in Iraq.
He was convicted of fomenting violence during anti-government protests in 2017. His Amadnews social media feed had more than 1 million followers.
France called Zam's execution on Saturday "barbaric and unacceptable".
U.S. Secretary of State Mike Pompeo also called the execution "unjust, barbaric," adding in a tweet: "Zam exposed the brutality and corruption of the regime, which has killed or arrested more than 860 journalists in its 41-year reign of terror."
Iran's foreign ministry summoned envoys from France and Germany, current holder of the European Union's rotating presidency, to protest over criticism of the execution, Iranian media reported on Sunday.
(Reporting by Parisa Hafezi; Editing by Ghaida Ghantous and Andrew Cawthorne)
This story has not been edited by Firstpost staff and is generated by auto-feed.
Find latest and upcoming tech gadgets online on Tech2 Gadgets. Get technology news, gadgets reviews & ratings. Popular gadgets including laptop, tablet and mobile specifications, features, prices, comparison.
World
By William James LONDON (Reuters) -British Prime Minister Boris Johnson said on Sunday tougher lockdown restrictions were probably on the way as COVID-19 cases keep rising, but that schools were safe and children should continue to attend where permitted. COVID-19 cases in Britain are at record levels and the increase in numbers is fuelled by a new and more transmissible variant of the virus
World
By Maher Nazeh BAGHDAD (Reuters) - Tens of thousands of supporters of Iranian-backed Iraqi paramilitary groups chanted anti-American slogans in central Baghdad on Sunday to mark the anniversary of the U.S. killing of Iranian general Qassem Soleimani and an Iraqi militia commander.
World
By Nathan Layne and Joseph Ax CUTHBERT, Ga. (Reuters) -Control of the U.S. Senate – and with it, the likely fate of President-elect Joe Biden's legislative agenda – will be on the ballot on Tuesday when voters in Georgia decide twin runoff elections