Iran's Revolutionary Guards kill four Sunni militants near Pakistan border
LONDON (Reuters) - Iran's Revolutionary Guards said on Friday they had killed four militants at a border crossing with Pakistan in an area where armed Sunni groups often attack military and civilian targets. Iran has stepped up security in border areas after five gunmen killed 25 people at a military parade in the southwest on Saturday. The incident reported on Friday happened on the other side of the country in Sistan-Baluchestan province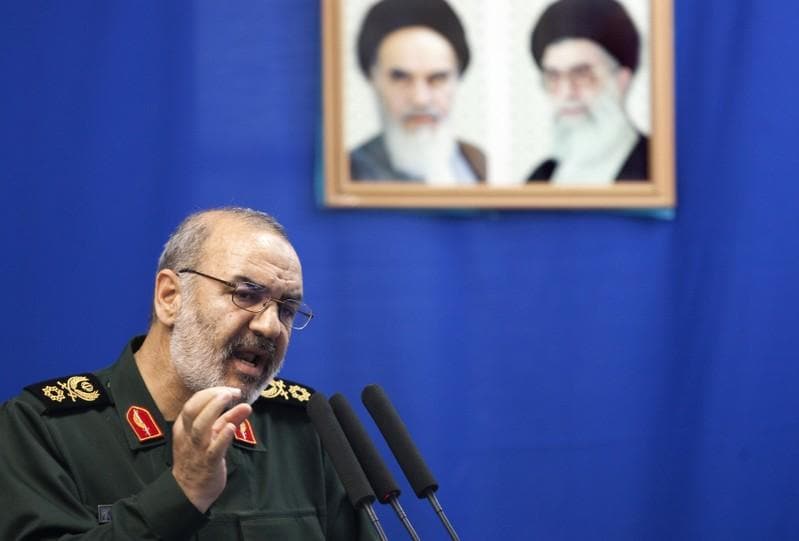 LONDON (Reuters) - Iran's Revolutionary Guards said on Friday they had killed four militants at a border crossing with Pakistan in an area where armed Sunni groups often attack military and civilian targets.
Iran has stepped up security in border areas after five gunmen killed 25 people at a military parade in the southwest on Saturday. The incident reported on Friday happened on the other side of the country in Sistan-Baluchestan province.
"Iranian forces killed four terrorists and wounded two. Other members of the terrorist group fled to the neighbouring country (Pakistan)," the Revolutionary Guard Corps said in a statement published by state broadcaster IRIB.
No Iranian forces were harmed, it said.
The Guards said the group was linked to the "world's arrogant power", without elaborating. Tehran accuses the United States, Israel and Saudi Arabia of funding Sunni militants, something they deny.
Brigadier General Mohammad Pakpour, the head of the Guards ground forces, was quoted by Tasnim news agency as identifying the group as Jaish al-Adl, and said its second-in-command was among the dead.
Jaish al-Adl (the Army of Justice) is a Sunni militant group that has carried out several attacks on Iranian security forces mainly in Sistan-Baluchestan. It claimed responsibility for an attack that killed 10 border guards near Pakistan in 2017.
In a clash between Jaish al-Adl and security forces in June, three Iranian soldiers and three militants were killed.
The mainly Sunni province of Sistan-Baluchestan has long been plagued by unrest from both drug smuggling gangs and separatist militants.
Iran says militant groups have safe havens in Pakistan and has warned it will hit their bases there if Islamabad does not confront them.
(Reporting by Bozorgmehr Sharafedin; Editing by Robin Pomeroy)
This story has not been edited by Firstpost staff and is generated by auto-feed.
World
ATHENS (Reuters) - Greek police used teargas and water cannon to disperse people who had gathered in central Athens on Saturday to protest against mandatory COVID-19 vaccinations. More than 4,000 people rallied outside the Greek parliament for a third time this month to oppose mandatory inoculations for some workers, such as healthcare and nursing staff.
World
ISTANBUL (Reuters) - Two Turkish soldiers were killed and two were wounded in an attack on their armoured vehicle in northern Syria, and Turkish forces immediately launched retaliatory fire, Turkey's defence ministry said on Saturday. "Our punitive fire against terrorist positions is continuing," the statement on Twitter on said. It did not specify where the attack occurred, but media reports said it was in the al-Bab area.
World
By Marcelo Rochabrun SAO PAULO (Reuters) - Protesters took to the streets in several Brazilian cities on Saturday to demand the impeachment of far-right President Jair Bolsonaro, whose popularity has fallen in recent weeks amid corruption scandals against the backdrop of the pandemic. This week, news broke that Brazil's defense ministry told congressional leadership that next year's elections would not take place without amending the country's electronic voting system to include a paper trail of each vote. Bolsonaro has suggested several times without evidence that the current system is prone to fraud, allegations that Brazil's government has denied